Learn how to make this large round classic French boule recipe using a poolish to leaven the bread for a delicious dark brown crust.
So, I've made a sourdough starter (Levain), I've used in a Graham Flour recipe, I've used a biga as a preferment and now I'm going to make a boule recipe using a poolish.
A lot of bread making the past few weeks, but if you've ever been interesting in baking bread then all of these recipes need to be at the top of your list.
For some reason in the states, you buy a machine and boom outcomes a loaf of bread 3 hours later. I'm here to tell you that is not bread making and not how it was intended to be made. Making delicious bread takes time and love.
Do you think they're using bread makers at a bake shop?
I don't think so. If you don't have 28 hours to wait for bread, maybe you can wait for 18 with this French boule recipe using a poolish.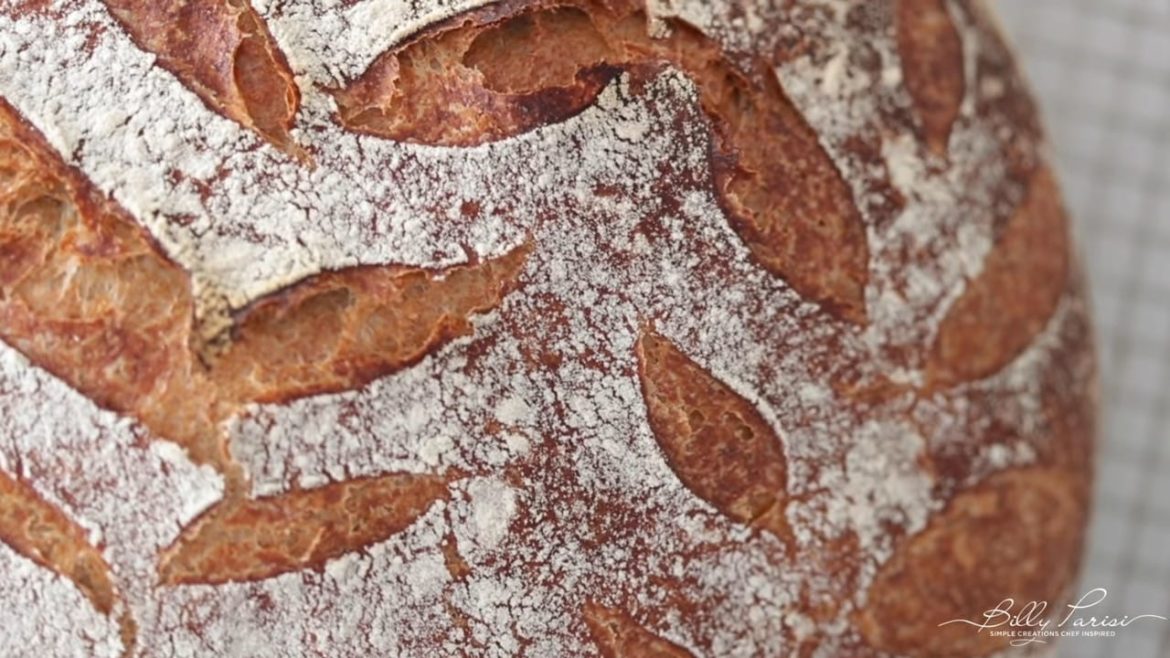 Ingredients
550 grams of Bob's Red Mill Artisan Bread Flour
550 grams of Bob's Red Mill Whole Wheat Flour
858 grams of water
24 grams of sea salt
4.5 grams of active yeast
Instructions
In a large container mix together 550 grams of bread flour with 550 grams of water at 80° to 82° and .5 grams of yeast until combined. Cover and let sit at room temperature for 10 to 24 hours or until tripled in size.
In a separate large container mix together the remaining 50 grams of bread flour, whole wheat flour, salt, remaining 4 grams of yeast.
Add the remaining 308 grams of water at 105° to 107° to the container with the poolish to help loosen it up.
Add the poolish and water mixture to the container with the flour, salt, and yeast and vigorously mix it by squeezing, stretching and folding until completely mixed in, about 3 to 4 minutes. Cover and let rest for 20 minutes.
Fold the dough by stretching and turning it 6 to 8 times every 20 minutes for 60 minutes.
Cover and let rest for 2 more hours or until it has tripled in size.
Transfer the dough to a clean floured surface dusted with flour and form it into a medium tight ball. Move the dough to a floured proofing basket, cover with a towel and let proof for 60 to 90 minutes.
Place a pizza stone into the oven and preheat to 500° and let sit for 30 minutes.
Invert the dough directly onto the stone, score, cover with a large metal bowl and bake 30 minutes, then uncover and bake for another 20 to 25 minutes or until the outside of the bread is dark brown.
Set on a cooling rack for 30 minutes.
Slice and serve.
Did You Make This Recipe?
Recipe video
---
Enjoy