Tourtière is on the menu in Chef Anna Olson's amazing kitchen, and she is going to teach you how to make this delicious recipe from scratch!
Follow along with the ???? recipes below????????????????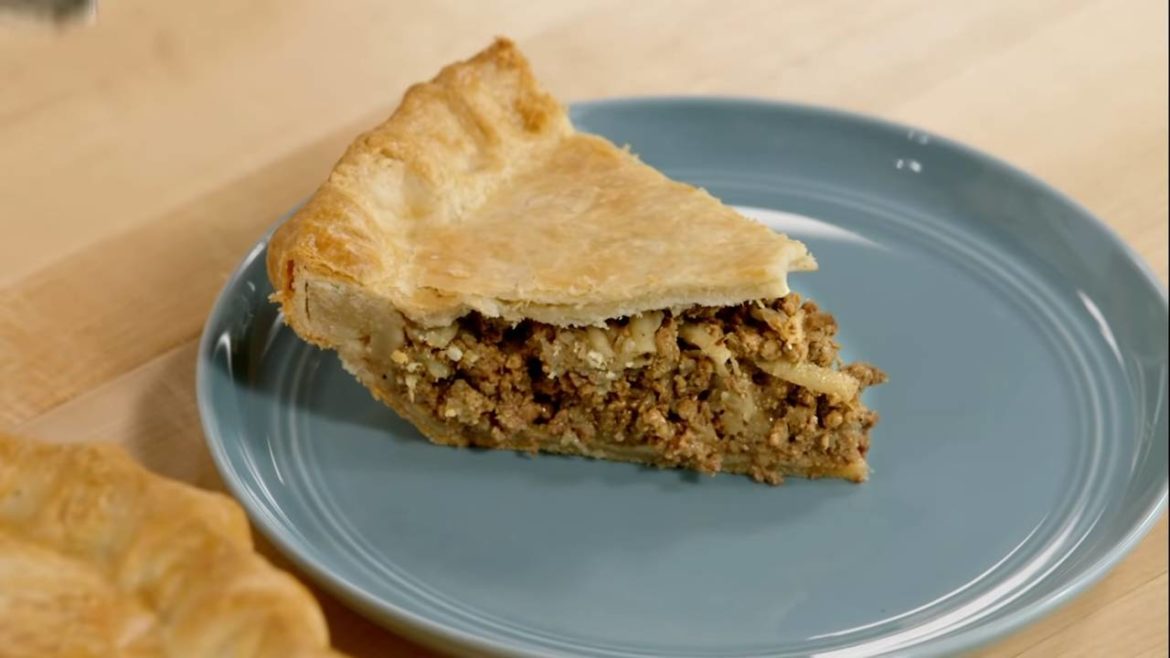 Ingredients
1 ½ lbs (675 g) ground beef
1 cup (250 mL) minced onion
2 cloves garlic, minced
2 bay leaves
1 tsp (5 mL) celery salt
¼ tsp (1 mL) ground black pepper
¼ tsp (1 mL) ground allspice
2-3 dashes Worcestershire sauce
1 ½ cups (375 mL) beef or chicken stock
1 medium Yukon Gold potato, peeled
salt, to taste
1 recipe savory pie dough 
1 egg yolk mixed with 2 Tbsp water for brushing
Instructions
In a large sauté pan or skillet, sauté the beef over medium-high heat until no longer pink. Drain off any excess fat, add the onion, garlic, bay leaves, celery salt, pepper, allspice, and Worcestershire and sauté until the onions are tender about 5 minutes.
Add the stock and bring up to a simmer. Use a box grater to grate the potato over the sauté pan and stir it in. Let the mixture simmer, uncovered, for about 15 minutes, until most of the liquid is absorbed. Remove the bay leaves and add salt to taste. Remove the pan from the heat and cool to room temperature. This can be prepared a day in advance and chilled.
Preheat the oven to 375 °F (190 °C). On a lightly floured surface, roll out one disc of the pie dough to just less than the ¼-inch thickness and line a 9-inch pie plate. Fill this with the cooled tourtière mixture. Roll out the remaining dough to the same thickness, cut a hole in the center (for steam to escape) and place on top of the filling. Trim and pinch the edges of the crust together and then, brush with the egg wash. Bake for about 45 minutes, until the pastry is a rich golden brown. Let cool for 15 minutes before slicing to serve.
Notes
The tourtière can be made up to 2 days in advance and reheated in a 300 °F (140 °C) oven.

Did You Make This Recipe?
---
Enjoy