Cranberry Chocolate Twists is on the menu in Chef Anna Olson's amazing kitchen, and she is going to teach you how to make this delicious recipe from scratch! Follow along with the recipe below!
Follow along with the ???? recipes below????????????????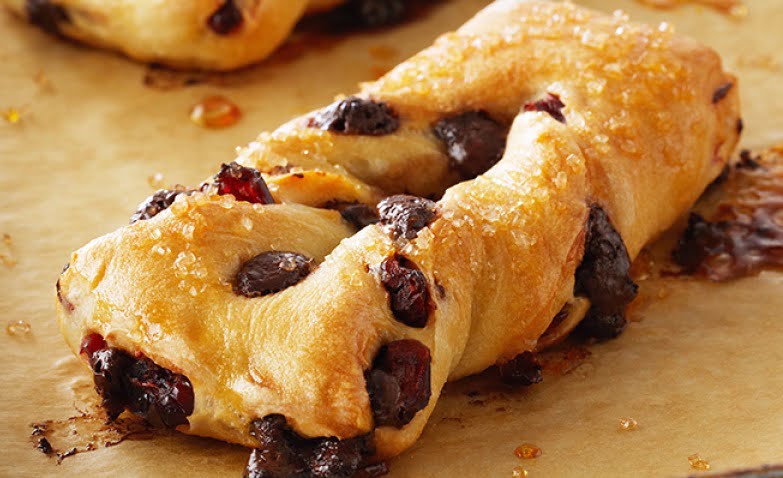 Ingredients
Dough
1 1/4 cups (310 ml) warm water (105 F/30 C)
1 1/8 tsp (5 g) instant dry yeast
1 Tbsp (15 ml) olive oil
¼ cup (35 g) semolina flour
2 ½ to 2 ¾ cups (375 g) all-purpose flour
1 ½ tsp (8 g) coarse sea salt
Syrup
¼ cup (60 ml) white corn syrup
3 Tbsp (45 ml) water
½ tsp (2.5 ml) vanilla extract
Toppings
½ cup chopped (70 g) dried cranberries
½ cups (87 g) chocolate chips or chopped dark chocolate
turbinado sugar and cinnamon, for sprinkling
Instructions
Mix the water, yeast, oil and semolina in a large mixing bowl and stir to blend. Add the flour once cup at a time, stirring well with a wooden spoon after each addition. Once the dough becomes too difficult to mix by hand, turn the dough out onto a lightly floured work surface and continue to knead until all the flour has been worked in (you may not need the final 1/4 cup (35 g) of flour) and the dough develops and smooth and elastic consistency, about 10 minutes. Place the dough in a large, oiled bowl, cover the bowl with plastic wrap and let it rise until doubled in size, about 90 minutes.
Turn the dough out onto a lightly floured work surface and roll it out into a rectangle 12-x-16-inches. Sprinkle half of the rectangle with the chopped dried cherries and chocolate and fold the dough over the filling, pressing gently, then rolling out a little further Cut the dough into 12 rectangles. Use a paring knife to make an incision down the centre of each rectangle. Twist the dough through the incision to create a twist and place these, 2-inches apart on two parchment-lined baking trays. Cover the twists with a tea towel and let rise for an hour.
Preheat the oven to 375 F (195 C). For the syrup, bring the corn syrup, water and vanilla just up to a simmer and brush each twist generously with it. Stir the turbinado sugar with a little cinnamon and sprinkle this generously on top. Bake the twists for about 20 minutes, until they are an even golden brown. Allow the twists to cool for at least 20 minutes before serving.
Notes
The twists are best served the day they are baked.
Recipe (makes 12 twists).

Did You Make This Recipe?
---
Let us know what you think of today's Cranberry Chocolate Twists tips, tricks, and hacks!