Curried Lentil and Sweet Potato Pastry Pockets are on the menu in Book recipe, and we are going to teach you how to make this delicious recipe from scratch!
Follow along with the ???? recipes below????????????????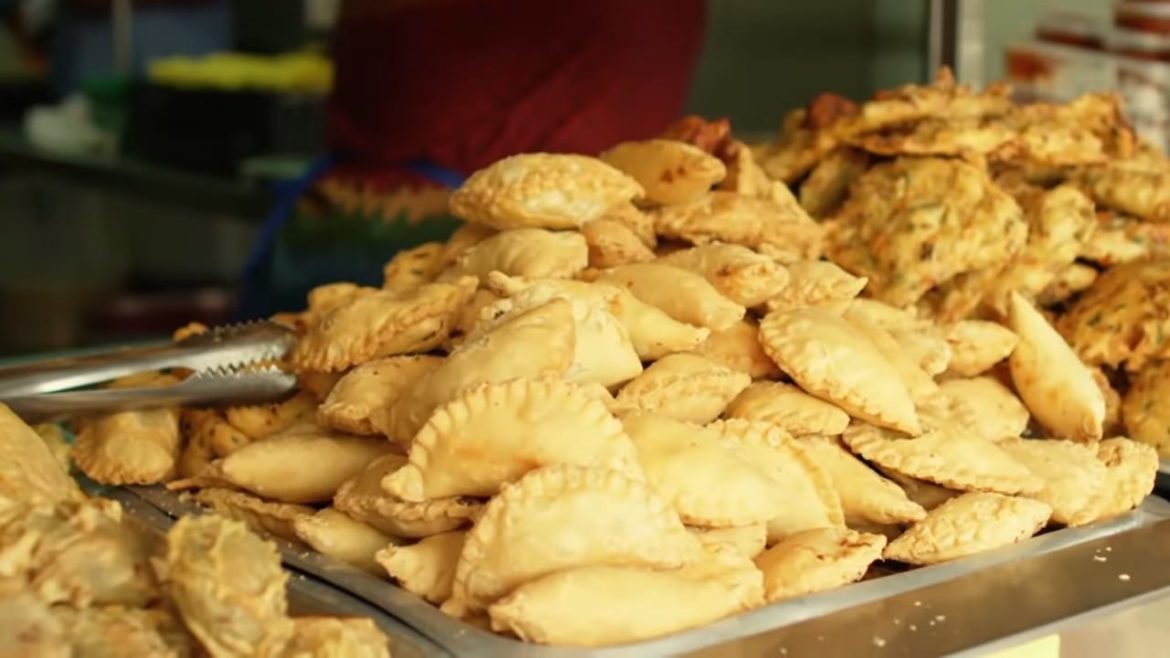 Ingredients
Pastry
450 g (3 cups) all-purpose flour
2 g (1/2 tsp) salt
175 g (3/4 cup) cold unsalted butter, cut into pieces
1 cold large egg
75 mL (6 Tbsp) cold water
5 mL (1 tsp) white vinegar or lime juice
Filling
15 mL (1 Tbsp) vegetable oil
120g (1/2 cup) diced onion
2 cloves garlic, minced
6 g (1 Tbsp) peeled and grated fresh ginger
10-15 mL (2-3 tsp) garam masala
2 mL (1/2 tsp) ground cardamom
chili paste, as desired
225 g (1/2 lb) peeled and diced sweet potato, cut into 15 mm (1/2-inch) cubes
175 mL (3/4 cup) chicken or vegetable stock
120 g (3/4 cup) cooked green lentils (about 30 g dry)
salt & pepper
fresh lime juice
1 egg, whisked with 2 Tbsp cold water, for brushing pastries
Instructions
For the pastry, pulse the flour and salt with the cold butter in a food processor until large pieces of butter are no longer visible. In a small dish whisk the egg with the water and vinegar (or lime juice). Add this all at once to the food processor and pulse until the dough comes together in a ball. Shape the dough into 2 logs, wrap in plastic wrap and chill for at least 2 hours.
For the filling, heat a sauté pan over medium heat and add the oil. Add the onion and sauté for about 5 minutes, until the onions are translucent. Add the garlic, ginger, garam masala, cardamom and chili paste and stir in to coat the onions. Stir in the sweet potato and stock and bring this mixture up to a full simmer. Cover and simmer this, stirring occasionally (reducing the heat if needed), for 10 minutes, then uncover and simmer, until the liquid is mostly absorbed and the sweet potato is tender, about 10 minutes more. Stir in the cooked lentils, season to taste with salt and pepper and add lime juice to taste. Set this aside to cool to room temperature and then chill completely.
To assemble the pockets, cut each log of dough into 8 pieces. Roll each piece out on a lightly floured work surface, and with a 12 cm (4 ½-inch) round cutter, cut out circles. Spoon a little of the chilled curry filling in the centre of each pastry circle. To shape the pocket, fold the pastry in half so that it makes a half-moon shape and pinch the edges closed. To create a more secure seal, make little folds (1 cm (1/2-inch)) overlapping each other, starting at one corner of the pocket and working around the half-moon curve to the other edge. Place these on a plate or parchment-lined baking tray and chill for an hour. Alternatively, the pockets can be frozen, and then thawed in the fridge for baking later.
Preheat the oven to 190 °C (375 °F). Brush each of the pastry pockets with eggwash and bake them for about 20 minutes, until the pastry is a rich golden brown. The pockets can be enjoyed warm or at room temperature.
Did You Make This Recipe?
Chef Anna Olson Bakes Curried Lentil and Sweet Potato Pastry Pockets! Inspired by her time cooking with Chef Wan in Kuala Lumpur, this pastry pockets will knock your socks off!
---
Bon Appétit