Beef Stew is on the menu in Book recipe, and we are going to teach you how to make this delicious recipe from scratch!
Follow along with the ???? recipes below????????????????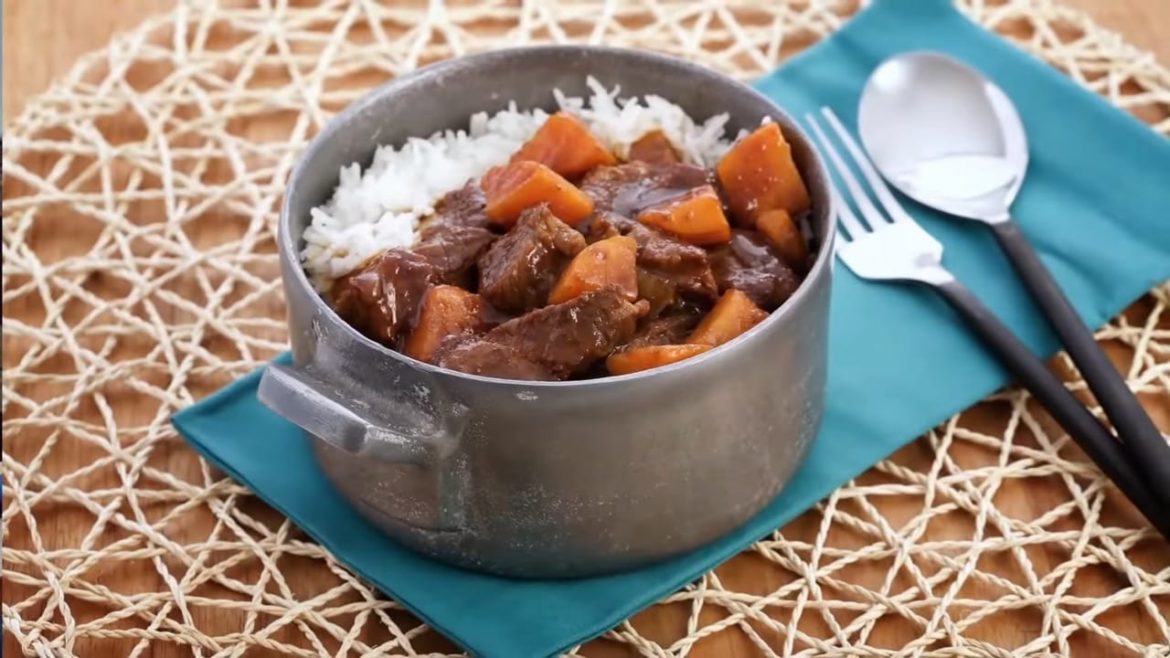 Ingredients
Coffee Braised Beef Stew (Serves 4)
30 mL (2 Tbsp) vegetable oil
600g (1.3 lb) stewing beef, cut into 25-mm cubes
15 g (2 Tbsp) cornstarch
180 g (1 ½ cups) diced cooking onion (about 1 onion)
425 g (3 cups) peeled and diced sweet potato
3 cloves garlic, minced
6 g (1 Tbsp) finely grated fresh ginger (about 25 mm piece)
45 mL (3 Tbsp) apple cider vinegar
500 mL (2 cups) beef stock
60 mL (1/4 cup) strong coffee
45 mL (3 Tbsp) maple syrup
30 mL (2 Tbsp) soy sauce, or to taste
black pepper
Pickled Squash Marmalade (Makes 750 mL)
This condiment is tart and sweet and is perfect to serve as a chutney or atchara, to cut the richness of a braised dish like beef stew. It can also be served as part of a cheese plate or worked into a salad.
550 g (4 cups) peeled and diced butternut squash, cut into ½ cm (1/4-inch) dice
300 g (1 ½ cups) granulated sugar
125 mL (1/2 cup) white vinegar
1 whole lemon, cut in half
1 whole orange, cut in half
5 cm piece (2-inches) lemongrass, bruised with the back of a knife
Instructions
Coffee Braised Beef Stew
Heat the oil in a large braising pot over high heat. Toss the beef with the cornstarch and add this to the pot in a single layer. Let it sear for a minute, then toss in the pot to brown on all sides, about 5 minutes. Remove the beef to a plate and reduce the heat to medium.
Add the onions and sauté until they are translucent about 5 minutes. Add the sweet potato, garlic, and ginger and stir for a minute.
Add the vinegar and stir (this will pull any tasty, caramelized bits from the bottom of the pan).
Add the beef stock, coffee, maple syrup, soy sauce, and a little black pepper.
Add back the seared beef and bring everything up to a full simmer. Reduce the heat to a gentle simmer and cover, stirring occasionally and cooking for 90 minutes, until the beef is tender. Adjust the seasoning, if needed, and serve with rice.
Pickled Squash Marmalade
Place the squash, sugar, and vinegar in a medium saucepan and stir together over medium heat. Squeeze the juice from the lemon and orange into the pot, and then add the fruit to the pot (the zest will add great flavor). Stir in the piece of lemongrass and bring this up to a simmer. Reduce the heat, if needed, to simmer the squash gently, uncovered, and stirring occasionally for 35 to 40 minutes, until the syrup has thickened, and the squash is glossy. (The mixture will thicken as it cools.) Remove the pan from the heat and discard the lemon, orange, and lemongrass. Cool the "marmalade" to room temperature and then chill until ready to use.
Notes
The "marmalade' will keep for up to 3 months, refrigerated.

Did You Make This Recipe?
Chef Anna Olson's brilliant beef stew recipe is inspired by her time spent with Chef Margarita Fores in the Philippines. Follow along with the recipe below!
---
Enjoy