Today's menu is apple pie filled with custard cream.
This menu popped up in my Instagram feed, so I was curious about it. So, I tried it.
I'm sure it's not 100% the same, but I tried to recreate it as closely as possible.
I used store-bought puff pastry and it was so convenient.
It's the best dessert I made this year! Haha!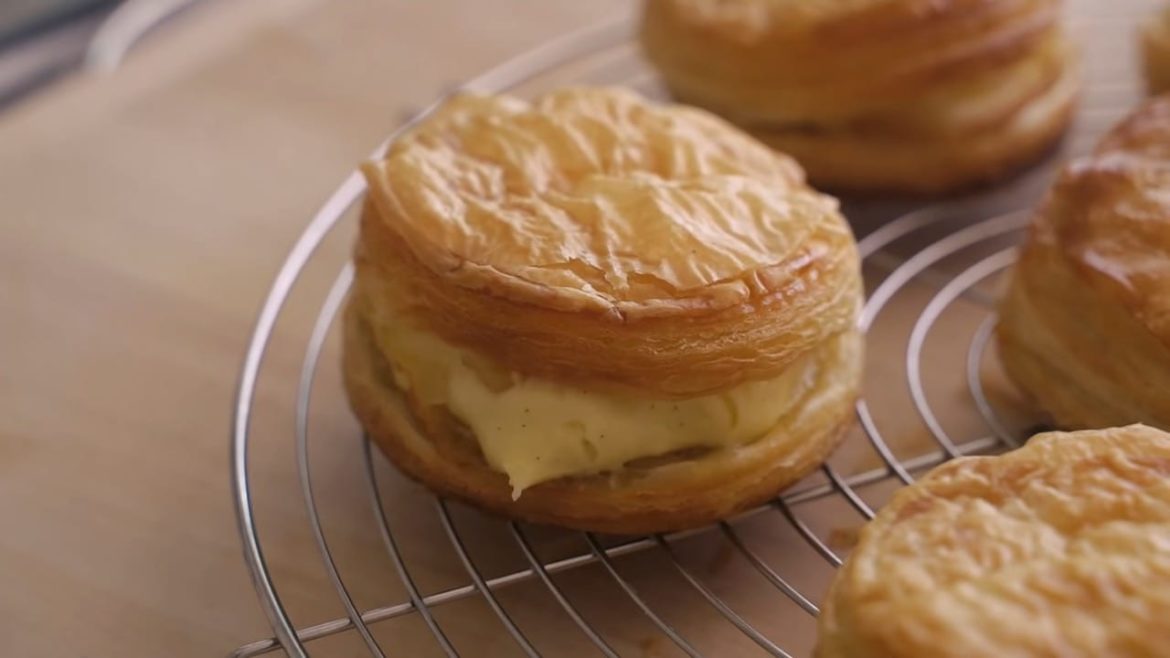 Ingredients
Apple filling:
2 apples
30g butter
100g sugar
1Tbs lemon juice
Custard pastry cream:
6 egg yolks
100g sugar
1 vanilla bean(or vanilla extract)
500ml milk
50g cake flour
egg wash
Decorgel (*optional)
Instructions
Custard pastry cream:
Pour the milk and vanilla bean(split and scraped) and simmer until edge starts to bubble.
In a mixing bowl, add and whip egg yolks and sugar until pale yellow. And then, add and mix flour.
Slowly pour the (1)milk into (2)egg mixture.
Strain the (3)mixture and simmer in a pot on medium-low heat.
While simmering, keep stirring until soft cream consistency.
Set aside to cool in a bowl, sealed with wrap.
Apple filling:
Core and peel quarters of apples and coarsely chop.
Put and simmer the apple, sugar, and butter until cooked through.
Finish off with lemon juice and set aside to cool in a bowl.
Assembly:
Put the apple filling on the puff pastry and brush the edges with egg wash.
Cover with puff pastry and use a round cooking cutter to make the half-moon shape.
Transfer on a baking pan and bake in a preheated oven at 190℃ for 15min or until golden brown.
Cool the pie and pipe the custard pastry cream into the pies.
Brush the pies with decor-gel(neutral glaze gel). Done!
Did You Make This Recipe?
Recipe video
---
Enjoy