Chocolate Whoopie Pies are on the menu in Chef Anna Olson's amazing kitchen, and she is going to teach you how to make this delicious recipe from scratch!
Follow along with the recipes below!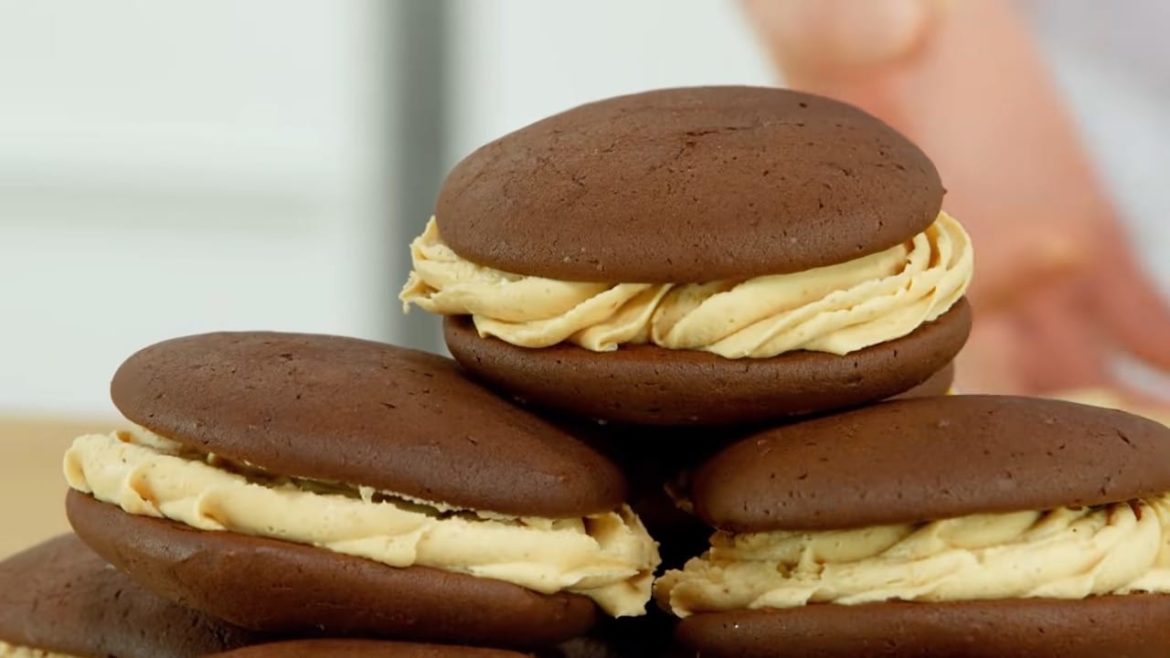 Ingredients
Cookies
1 ¾ cups (260 g) all-purpose flour (plain flour)
1 cup (200 g) granulated sugar (caster sugar)
¾ cup (90 g) Dutch process cocoa powder
½ tsp (2 mL) baking powder
½ tsp (2 mL) baking soda
½ tsp (2 mL) salt
½ cup (115 g) unsalted butter, at room temperature & cut into pieces
1 large egg
¾ cup (175 mL) milk, at room temperature
½ cup (125 mL) full-fat sour cream
2 tsp (10 mL) vanilla extract
Filling
1 cup (225 g) unsalted butter, at room temperature
1 cup (250 g) pure peanut butter
2 cups (240 g) icing sugar, sifted
1 tsp (5 mL) vanilla extract
Instructions
Preheat the oven to 375 F (190 C) and line 2 baking trays with parchment paper. Place the trays in the oven to warm right before making the cookies (this step will help the cookies bake with smooth curved tops).
Sift the flour, sugar, cocoa powder, baking powder, baking soda and salt in a large mixing bowl or in the bowl of a stand mixer fitted with the paddle attachment. Add the butter and mix on medium-low speed to cut it in until the butter pieces are barely visible. In a separate bowl, whisk the egg, milk, sour cream and vanilla. Add this all at once to the flour mixture and mix on low speed at first and then increase the speed to medium-high and beat for about 2 minutes, until the batter is fluffy and holds its structure. Use an ice cream scoop (#20, 1 5/8 oz) to scoop out 16 to 20 portions onto the now-hot, prepared baking trays, leaving 3 inches (75 mm) between them. Bake the "pies" for about 15 minutes, until the top of the "pie" springs back when gently pressed. Cool the "pies" on the baking trays before filling.
For the filling, beat the butter to lighten it and then beat in the peanut butter. Add 1 cup (120 g) of the icing sugar and beat in, stir in the vanilla and then beat in the remaining 1 cup (120 g) of icing sugar until fluffy. Fill a piping bag fitted with a large star tip and pipe the filling on the bottom of one of the "pies" and top with a second "pie", pressing gently. The pies are tastiest served at room temperature.
Notes
The whoopie pies will keep well-wrapped for up to 3 days.

Did You Make This Recipe?
Recipe video
---
Enjoy