ARBY'S MELT is on the menu in Book recipe, and we are going to teach you how to make this delicious recipe from scratch!
We are making a gorgeous burger that is inspired by three famous burgers. First, we are going to make a three-layer burger like Mc Donald's Big Mac and then add the fried onions from Burger King and lastly combine all of them with Arby's Melt.
Besides this wonderful burger, we are making Arby's delicious curly fries at home and all of the preparation will take just 20 minutes.
Follow along with the ???? recipes below????????????????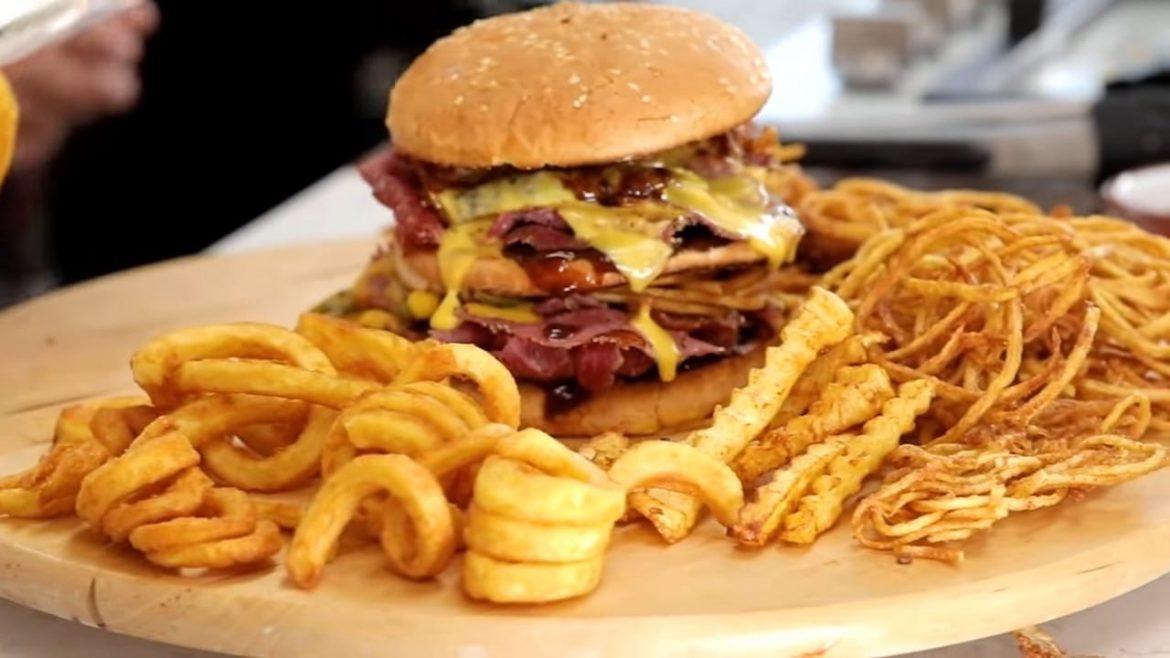 Ingredients
1 big potato, peeled and sliced into julienne
1 onion, sliced into semi-circles
1 pinch of salt
160-180 g smoked entrecôte (rib eye), you can use bacon or ham as well.
2 burger buns
2 teaspoon butter
1 tablespoon BBQ sauce
Pickled cucumber, sliced
Cheddar Sauce:
100 g cheddar cheese, or 6 slices
1 heaped tablespoon whipping cream
Curly fry batter:
½ teaspoon garlic powder
1 teaspoon onion powder
½ teaspoon sweet paprika
½ teaspoon hot cayenne pepper
1 tablespoon flour
2 pinches of salt
60 ml water (1/4 cup)
For frying:
Sunflower oil or any seed oil
Instructions
To make gorgeous Arby's curly fry batter, combine the garlic powder, onion powder, paprika, hot cayenne paper, flour, salt, and water in a bowl and whisk it until you have a smooth mixture.
Julienne the potato with a julienne peeler or a mandolin. While you are peeling it, make your potato more oval with your ordinary peeler and then use with your julienne peeler and cut right all the way. Thus, you will have long potato strips.
Soak them in cold water to get rid of excess starch.
Pat dry potatoes and dip them into the batter. You can shape and curl them by hand.
Fry them until golden- brown.
In addition to potato, onion goes wonderful with this batter, so cut the onion into piyazlık (semi-circles) and rub with a pinch of salt to get rid of the extra water so they can be crispier.
Batter the onion and fry them as well.
To make cheddar sauce, heat the cream and add cheddar cheese.
Whisk until cheese is melted and smoothy.
For the burger, you need three layers of bread. Take a bun and cut it in half.
Take another bun's bottom part and cut off its bottom thinly so that the bread can soak the butter better.
Add a teaspoon of butter into the pan and toast the buns.
Melt the rest of the butter in another pan and place the smoked entrecote. Heat for a couple of minutes.
To assemble the burger, spread some barbeque sauce over the bottom base and pour some cheese sauce.
Top with some entrecôte, cheese sauce, pickles, curly fries, and cheese sauce again????
Place the second bun and more BBQ sauce, smoked entrecôte, pickles, onions, and finally cheese sauce.
Top with burger lid with some more BBQ sauce and serve with curly fries and onions. Enjoy your gourmet burger!
Did You Make This Recipe?
---
Enjoy
Let us know what you think of today's ARBY'S MELT tips, tricks, and hacks!