Grilled Shrimp Noodles recipe! This dish can be enjoyed served hot or chilled, and combines the treasured flavours of Nyonya Laksa.
Follow along with the ???? recipes below????????????????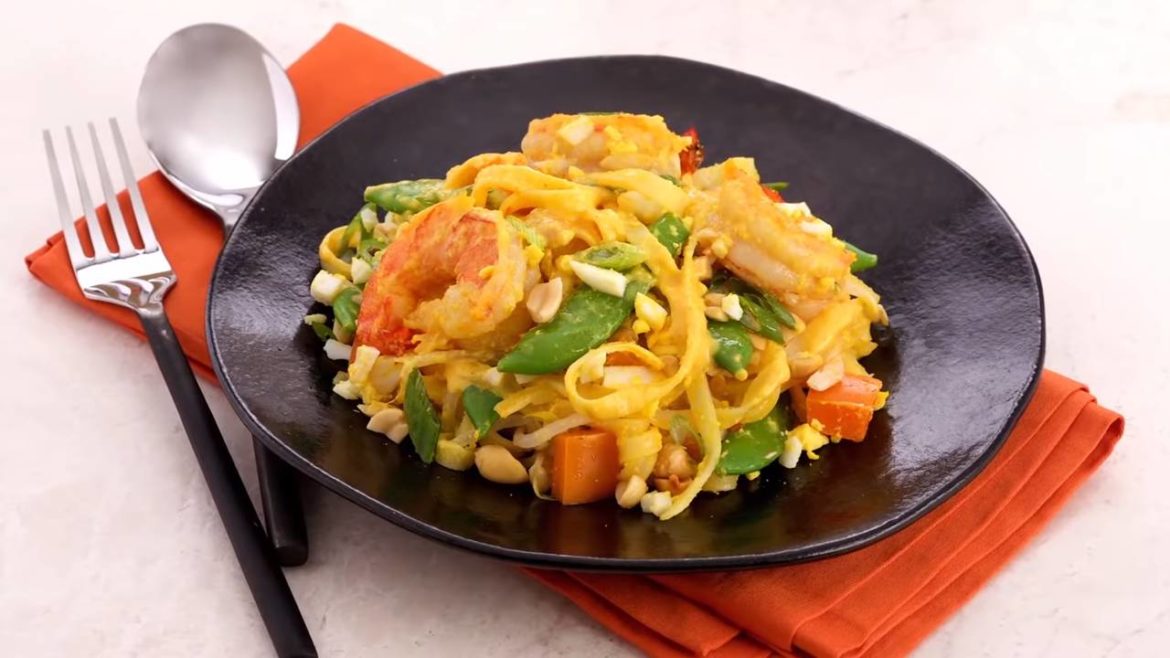 Ingredients
Chili Coconut Dressing:
65 g (1/2 cup) roasted peanuts
10 g (1 ½ Tbsp) peeled fresh ginger
1 clove garlic
25 g (2 Tbsp) granulated sugar
5 mL (1 tsp) ground turmeric
juice of 2 limes
250 mL (1 cup) coconut milk
Sambal chili paste, to taste
Salt, to taste
Assembly:
225 g (½ lb) flat rice noodles
400 g (14 oz) peeled 16/20 shrimp (tails removed)
350 g (12 oz) snap peas
450 g (1 lb) bean sprouts
1 orange bell pepper, diced
30 mL (2 Tbsp) vegetable oil or virgin coconut oil
2 green onions, sliced on the bias
2 hard boiled eggs, chopped
65 g (1/2 cup) roasted peanuts, chopped
Instructions
For the dressing, use a mortar and pestle, or blender to grind the peanuts, ginger, garlic, sugar, turmeric and lime juice together. Work in the coconut milk and add sambal and salt to taste. Chill until ready to use.
Soak the rice noodles in hot tap water for 30 minutes, while preparing the other elements of the dish. Toss the raw shrimp with a few spoonfuls of the dressing and chill until ready to use.
Bring a medium saucepan of water to a full boil. Add the snap peas, then add the bean spouts and orange pepper and blanch all for 30 seconds. Drain everything and run under cold water to halt the cooking.
Preheat a grill to medium-high heat and grill the shrimp (if using a gas grill, you can grill them in a basket), cooking 2-3 minutes on each side. Remove the shrimp to a plate to cool.
Heat a large sauté pan or skillet over medium high heat and add the oil. Drain the rice noodles and add them to the hot pan, stirring and turning them until they have softened. Add the remaining coconut dressing and coat. Add the blanched vegetables and green onion and toss, adding a touch of water if the mixture becomes too thick. Spoon the noodles onto a platter and top with the grilled shrimp, chopped egg and peanuts. Serve the noodles immediately as a hot dish, or cool to room temperature and chill to serve up to 6 hours later.
Did You Make This Recipe?
---
Bon Appétit