Empire cookies are on the menu in Book recipe, and we are going to teach you how to make this delicious recipe from scratch!
Follow along with the ???? recipes below????????????????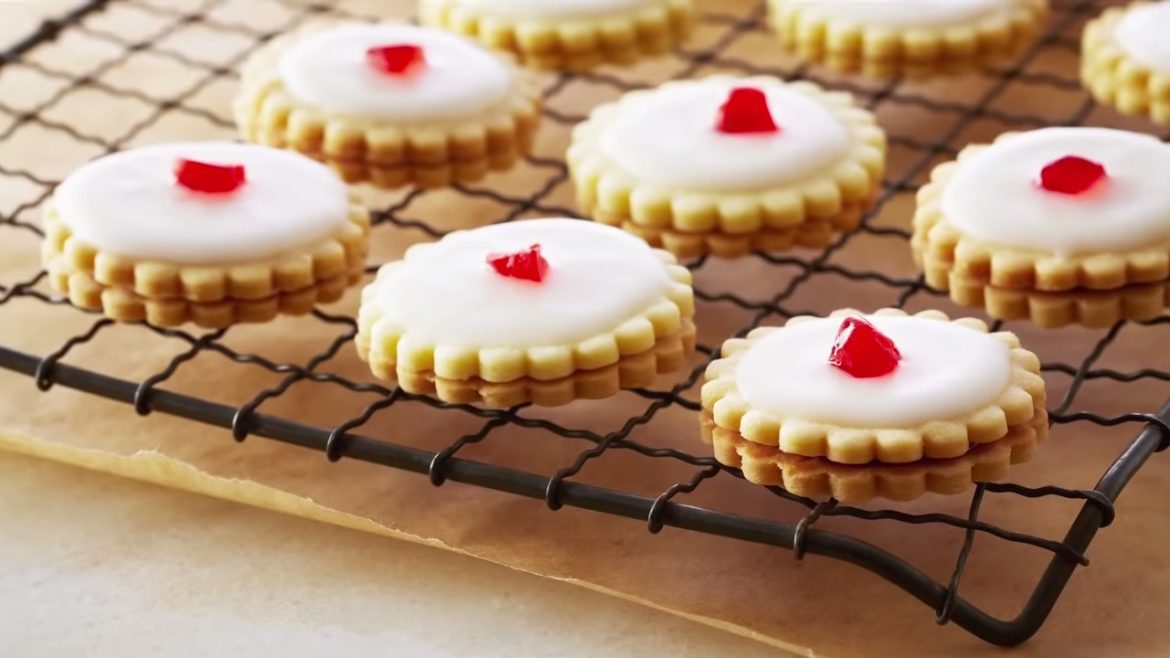 Ingredients
Tender Tart Dough
½ cup + 2 Tbsp unsalted butter, room temperature
½ cup + 2 Tbsp icing sugar, sifted
1 hard-boiled large egg yolk
1 large egg yolk
½ tsp vanilla extract
1 ¾ cup cake and pastry flour, sifted
¼ tsp salt
Icing and Assembly
⅓ cup raspberry jam
1 cup icing sugar, sifted
1-2 Tbsp warm water
¼ tsp almond or vanilla extract
6-8 glacée (candied) cherries, each chopped into 6 bits
Instructions
Tender Tart Dough
Beat the butter and icing sugar together until smooth.
Push the hard-boiled egg yolk through a sieve and stir the raw egg yolk and vanilla into it. Add this to the butter mixture and stir until blended.
Add the flour and salt to the butter mixture and stir until blended. Shape the dough into a disc (it will be very soft), wrap in plastic and chill until firm, about 2 hours.
Icing and Assembly
Preheat the oven to 325 F and line 2 baking trays with parchment paper.
On a lightly floured work surface, gently knead the dough just to soften it slightly. Roll out the dough to about ¼-inch thick and cut out cookies using a 2-inch fluted cookie cutter, placing the cookies on the baking trays, leaving ½-inch between them.
Bake the cookies for 10-12 minutes, until just lightly browned around the edges. Let the cookies cool completely on the baking trays before assembling.
Stir the raspberry jam to soften and spread a little on a cookie bottom and sandwich a second cookie on top, pressing gently to secure. Repeat with the remaining cookies.
For the icing, stir the whisk the icing sugar with 1 Tbsp of water and the almond or vanilla extract, add the remaining water if needed, until it is a thin icing consistency. Set aside.
Spread a thin layer of icing on top of each cookie, top with a piece of glacée cherry and set on a rack to dry. Let the cookies dry for about 3 hours before storing in an airtight container.
The cookies will keep, stored in an airtight container, for up to 3 day
Did You Make This Recipe?
---
Enjoy