Quiche is on the menu in Book recipe, and we are going to teach you how to make this delicious recipe from scratch!
Quiche makes such a delicious brunch item, and of course you can change the fillings to suit your tastes, but the combination of sautéed leeks and Gruyere cheese is divine.
Follow along with the ???? recipes below????????????????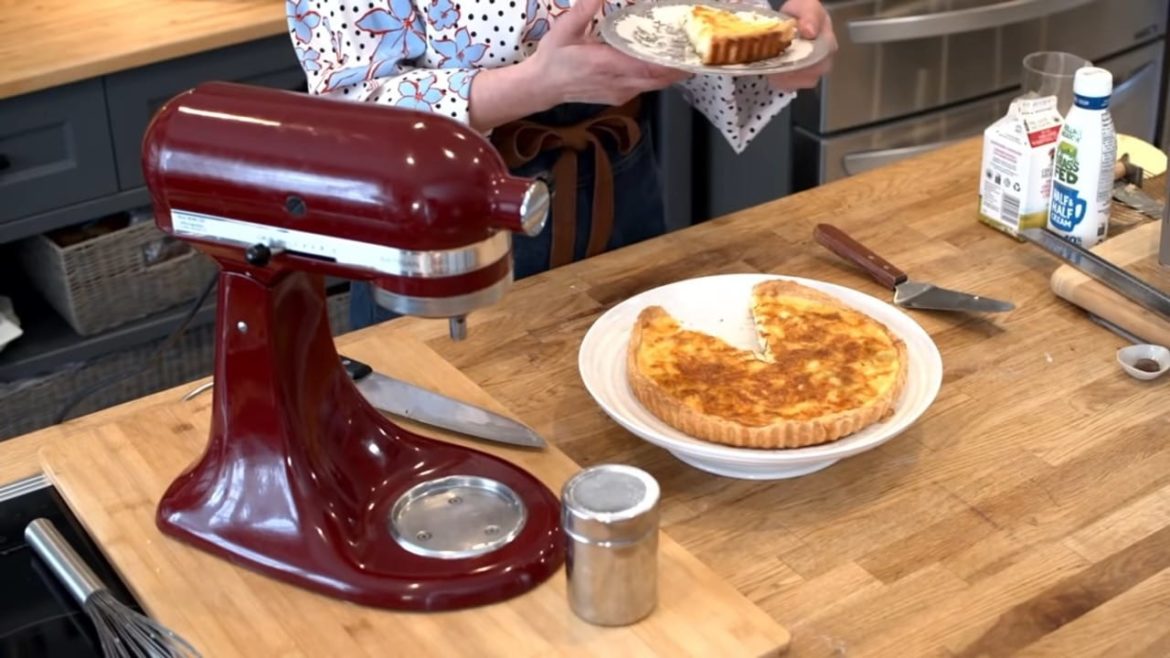 Ingredients
½ recipe classic pie dough (recipe follows)
1 Tbsp butter
1 ½ cups (375 mL) chopped leeks, white and light green part only
1 cup (80 g) coarsely grated Gruyere cheese
4 large eggs
1 cup (250 mL) whipping cream
2/3 cup (160 mL) half-&-half cream
pinch grated nutmeg
pinch salt & pepper
Classic Pie Dough:
This is my staple pie dough recipe for fruit pies, cream pies, savory pies . . . pretty much any recipe that calls for a flaky, buttery pastry shell. Use the full recipe if you're making a double-crust pie, or just half if you want either a pie shell or a top but not both.

Makes enough for one 9-inch (23 cm) double-crust pie
Prep Time: 10 minutes, plus chilling
2½ cups (375 g) all-purpose flour
1 Tbsp (12 g) granulated sugar
1 tsp fine sea salt
3 Tbsp (45 mL) vegetable oil (see note)
1 cup (225 g) cool unsalted butter, cut in pieces (does not have to be ice-cold; see note)
¼ cup (60 mL) cool water
2 tsp white vinegar or fresh lemon juice
Instructions
On a lightly floured work surface, roll out the pastry to a circle just under ¼-inch thick. Line an ungreased fluted removable-bottom tart pan, dusted with flour, pressing into the edges well and trimming away any excess dough. Chill the pastry for 30 minutes.
Preheat the oven to 400 °F (200 °C). Place the chilled pastry shell on a parchment-lined baking tray. Pierce the bottom of the crust with a fork to prevent air pockets from forming. Place a piece of foil completely over the crust and fill the shell with raw rice or beans (or pie weights). Bake the crust for 10 minutes, then remove the foil with the weights and bake 10 minutes more. The crust will only brown at the edges, less than a traditional pie crust. Allow the crust to cool while preparing the filling.
Reduce the oven temperature to 350 °F (180 °C). Melt the butter in a sauté pan over medium heat and add the leeks, sautéing until tender, about 10 minutes. Sprinkle the leeks over the bottom of the cooled crust and top this with the grated Gruyere.
Whisk the eggs lightly, then whisk in the two creams, nutmeg, salt & pepper (add just a pinch of salt, since most of the seasoning comes from cheese). Pour this slowly into the crust, allowing the filling to seep in between the leeks and cheese. Bake the quiche for 40 to 45 minutes, until it no longer jiggles when gently moved. Allow the quiche to cool for 15 minutes before slicing to serve.
Classic Pie Dough:
Combine the flour, sugar, and salt in a large bowl. Add the oil. Using a pastry cutter, electric beaters, or a mixer fitted with the paddle attachment, blend until the flour looks evenly crumbly in texture.
Add the butter and cut in until the dough is rough and crumbly but small pieces of butter are still visible.
Place the water and vinegar (or lemon juice) in a small bowl, stir together and then add all at once to the flour mixture, mixing just until the dough comes together. Shape it into two discs, wrap well and chill until firm, at least 1 hour.
If you are not making a pie immediately, refrigerate the dough, well wrapped, for up to 2 days, or freeze it for up to 3 months. Thaw it overnight in the fridge before rolling.
Notes
Yield: 1 9-inch (23 cm) fluted quiche
Alternatively, the quiche can be baked a day ahead and chilled, then warmed in a 300 °F (140 °C) oven for 30 minutes before serving.

Did You Make This Recipe?
---
Enjoy