Hummus Fatteh is on the menu in Book recipe, and we are going to teach you how to make this delicious recipe from scratch!
What happens when you add crispy bread and chickpeas to Hummus? Well you end up with Hummus Fatteh or Fattet Hummus. Today I'll show you how to make it, using regular canned chickpeas. It's extremely easy to make and you probably have all the ingredients already.
Follow along with the ???? recipes below????????????????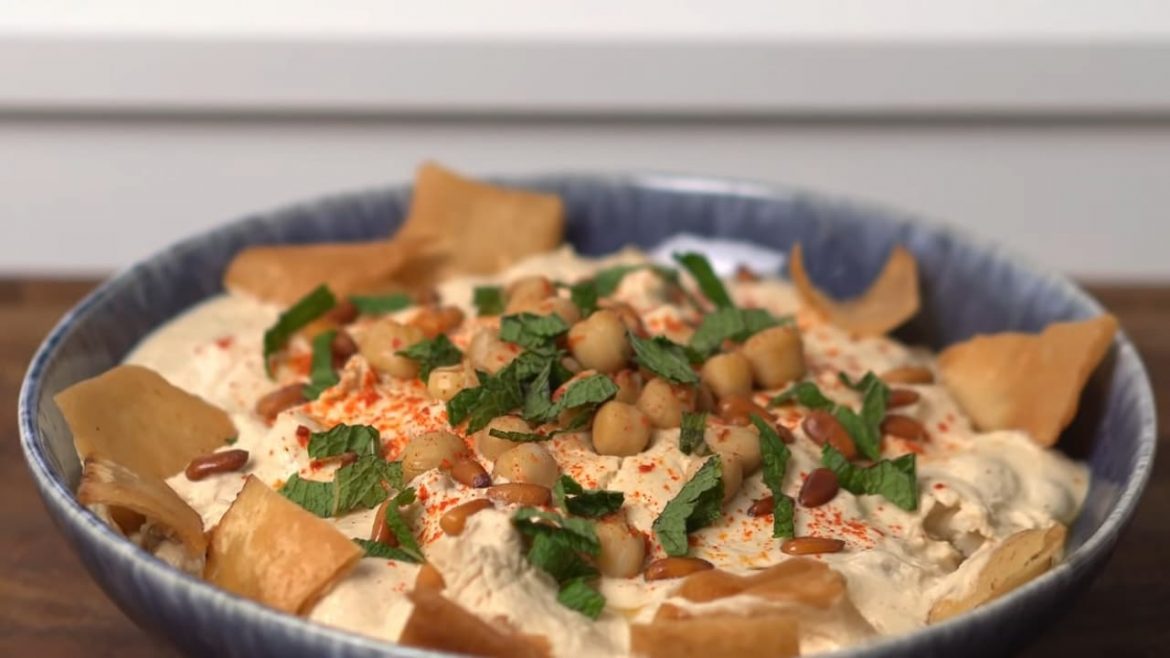 Ingredients
450g (1lb) Chickpeas (Drained weight)
175g (3/4 Cup) Yoghurt
125g (5 Tbsp) Tahini
2 Large Pitta loves
4 cloves garlic
4 Tbsp Lemon Juice
2 Tbsp Pine nuts (1/2 Tbsp Butter or ghee)
1.5 Tbsp Ghee
2 Tsp Salt
1 Tsp Aleppo Pepper
1 Tsp Cumin
Instructions
To make the chickpeas:
Drain your chickpeas from the can and wash thoroughly
Place in a pot with 1 Tsp salt, 1/2 Tsp cumin, and Aleppo pepper flakes. Add 1.5L or quarts of water and bring to a boil. Cook on high heat for 20-30 minutes until the chickpeas are soft
Drain the chickpeas into a seive, making sure to keep the liquid they were cooked in
To bake the bread:
Cut your pitta loaves into bite-sized pieces
Add 1 Tbsp olive oil, 1/4 Tsp salt and 1/8 Tsp black pepper. Mix well then place on a baking sheet
Bake at 180c (360f) for 8-12 minutes until golden in colour
To fry the bread:
Cut your pitta loaves into bite-sized pieces
Fill a frying pan with enough oil to deep fry, and heat on high heat
Add the bread to the pan and fry for 10-30 seconds, until a light golden colour
Remove from the pan and allow to drain completely
To make the sauce:
In your food processor or blender, add the yoghurt, tahini, 3 cloves of garlic, 1/2 Tsp of salt, 1/2 Tsp of cumin and 4 Tbsp of lemon juice. Add 1 cup of the chickpea liquid and half of the cooked chickpeas
Blend until well combined, then thin out further with more liquid if needed
To assemble the fatteh (per serving):
Place 1/3rd of the bread in a bowl and add 1/4 cup of the chickpea liquid
Add 1/2 clove of crushed garlic and then take a 1/3rd of the chickpeas and add half of them to the bowl
Mix until well combined then add some of the hummus sauce. Mix once more then pour this into a serving bowl. Add more chickpeas, then more sauce
Melt 1/2 Tbsp clarified butter and pour over the bowl. Top with the remaining chickpeas and toast some pine nuts and add them
Sprinkle over some paprika
Serve and enjoy right away
Did You Make This Recipe?
---
Enjoy
Let us know what you think of today's Hummus Fatteh tips, tricks, and hacks!