Budae-Jjigae is a dish made of food from the U.S. Army base in Korea. Ramyeon, sausage, and ham. You can pick whatever your favorites from the pot. From kids to adults, everybody loves this dish.
Why don't you make Budae-jjigae with the family's favorite ingredients? It will be funny and delicious!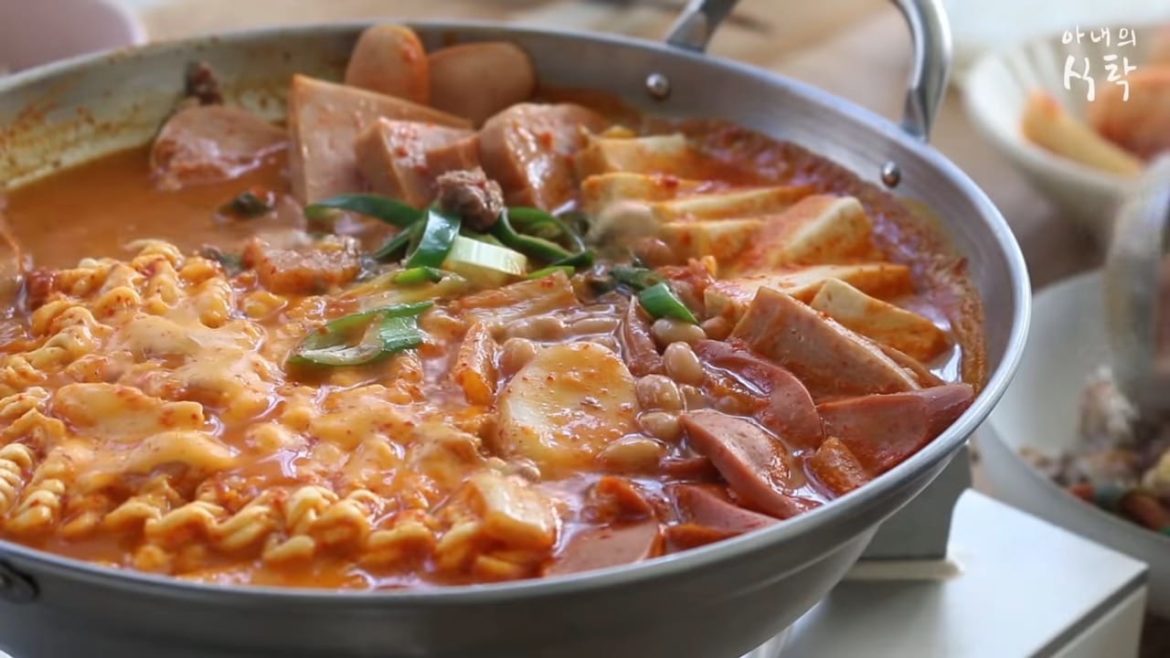 Ingredients
BASIC:
1 can of Ham(small size)
4 Sausages
60g Ground beef
3tbsp Baked beans
1/2cup of Rice cake
1/2 Tofu, 1/2 Green onion
1/3 Onion
1 cup of Kimchi
1 Sliced cheddar cheese
4 cups of beef bone broth
1 instant Ramen noodle
Beef marinade sauce:
1/2tbsp Soy sauce
1tbsp cooking wine
1tsp minced garlic
Pepper
Sauce:
1tbsp Red pepper powder
1tbsp Red pepper paste
1tbsp Soy sauce for soup
1tbsp minced garlic
Salt
Pepper
Instructions
Cut tofu into a large cube shape. Remove extra sauce of kimchi and cut to bite-size. Slice green onion at an angle, and slice onion thick cuts.
Cut ham and sausage to bite-size. Place ham and sausage on a fine mesh strainer, pour boiling water to remove grease from surfaces. Marinate beef with beef seasoning for 10 mins.
Place ham, sausage, green onion, kimchi, onion, tofu, beef and baked beans next to each other, combine seasoning paste and pour beef broth and simmer for 5 mins.
Add ramyeon and cheese, simmer until ramyeon is ready to eat.
Serve on a table, boil over low heat. Enjoy with warm soup.
Did You Make This Recipe?
Recipe video
---
Enjoy