Hello friends! Today we're going to share with you how to make a classic Italian sweet buns: Maritozzi Con La Panna, sweet buns with whipped cream.
Maritozzi are gorgeous and delicious Italian cream buns. It's a kind of soft and light brioche style bun which is sliced in half, then filled with whipped cream! You can easy to get one in Rome's pastry shops or coffee shops. Usually people enjoy it with coffee for breakfast. Or even for afternoon tea.
Maritozzi buns are originally found in the Lazio region in Rome and date back to the Middle Ages. They're made with yeast, flour, egg, sugar, butter, honey, salt, and orange zest. There is a tradition that a boyfriend or future husband gives his lover these sweet cream buns as a sign of his love, or hides a ring inside the bun. So romantic. If you love cream buns, you need to try it.
How to make Maritozzi Con La Panna?
Follow along with the ???? recipes below????????????????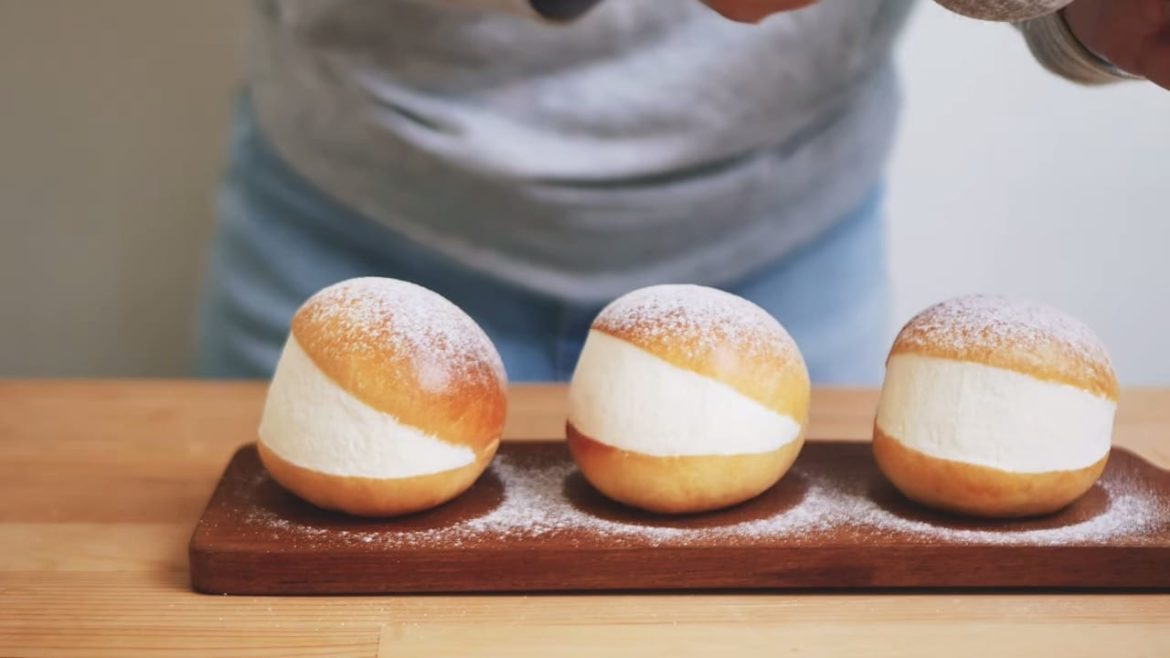 Ingredients
bread flour 167g
unsalted butter 25g
granulated sugar 27g
medium egg 2
instant yeast 2.2g
salt 2.3g
honey 7g
a half orange zest
milk 45g
Instructions
In a large bowl, add milk (room temp), a teaspoon of the total quantity of sugar and instant yeast and 15g of the total quantity of flour together, mix well to create a smooth paste. Cover with plastic wrap and let rest for 30 minutes in a warm spot.
Then add egg mixture, the remaining of sugar, honey and orange zest into the bowl, mix to combine.
Add the remaining of flour and salt, combine the ingredients, incorporating the flour bit by bit.
Transfer the dough to the work surface, the dough will be sticky but try not to add too much flour, a little is fine, just knead until it becomes a ball, it should come together nicely. You can use a scraper to collect the dough.
Add the softened butter, press the dough out in a way on the work surface to help blending the ingredients together, then scrape the dough back into the center, and continue to press the dough again until fully incorporated.
Next, use the slap and fold method to knead the dough, just pick up the dough and slap it down, then fold it over, and repeat again, until the dough is smooth and soft. You can also use a mixer for this procedure.
Place the dough ball in a bowl and cover with a plastic wrap in a warm place for about 2 hours or until doubled in size.
Turn the dough onto a work surface. Divide the dough into pieces of 55g for each. Degas them gently, rolling each bun into a small round shape. Place them one by one onto a baking sheet with baking paper. Cover with a tea towel or plastic wrap loosely, let them rise for 30 minutes in a warm spot.
When ready to bake, preheat the oven to 200ºC, brush the maritozzo with an egg wash and bake for about 12~14 mins, or until golden on top.
Once baked, let the buns cool completely.
Cut the bread in half without cutting through. Open slightly and fill with fresh whipped cream, and dust with icing sugar.
Did You Make This Recipe?
---