Chicken Vegetable Stir Fry is on the menu in Book recipe, and we are going to teach you how to make this delicious recipe from scratch!
Chunks of chicken breast fried with vegetables in a spicy sauce – you will be able to cook this tasty and delicious dish of Chinese cuisine in 30 minutes. Chicken fried this way will make your dinner exotic and adorn your holiday table!
Follow along with the ???? recipes below????????????????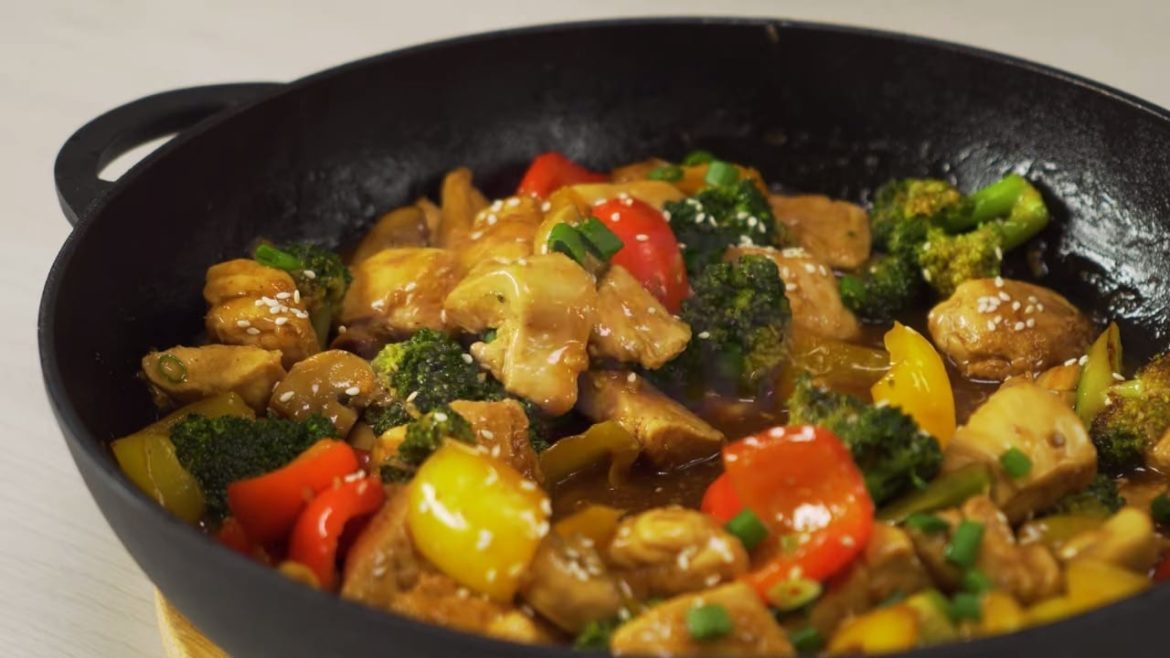 Ingredients
chicken breast – 1 lb /450 g
vegetable oil - 3 tbsp
broccoli – 10 oz /300 g
yellow sweet pepper – 7 oz /200 g
red sweet pepper – 5 oz /150 g
mushrooms (champignon) – 9 oz /250 g
soy sauce – 1/3 cup /80 ml
chicken broth – 1/3 cup /80 ml
garlic –2 tbsp
ginger – 2 tbsp
rice vinegar – 1 tbsp
sesame oil – 1 tbsp
corn starch – 2 tbsp
honey – 3 tbsp
salt – ½ tsp
ground black pepper – ½ tsp
red chili pepper – ½ tsp
green onion 1 tbsp
sesame seeds – 1 tsp
Instructions
Mix the soy sauce, chicken broth, garlic, ginger, rice vinegar, sesame oil, corn starch, and honey in a bowl.
Cut all the vegetables and chicken breast into pieces of equal size.
Heat 3 tbsp of vegetable oil in a pan, lay the broccoli, bell pepper, and mushrooms in it, fry the vegetables over high heat for a minute stirring constantly. Cover the lid and stew the stuff over low heat for 10 minutes. Remove the lid and keep frying over high heat for 3 minutes stirring constantly.
Take the fried vegetables out of the pan into the bowl.
Lay the chicken into the pan, add the salt and black pepper and fry over high heat for 2-3 minutes until golden brown. Cover the lid and stew it for 5 minutes over low heat.
Pour the above-prepared sauce into the pan with chicken and fry over medium heat for about 2 minutes.
As soon as the sauce is thickened add the cooked vegetables and mix the stuff.
Switch off the heat. Sprinkle the dish with chopped green onion and sesame seeds.
Did You Make This Recipe?
---
Enjoy