No-Bake Mini Cheesecake Bites with Strawberry Topping (MACROS BELOW)
It's that time of year! The sun is out, the tanning lotion is on, and my oven is OFF! As much as I love baking, there is nothing more annoying than having a hot oven on during a hot summer day.
On that note, I wanted to share these delicious NO BAKE Mini Cheesecake Bites with a simple strawberry topping with you. They are sweetened using sweetened condensed milk…which I am extremely addicted to.
These are soo good. I could eat the whole pan in one sitting! Not only that, but they are so easy to make and look quite impressive! You can get really creative with the topping to make it extra pretty. This is something you and your guests with absolutely love.
Follow along with the ???? recipes below????????????????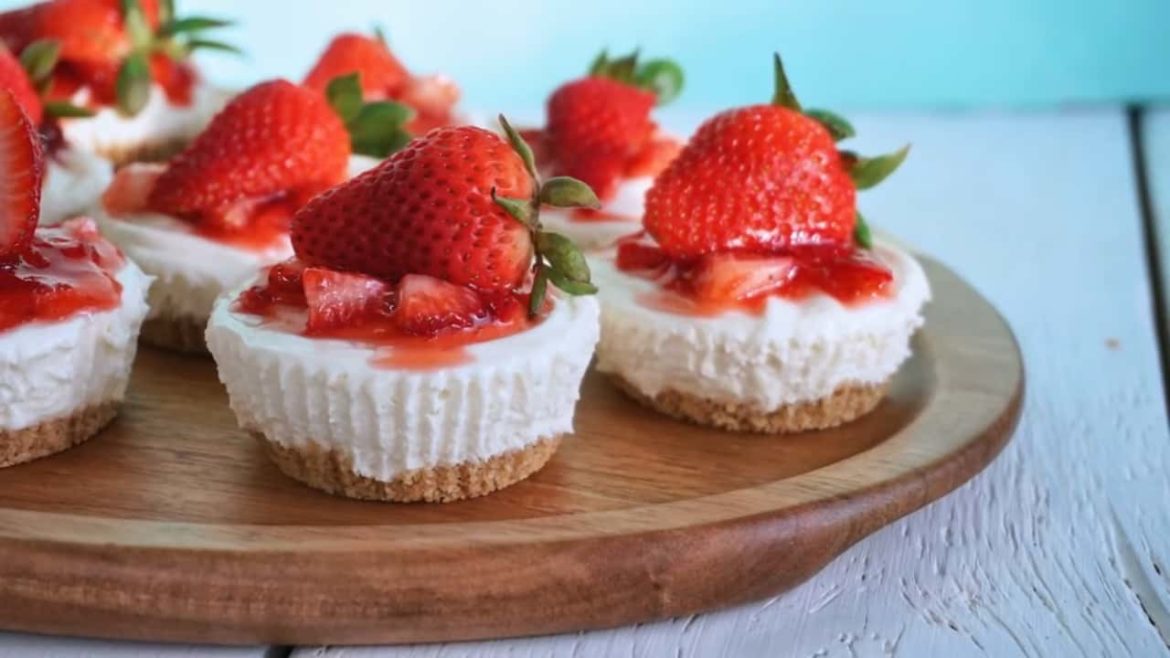 Ingredients
MACROS PER CHEESECAKE:
28g Carbs
19g Fat
5 g Protein
290 Calories
1 Package Graham Crackers (About 10 Sheets)
5 Tablespoons Butter, Melted
1 Tablespoon Sugar
2 8-Ounce Packages of Cream Cheese, Room Temperature
7 Ounces Sweetened Condensed Milk
3 Teaspoons Fresh Lemon Juice
1 Teaspoon Vanilla Extract
¼ Teaspoon Lemon Zest
Topping:
¼ Cup Fresh Strawberries, Chopped
¼ Cup Strawberry Preserves or Jam
Instructions
Prepare a cupcake pan with cupcake liners and spray with nonstick cooking spray.
In a food processor, blend graham crackers until they are a sand-like consistency. Add sugar and melted butter and mix well. The consistency should be like wet sand and easily pack-able.
Add 1 Tablespoon of the mixture to each cupcake liner. Press down firmly using fingers or a measuring cup. Place in the freezer for 10 minutes.
In the bowl of a standing mixer, beat room temperature cream cheese until smooth and light. Add sweetened condensed milk, lemon juice, vanilla, and lemon zest. Beat until well combined.
Pipe the filling into the mini crusts and smooth the tops with the back of a spoon.
Cover and refrigerate overnight to set.
Once set, remove the paper liners. (If they are not coming off, freeze the cheesecakes for 30 minutes to help the removal process.)
In a separate bowl, combine chopped strawberries and strawberry perseveres. Use a dollop to top the cheesecakes and garnish with a fresh strawberry.
Refrigerate until ready to enjoy!
Notes
Makes 12 Mini Cheesecakes – Double the recipe for 24
If you don't want to make mini's, you can totally do this in a 7-inch springform pan!

Did You Make This Recipe?
---
See also: NO-BAKE Mini Nutella Cheesecakes