Hot sunny days means TURN OFF THE OVEN! I love a good cheesecake, and I am really PICKY about them. Most no-bake cheesecakes lack that decadent texture that a baked cheesecake has.
This one DOESN'T! I'm so proud of this recipe. I literally threw random stuff all in a mixer and hoped for the best and out came one of my greatest desserts, if not THE greatest dessert, I've ever made! Not to mention, it has Nutella…that pretty much guarantees it's delicious. If you don't want to make mini's, you can totally do this in a 7-inch springform pan!
I know you will love this as much as I do!
No-Bake Nutella Cheesecake Minis Recipe
Follow along with the ???? recipes below????????????????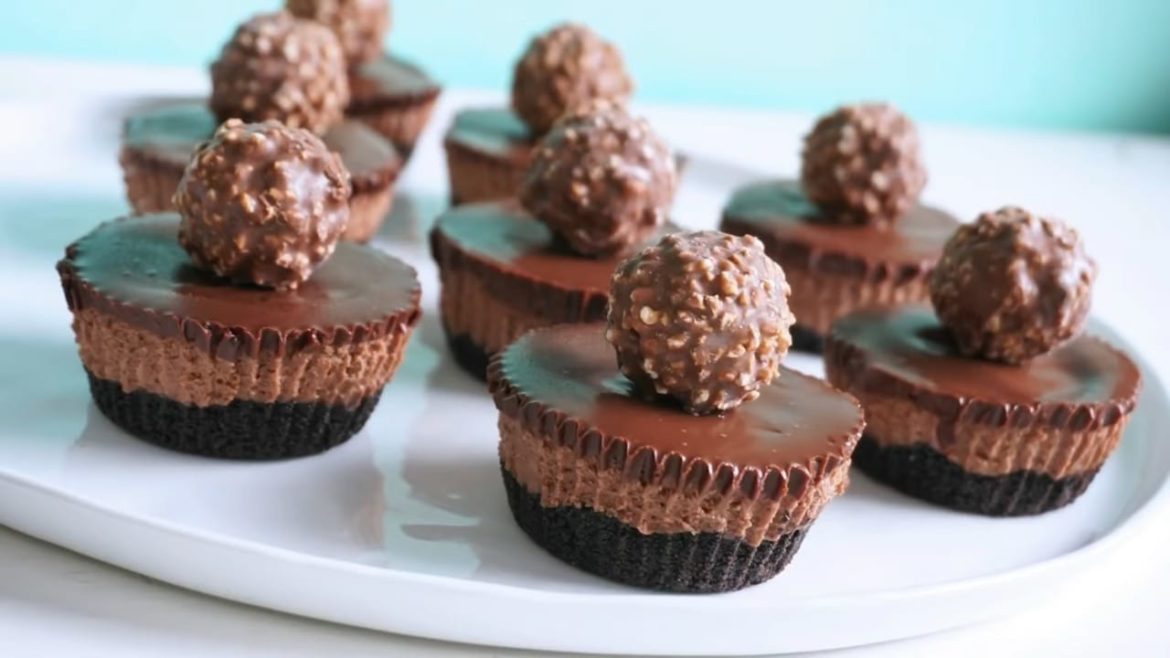 Ingredients
Crust:
1 ½ Cups Oreos with Filling, Blended
3 - 4 Tablespoons Butter
Filling:
2 8-Ounce Cream Cheese, Softened at Room Temperature
1 Teaspoon Vanilla Extract
½ Cup Sweetened Condensed Milk
(Optional) 3 Tablespoons Granulated Sugar
1 cup Nutella
3 Tablespoons Cocoa Powder
¾ Cup Fresh Whipped Cream or Cool Whip
Ganache:
1 cup Heavy Cream
1 Cup Bittersweet Chocolate Chips
Prepare a cupcake pan with cupcake liners. Spray lightly with cooking spray. Set aside.
Instructions
Filling:
In a standing mixer fitted with the paddle attachment, whip cream cheese until fluffy and smooth. About 3 minutes.
Add vanilla, and sweetened condensed milk and mix well.
Taste the mixture to see if it needs additional sweetening.
If so, add the granulated sugar and mix.
Add the Nutella, and cocoa powder and mix to combine.
Make sure to scrape down the sides of the bowl to ensure no missed lumps.
Add whipped cream and mix just to combine.
Set aside.
Crust:
In a small food processor, blend Oreo cookies until it represents fine sand.
Add melted butter and mix until it is packable like wet sand.
Add 1 Tablespoon to each cupcake liner, press down firmly using a spoon or measuring cup.
Spoon or pipe in the Nutella filling, evenly into each cupcake liner.
Ganache:
In a glass bowl add chocolate chips and hot heavy cream. (I heat mine on the stove) Top with a lid and allow to sit for 2 minutes. Whisk vigorously until it is smooth.
Pour a small amount of ganache on top of each cheesecake.
Shake the pan to even it out.
Cover and refrigerate for a minimum of 5 hours or overnight.
Remove wrapper and top with Ferrero Rocher.
Did You Make This Recipe?
---