Our Pâte à Choux from my new cookbook, Everyone Can Bake, is one of the most versatile bases in all of pastry. Depending on what shape you pipe it in, it can be used to make cream puffs, profiteroles, éclairs, Paris-Brest, and more.
Here, I fill mine with pastry cream (the recipe is a few videos back and also in the book).
Follow along with the ???? recipes below????????????????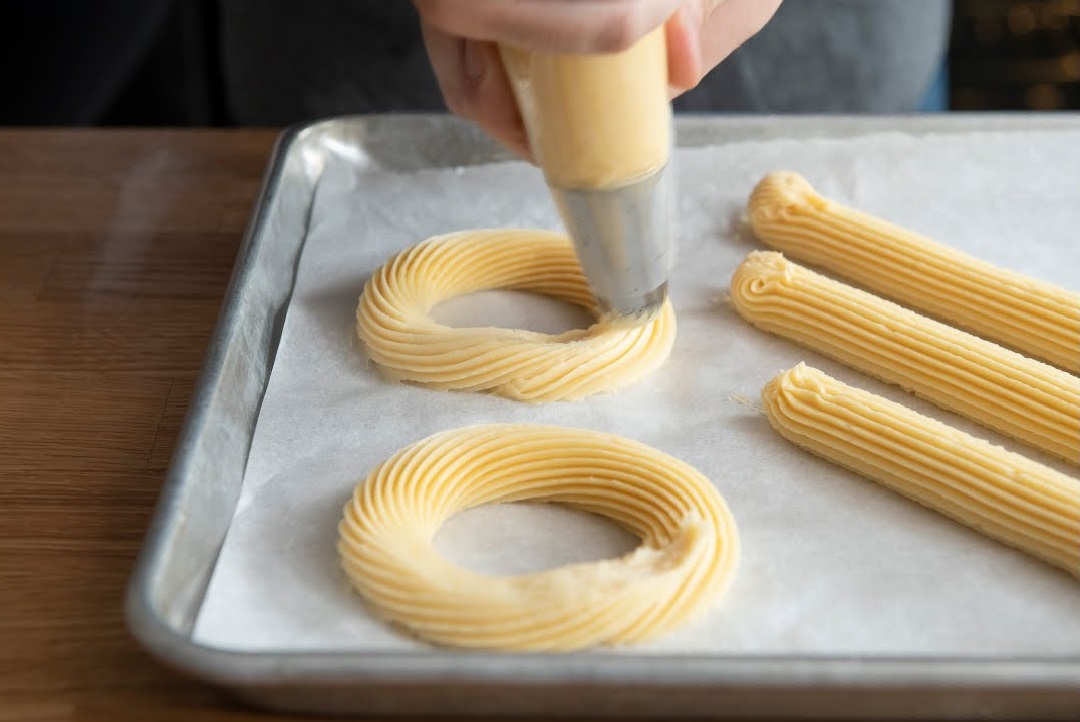 Ingredients
75g (1⁄3 cup) water
70g (1/4 cup) + 1 tsp whole milk
75g (5 1/2 tbsp) unsalted butter
3g (1 tsp) sugar
2g (1 tsp) salt
100g (2/3 cup) AP flour
150-200g (3-4 large) eggs
20g (1 large) egg yolk
EQUIPMENT
Stand mixer w/ paddle
Piping bag w/ large round plain tip (at least 1/3 in/1 cm opening)
Instructions
Preheat oven to 375°F (190°C). Line sheet pan w/ parchment.
Combine water, milk, butter, sugar, & salt in a pot. Bring to boil over medium heat, stirring occasionally. Add flour, stir vigorously w/ spatula until dough comes together, 1-2 min. Cook, stirring until a film starts to form at the bottom of the pan, 1-2 min. Keep going until the film completely covers the bottom of the pot, 4-5 min. Remove from heat.
Transfer dough to stand mixer bowl w/ paddle (or a large mixing bowl). Mix on low, 4-5 min. The # of eggs needed varies, depending on the dough consistency.* Paddle dough on low to let off heat & steam. Add eggs 1 at a time (3-4 eggs), fully incorporating each before adding the next. The outside of the bowl should still be warm.
To check, stick a spatula into the dough & lift it high. The dough should fall slowly in ribbons. It'll be thick but fluid enough to pipe.
Transfer dough to a piping bag fitted w/ a large plain tip, filled 1/3 full. Pipe into the desired shape.
› Cream puffs/profiteroles: Pipe 1 1/2 in (4 cm) rounds, 1 in (3.5 cm) apart, smooth points w/ fingertips
› Éclairs: Pipe 5-in (13 cm) long éclairs, 1 in (2.5 cm) apart
› Rings/Paris-Brest: Place an 8 in (20 cm) cake ring/pan on the parchment, trace a circle w/ a marker. Flip parchment ink-side down. Pipe a ring using the circle as a guide. Pipe another inside the 1st (so they're touching). Pipe the 3rd ring on top.
Beat remaining 50g (1) egg & yolk in a bowl. Brush egg wash over choux.
Bake until golden, light to the touch, & hollow in the center, rotating pan 180° halfway through. 20-25 min (25-30 for rings). Let cool. Remove from parchment, fill as desired.
Did You Make This Recipe?
---
Enjoy