With the new year upon us, I decided to share with you some of my favorite healthy dishes. I found a recipe for braised balsamic chicken when I first got married. I tried it and was not impressed. So over a period of time, I tweaked it.
Adding and subtracting a few things here and there until I got this delicious meal! This balsamic vinegar braised chicken has the perfect balance of flavor without being overly vinegary. I PROMISE you will love this dish. Not only is it healthy but it has a ton of flavor and is relatively easy to make! You can choose to omit the pasta and serve it with a side of green beans or broccoli if you so desire.
I hope you enjoy it!
Follow along with the ???? recipes below????????????????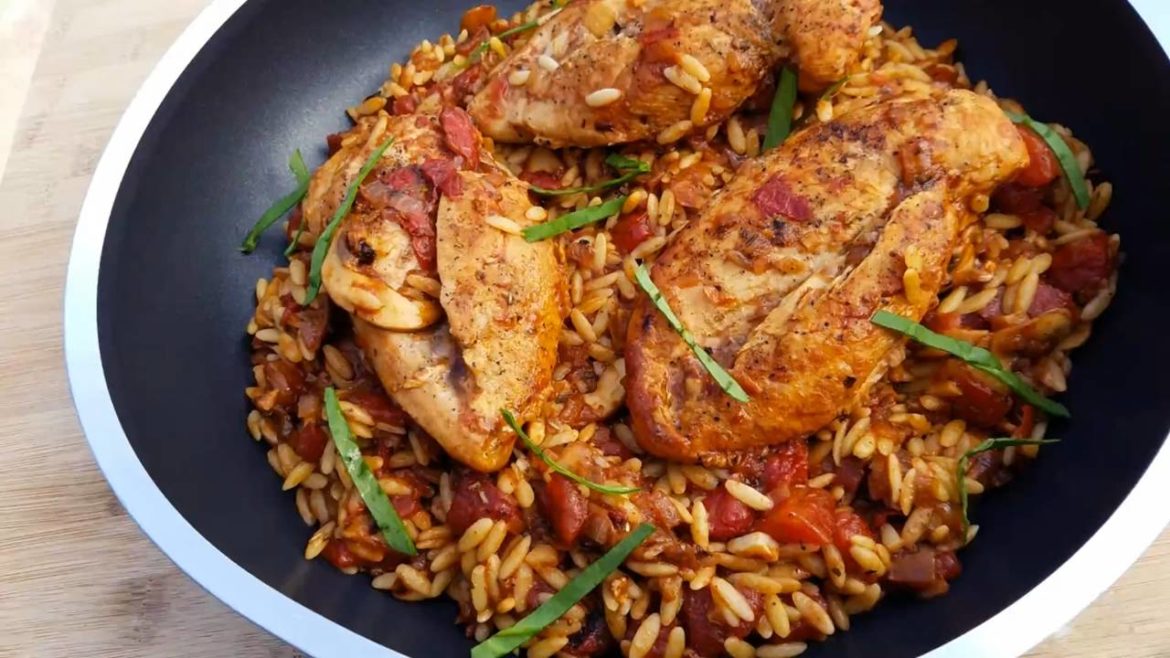 Ingredients
3-4 Boneless Skinless Chicken Breasts, pounded to an even thickness
1 Teaspoon Garlic Powder
Salt and Pepper to Taste
2 Tablespoons Canola Oil
1 Onion, Chopped
4 Cloves Garlic, Minced
1 Cup Baby Bella Mushrooms, Chopped
1 14.5 Ounce Can Diced Tomatoes
¼ Cup Balsamic Vinegar
½ Cup Chicken Stock
1 Cup Orzo Pasta
2 Teaspoons Dried Basil
½ Teaspoon Cayenne Pepper
1 Teaspoon Dried Rosemary
1 Teaspoon Garlic Powder
Salt and Pepper to Taste
Instructions
In a large skillet placed over medium-high heat, pour a tablespoon of the oil. Add onions and sauté until a golden brown color develops. Once browned, transfer the onions to a bowl and set aside. In the meantime prepare a pot of salted boiling water to cook your pasta.
Season both sides of chicken breasts with garlic powder, salt, and pepper to taste.
Add another tablespoon of oil to the hot pan. Add your chicken and brown it on both sides. You want to develop a golden brown color. This adds flavor.
Don't forget to add your pasta to the boiling water! Cook your pasta according to package directions.
Once the chicken is browned, return the onions back to the pan. Add the mushrooms and garlic, and sauté until the garlic becomes fragrant. About 3 minutes.
In a separate bowl, combine tomatoes, chicken stock, balsamic vinegar, basil, rosemary, garlic powder, cayenne, salt, and pepper to taste. Pour the mixture over the chicken and veggies. Give a gentle stir and allow to cook for about 20 minutes or until chicken reaches an internal temperature of 165 degrees.
Once the chicken is cooked through, stir in cooked and drained pasta and serve!
Did You Make This Recipe?
---
---