Who doesn't love a good Cobb Salad?! I mean it has all the good stuff in it. Fresh crisp greens, bacon eggs, bacon, avocado, onion, bacon, grilled chicken, did I mention it has bacon? All of that topped with my homemade creamy blue cheese dressing. It is basically my ranch dressing with a blue cheese twist.
I got the blue cheese idea from a pioneer woman! Although our recipes are slightly different, blue cheese makes it all amazing. Now, if you are not a blue cheese person, I respect that. Just omit the blue cheese and you have my ranch dressing! Just as delicious! If you are not a salad person, you will be after you try this!
Follow along with the ???? recipes below????????????????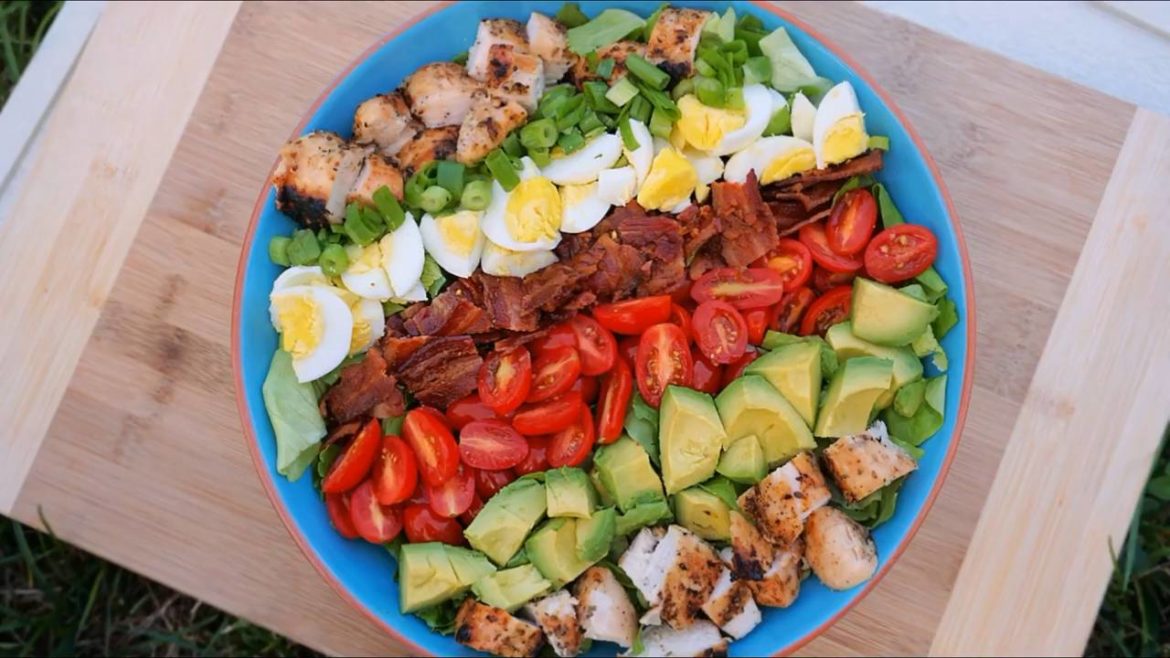 Ingredients
Blue Cheese Ranch Dressing:
1 Cup Mayo
1 Cup Greek Yogurt or Sour Cream
¾ Cup Buttermilk
3 Dashes Worcestershire Sauce
¾ Teaspoon Dried Dill
½ Teaspoon Garlic Powder
½ Teaspoon Onion Powder
¼ Teaspoon Cayenne Pepper
Salt and Pepper to Taste
4 Ounces Blue Cheese
2 Tablespoon Chopped Chives
Salad:
8-10 Slices Cooked Bacon, Chopped
4 Large Hardboiled Eggs, Peeled and Chopped
2 Boneless Skinless Chicken Breasts
1 Teaspoon Italian Seasoning
1 Teaspoon Garlic Powder
½ Teaspoon Cayenne Pepper
Salt and Pepper to Taste
2 Avocados, Pitted and Cubed
2 Heads Romaine Lettuce, Diced
1 Head Bibb Lettuce, Chopped
1 cup Cherry Tomatoes, Halved
1 cup Green Onions, Chopped
Instructions
Blue Cheese Ranch Dressing:
In a blender or food processor combine all ingredients except the chives. Blend until smooth. Stir in chives and transfer to a sealable container. Refrigerate for 30 minutes or until ready to use.
Salad:
Lay bacon slices on a baking sheet lined with aluminum foil. Cook in a 400 degree F oven for 15 minutes on one side then flip the slices and continue to cook for another 10-15 minutes. Blot oil with a paper towel, chop, and set aside.
For the chicken, season both sides with salt, pepper, garlic powder, Italian seasoning, and cayenne. Grill until cooked through. (Internal temp 165 degrees F) Slice into cubes and set aside.
For the eggs, gently place room temperature eggs in a saucepan.
Cover with room temperature water and turn the heat on high. Bring to a boil.
Once it reaches a boil, cover with a tight-fitting lid, turn the heat off, and allow to cook for 10 minutes.
Transfer each individual egg to an ice water bath and allow it to cool completely.
Gently crack and peel each egg. Chop and set aside.
To assemble:
On top of chopped romaine and bibb lettuce, add tomatoes, bacon, eggs, avocado, chicken, and green onions. You may drizzle the dressing on top or let each person drizzle the dressing on their serving.
This ensures the salad doesn't become soggy if there are leftovers.
Did You Make This Recipe?
---
Enjoy