Bigos is considered to take the origin from Poland but it is no less popular and favorite in Lithuania, Ukraine and Belorussia. The recipes of bigos cooking, as of many old recipes, have their features. Here we offer to cook a Polish style bigos. In this recipe two forms of white cabbage are used at once – fresh and sauerkraut.
Traditionally bigos is cooked in extra amount as it does not lose its quality during warming up. This dish is served as a rule in the same cookware it was cooked in. It is recommended to each time warm up the whole amount at once in the same pot it cooked in, not just one eating amount.
It is believed that each time the dish is warmed bigos «matures» and its flavors become even better. Bigos is stored up to 7 days in a refrigerator and 6 months in a freezer. You won't regret the time spent for cooking bigos all because this meal is not just a tasty, very tasty!
Follow along with the ???? recipes below????????????????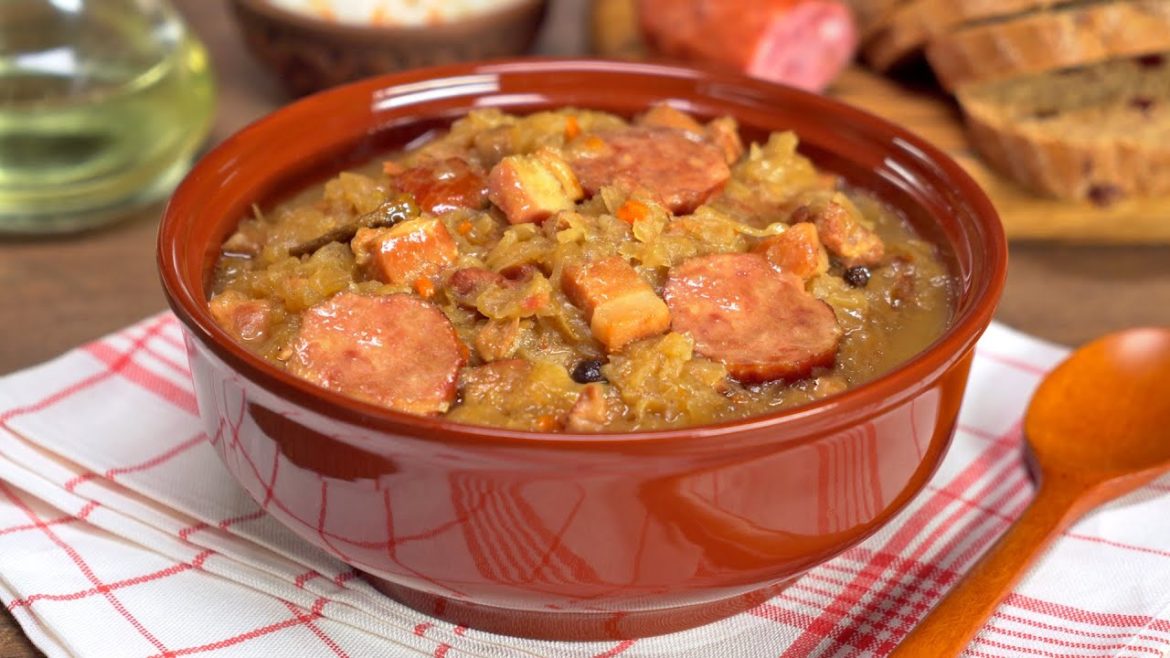 Ingredients
fresh white cabbage – 35oz /1 kg
sauerkraut – 3 lb /1,3 kg
dried mushroom – 1 oz /40 g
pork boneless meat – 28 oz /800 g
smoked bacon – 10 oz /300 g
smoked sausage – 10 oz /300 g
2 bulb onions
dry red wine – ¼ cup /150 ml
10 peppercorns
5 allspice berries
10juniper berries
4 cloves
2 bay leaves
honey – 1 tbsp
ground black pepper – 1 tsp
salt – to taste
vegetable oil – 4 tbsp
You will need:
stockpot ≥4,5 l
pan
bowl
carving board
Instructions
Pour the dried mushrooms with the warm water and leave for a night, then wash thoroughly under running water and filter the mushroom juice it was soaking in. If you got big mushrooms, cut them into thin strips.
Add 2 tbsp of vegetable oil into a stockpot and lay out the fresh cabbage cut into thin strips.
Fry the cabbage for 5 minutes over medium heat.
Add the sauerkraut and prepared mushrooms with its filtered juice into the stockpot, cover with a lid and braise over low heat for an hour stirring occasionally.
Heat a pan over low heat with 2 tbsp of vegetable oil and fry the pork meat cut into small pieces on all sides until golden for about 10 minutes over low heat.
Add the fried meat into the stockpot with the cabbage and stir, add the cloves, juniper berries, peppercorns, allspice berries and bay leaves, keep braising for an hour more over low heat.
Fry the chopped bacon in the pan for 5 minutes over low heat.
Add the chopped up bulb onion and fry for 3 minutes over low heat until golden.
Add the sliced sausage into the pan and fry for 2 minutes more over low heat.
Lay the fried bacon, sausage and onion into the stockpot, add the red wine, honey and ground black pepper and simmer over low heat for 1 hour.
Salt to taste.
Off the heat and cool the bigos.
When serving warm up the bigos and serve hot to the table.
Store extra amount of bigos in a refrigerator up to one week and half a year in a freezer. It becomes better in this case.
Notes
It is recommended to cook bigos beforehand, a couple of days till serving date. A genuine Polish bigos becomes better when warmed up.

Did You Make This Recipe?
Cabbage & sausage stew are on the menu in Book recipe, and we are going to teach you how to make this delicious recipe from scratch!
---
Enjoy