Focaccia of the Potato Parmesan variety is on the menu in Chef Anna Olson's amazing kitchen, and she is going to teach you how to make this delicious recipe from scratch!
Follow along with the recipe below!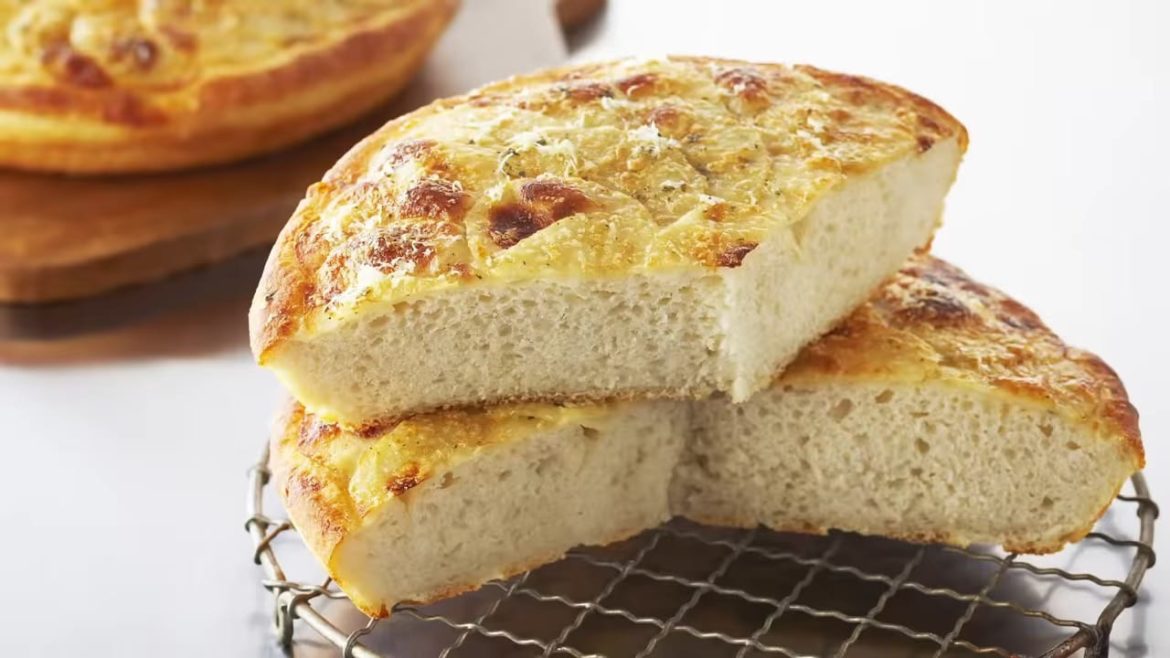 Ingredients
1 ½ lbs (680 g) russet (baking) potatoes (2-4)
1 ¾ cups (440 ml) warm water (105 F/40 C)
2 ¼ tsp (8 g) (1 pkg) instant dry yeast
3 ¾ cups (555 g) all-purpose flour
2 tsp (10 g) coarse sea salt, plus extra for sprinkling
olive oil
1 (1 g) tsp chopped fresh thyme
½ cup (40 g) grated Parmesan cheese
Instructions
Peel and dice 1 pound of the potatoes and boil them in salted water until tender, about 10 minutes. Drain the potatoes well and push through a ricer, or mash by hand. Measure out 1 ½ cups, loosely packed if pushed through a ricer, and 1 ¼ cups if mashed. Allow the potatoes to cool to just above room temperature.
In a large mixing bowl or in a mixer fitted with the hook attachment, add the water, yeast, flour, cooled mashed potatoes and 2 tsp of salt. If mixing by hand, stir until the dough comes together, then turn out onto a lightly floured work surface and knead until smooth and elastic (but dough will be soft), about 8 minutes. If using a mixer, mix first on low speed until all is blended, then increase by one speed and knead the dough until elastic (but it will still stick to the bottom of the bowl and even the sides slightly) about 4 minutes. Place the dough into an oiled bowl, cover it with plastic wrap and let rise for 90 minutes.
Grease 2 9-inch pie plates. Turn the risen dough out, divide in half and roll out into 2 circles 9-inches across and gently place into the prepared pie plates. . Cover the plates with tea towels and let the dough rise 45 minutes.
Preheat the oven to 400 F (205 C). Peel the last of the potatoes (1-2) and slice thinly on a mandolin or through a food processor. Toss the potatoes with olive oil and a pinch of salt along with the thyme. Uncover the dough and dimple gently with you fingers. Sprinkle an even layer of grated Parmesan over the dough and arrange the potato slices overtop, overlapping halfway. Top the potatoes with a generous and even layer of Parmesan. Bake the focaccia for about 35 to 40 minutes, until the Parmesan cheese browns evenly. Cool the focaccia for 10 minutes in their pans, then carefully remove to cool completely before serving.
Notes
The focaccia is best enjoyed the day it is baked.

Did You Make This Recipe?
Recipe video
---
Enjoy