KETO Creamy Chicken Mushrooms and Asparagus are on the menu in Book recipe, and we are going to teach you how to make this delicious recipe from scratch!
With all this buzz lately about the Keto diet, I wanted to share some keto friendly recipes to help those who are doing their best! Although keto is not for me (GIVE ME ALL THE BREAD) this recipe is absolutely STUNNING.
Flavor after flavor is layered to result in this deliciously creamy and flavor bomb!
Follow along with the ???? recipes below????????????????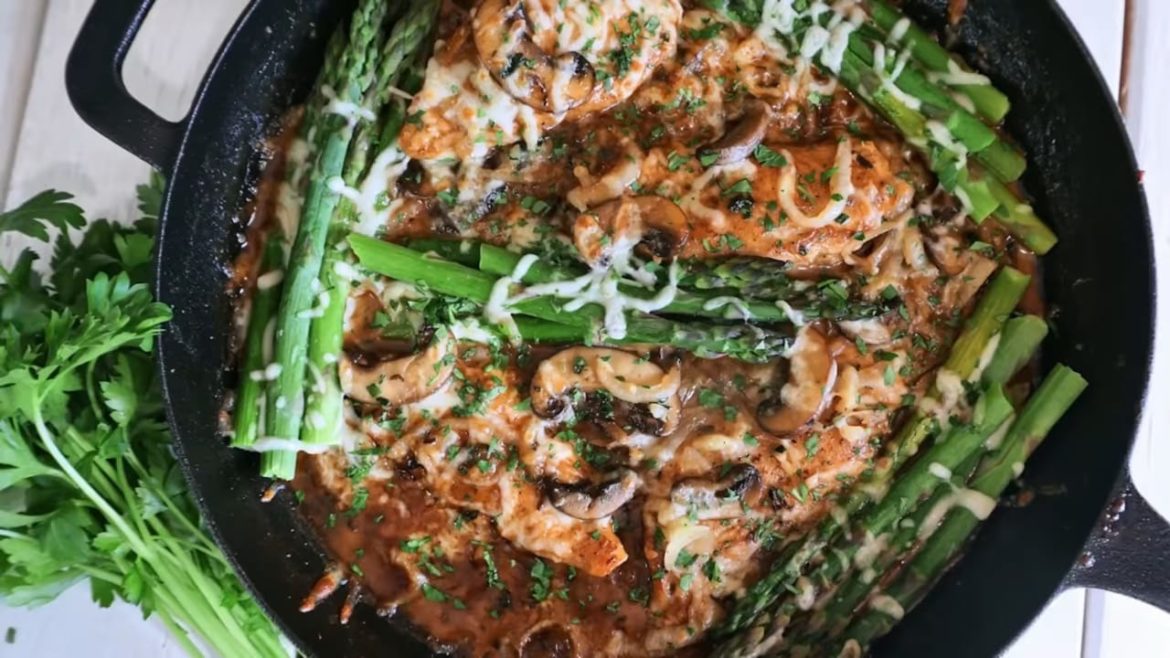 Ingredients
1 Lb. Asparagus, Blanched
2 Large Chicken Breasts, Halved Lengthwise
2 Tablespoons Butter, Divided
2 Tablespoons Coconut Oil, Divided
16 Ounces Portabella Mushrooms, Thickly Sliced
1 Medium Onion, Diced
4 Cloves Garlic, Minced
3 Tablespoons Fresh Parsley, Chopped
1 Cup Sweet White Wine
2 cups Beef Stock
½ Cup Heavy Cream
½ Cup Mozzarella Cheese, Grated
Instructions
Asparagus:
To blanch asparagus, place asparagus in a pot of salted boiling water. Cook for about 2 minutes then remove to a bowl of ice water. This stops the cooking process. Drain well and set aside.
Chicken:
Cut chicken in half lengthwise. Season both sides with salt, pepper, garlic powder, and cayenne pepper to taste. Set aside.
In a large ovenproof skillet, melt 1 Tablespoon butter and 1 Tablespoon coconut oil over medium-high heat. Add chopped mushrooms and sauté for about 3 minutes. Add chopped onion, and parsley. Season with salt and pepper to taste. Sauté until onion is softened. About 3 minutes. Add minced garlic and sauté until fragrant. About 1 minute. Remove to a bowl and set aside.
In the same pan, melt the remaining coconut oil and butter. Add in seasoned chicken and cook until the internal temperature reads 160°F and is brown on both sides. Remove from pan and set aside.
Add white wine to the pan and bring to a boil. Allow reducing by half. Around 5 minutes.
Once reduced add beef stock. Bring to a boil and reduce to a ¼. About 10 minutes.
Add heavy cream and bring to a gentle simmer. Simmer until it thickens. Then add chicken, onions, and mushrooms, and blanched asparagus. Top with shredded mozzarella.
Broil on high in a hot oven for about 3 minutes or until the cheese is melted and slightly golden.
Did You Make This Recipe?
---
Enjoy