Danish Dough and Spiral Raisin Danishes are on the menu in Chef Anna Olson's amazing kitchen, and she is going to teach you how to make this delicious recipe from scratch
Follow along with the ???? recipes below????????????????
Danish Pastry Dough
Yield: ½ kg dough
Makes: 24 individual Danishes
Active Prep Time: 2 hours
Resting Time: 8 ½ hours
Spiral Raisin Danishes
Yield: 12
Active Prep Time: 25 minutes
Resting Time: 90 minutes
Cook Time: 30 minutes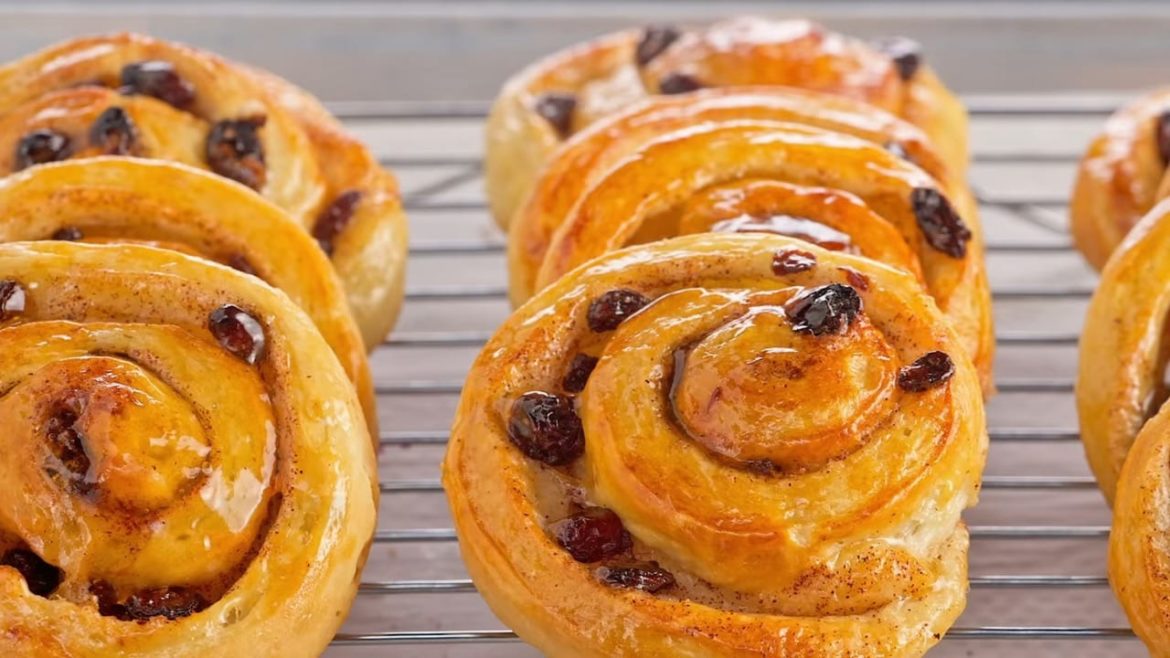 Ingredients
1-Danish Pastry Dough
Sponge
1 1/2 cups (375 mL) warm water (115 °F/46 °C)
1 Tbsp (10 g) instant yeast
1 cup (150 g) all-purpose flour (plain flour)
Dough
1 ½ cups (225g) all-purpose flour (plain flour)
1 ¼ cups (140 g) cake & pastry flour
¼ cup (50 g) granulated sugar (caster sugar)
1 tsp (5 g) salt
1 ¼ cups (285 g) cold unsalted butter, cut into pieces
2-Spiral Raisin Danishes
½ recipe Danish pastry dough
2-3 Tbsp (30-45 g) butter, melted
cinnamon sugar, for sprinkling
½ cup (70 g) raisins
1 egg whisked with 2 Tbsp (30 mL) of water, for brushing
½ cup (125 g) apricot jam or apple jelly
Instructions
1-Danish Pastry Dough
For the sponge, mix the water, yeast, and flour together by hand in a large mixing bowl, or in the bowl of a stand mixer (fit it with the dough hook for the next step). Let this stand for 5 minutes.
For the dough, add the all-purpose and cake & pastry flours to the sponge, along with the sugar, salt, and ¼ cup (60 g) of the butter. Mix this using electric beaters (with the hook attachments) or in the stand mixer on low speed until the flour is blended in, then increase the speed by one level and mix, adding the remaining 1 cup of butter pieces, a little at a time, until the dough feels elastic but most of the butter pieces are still visible about 2 minutes. Cover the bowl and allow this dough to rise for 30 minutes, then chill for at least 2 hours.
On a lightly floured surface, turn the dough out and dust with a little flour. Roll the dough out to a rectangle about 18-inches (45 cm) long and 10-inches (25 cm) wide. Bring the two short ends of the dough to meet in the center, then fold the dough in half at the point where they meet (this is called the book fold). Chill the dough, covered, for just an hour.
After the first hour, bring the dough out and roll it again into a rectangle 18-x-10-inches (45-x-25-cm), turn the dough over, and fold it into thirds. Cover and chill for an hour. Repeat this step again one more time, then cover and chill at least 4 hours or overnight.
2-Spiral Raisin Danishes
On a lightly floured surface, roll out the Danish dough into a 12-inch (30 cm) square. Brush the dough with melted butter and sprinkle generously with cinnamon sugar and then sprinkle the raisins overtop. Roll up the dough and cut it into 12 pieces. Place the Danishes onto a parchment-lined baking tray, tucking each end of the spiral underneath. Cover the Danishes with a tea towel and leave them to rise on the counter for 90 minutes – they will almost double in size.
Preheat the oven to 375 F (190 C). Brush the risen Danishes with egg wash and bake for 25 to 30 minutes, until a rich golden brown. Allow the Danishes to cool for 20 minutes on the baking tray.
To glaze the Danishes, melt the apricot jam or jelly in a small saucepot over medium-low heat (if using apricot jam, strain out the fruit pieces before using). Brush the jam or jelly over each Danish, let sit for a minute, and then serve.
Notes
The Danishes should be enjoyed the day they are baked.

Did You Make This Recipe?
---
Enjoy
Let us know what you think of today's Danish Dough and Spiral Raisin Danishes tips, tricks, and hacks! Which one was your favorite recipe?