KISIR is on the menu in Book recipe, and we are going to teach you how to make this delicious recipe from scratch!
Today we are making Kısır (Turkish tabouleh) with beetroot and delicious meat. Actually, we have already made kısır together and I am sure the ones who already tried it will remember that was phenomenal- but today we are upgrading Kısır with pickled beetroot and delicious meat marinated with molasses and topped with sesame seeds.
Follow along with the ???? recipes below????????????????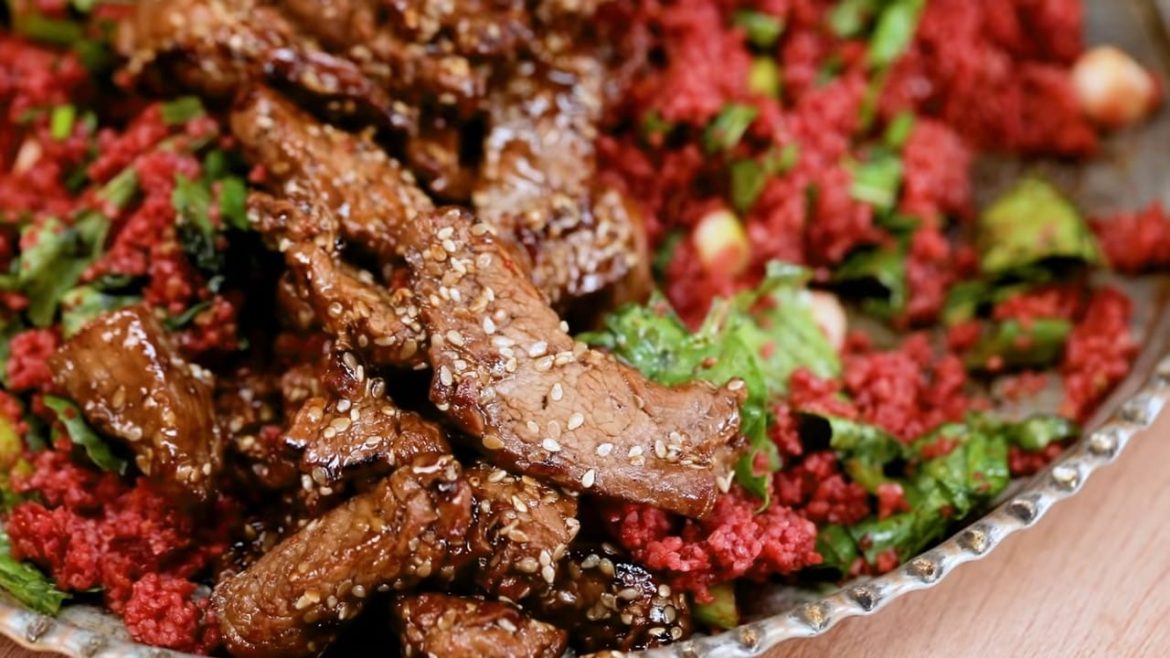 Ingredients
Kısır with beetroot
1 cup fine bulgur
150 g pickled beetroot (5 oz)
1 teaspoon tomato paste
1 teaspoon red pepper paste
½ teaspoon ground allspice
1 teaspoon paprika
5 tablespoons pickled beetroot juice
3 sprigs of spring onion, chopped
½ bunch of rockets, chopped
2 tablespoon pomegranate sour, also known as pomegranate molasses but lemon juice would do fine as well
6 tablespoons olive oil
Delicious meat
400 g tenderloin,(0,8 lb) cut into strips
1/2 teaspoon salt
2 tablespoons molasses, you can use any sauce you like, soy sauce &honey, BBQ or Worcestershire sauce
1 tablespoon white wine vinegar
1 teaspoon starch
½ teaspoon black pepper
A pinch of red pepper flakes
2 heaped tablespoons of sesame seed
3 tablespoons of olive oil, or any oil that you have
Instructions
Place the bulgur in a large bowl and add boiling water just a few millimeters above the bulgur.
Cover with a lid and set aside for about five minutes until bulgur soaks all water and softens.
Meanwhile, mix the tenderloin with salt, molasses, starch, white wine vinegar, black pepper, red pepper flakes, sesame seeds, and half of the olive oil.
In a food processor, pulse the pickled beetroot with the juice until smooth.
After bulgur softens, add the beetroot puree, pepper paste, and tomato paste and knead well. You can shred the beets by hand, but it's okay if large pieces remain.
Add the ground allspice, paprika, salt, olive oil, pomegranate sour and continue mixing.
To cook the tenderloin, heat a very large frying pan on high heat and pour the remaining olive oil. Add the tenderloin and cook on high heat for a couple of minutes, stirring occasionally.
Finally, add the spring onions and rockets to kısır and mix gently. Don't add your greens if your kısır is still warm. Otherwise, they might lose their crisp. It is important to mix the greens without squeezing too much.
Transfer the kısır to a large plate or tray.
Place your delicious and juicy meat on top of the kısır and it is ready to eat. Enjoy!
Did You Make This Recipe?
---
Enjoy
Let us know what you think of today's KISIR tips, tricks, and hacks!