I baked a simple table bread with a little sugar and a little butter. Even if you add jam or honey to your bread, it's a delicious taste.
I sandwiched the egg tartar with thinly sliced cucumber and plenty of boiled (Because of my husband's request) It is best to eat with olive oil!
Whether it's for breakfast, snacks, or dinner-after all, it's a delicious bread.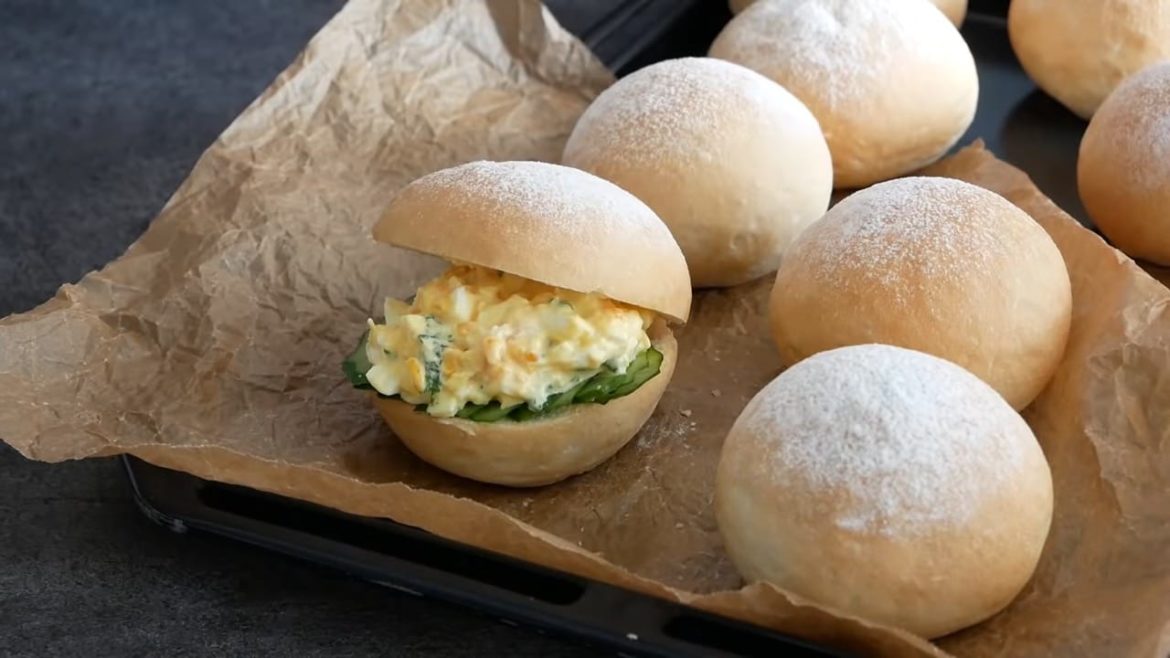 Ingredients
200g Bread flour (★)
6g Sugar (★)
3g Salt (★)
3g dry yeast
10g Unsalted butter(room temperature)
For Sprinkle: Bread flour(as needed)
The best water temperature for the dough: About 15℃-20℃ for spring and autumn. About 10℃ for summer, and about 25℃-30℃ for winter.
Instructions
Combine the dry ingredients (★)and mix them.
Add dry yeast and water and Mix.
Put it on the table and knead. (10mins)
Add butter and knead more. (5mins)
Make it round, then leave it at a warm place until it gets twice as bigger. (primary fermentation)
Degas the dough from ⑤, divide it into 8 pieces and make them round.
Cover them with a wet cloth and leave them for 10 mins. (bench time)
Again, make them round.
Cover them with plastic wrap or a wet cloth not to dry, leave it at a warm place until they get twice as bigger. (secondary fermentation)
preheat the oven to 392 °F/200℃.
Dust the rolls with bread flour (not listed in the ingredient list) using a tea strainer.
Bake at 374 °F/190℃ for 16 minutes.
Notes
Be careful not to let the dough dry out when you are letting it rise or rest.
When the dough is too moist and sticky, powder the dough a little.

Did You Make This Recipe?
Recipe video
---
Enjoy