Vanilla custard-filled doughnuts are on the menu in Book recipe, and we are going to teach you how to make this delicious recipe from scratch!
Follow along with the recipes below!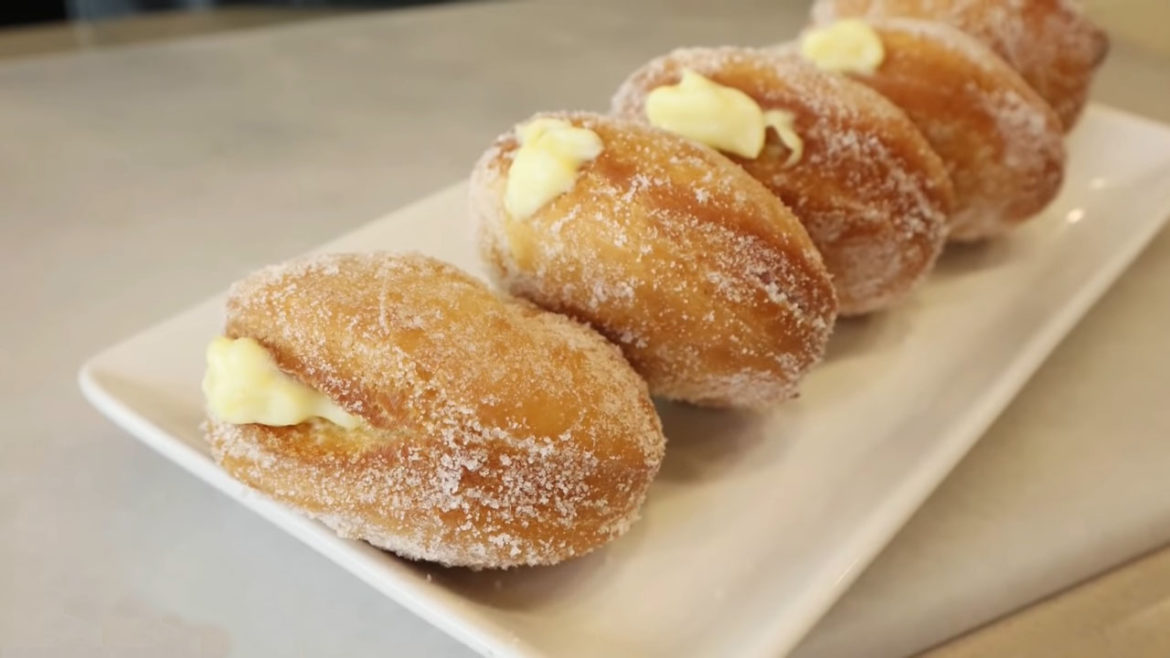 Ingredients
DOUGHNUT INGREDIENTS:
4 cups all-purpose flour
1/4 cup sugar
1 teaspoon salt
1/2 teaspoon nutmeg
2 eggs
1 cup milk
1/3 cup melted butter
1 tablespoon yeast
VANILLA CUSTARD INGREDIENTS:
4 egg yolks
1/4 cup sugar
1/4 cup corn starch
1 & 1/2 cup whole milk
Pinch of salt
1/2 teaspoon vanilla extract
Instructions
Doughnut Recipe:
All wet ingredients must be at room temperature for the dough to rise well.
Combine all dry ingredients (flour, salt, sugar, nutmeg) whisk to combine and set aside.
Combine all wet ingredients (milk, eggs, butter, yeast) and whisk to combine.
Mix by hand or by mixing machine by combining dry and wet ingredients until dough comes together.
Mix in a mixer for 8 to 10 mins till dough is sticky, stretchy, and soft.
Remove from mixer and shape into a round dough and place in a well-greased bowl.
Cover with a cling wrap, and a damp cloth/towel. Place in a warm environment to proof till doubled in size.
Sprinkle flour onto the work surface and pour the dough on to it after proofing is complete. Deflate by using hands to press on the dough to flatten and spread the dough.
Use a rolling pin to smother and roll out dough to 1/2" thickness.
Cut out into rounds using a cookie cutter.
Heat up oil to 360 degrees Fahrenheit and place cut out doughnuts carefully into the oil. Begin flipping once doughnuts rise to the top of the oil.
Continue to flip till evenly cooked and golden brown.
Frying should take 6-8 minutes per batch. Remove cooked doughnuts and rest them on the cooling rack.
Coat donuts with granulated sugar and use a skewer to poke a hole on is selected spot on side of doughnut.
Wiggle the skewer to create space inside the doughnut, which will now become the custard filling space.
Recipe for custard:
Whisk egg yolk and sugar together till sugar is dissolved and the mixture color transforms to a pale yellow. Add corn starch and milk and stir till smooth and strain. Cook on medium heat while stirring constantly till thickened and lump-free. Should take 8-10 minutes.
Pour cooked custard into a bowl and cover with a cling film letting the cling wrap have direct contact with the surface of custard.
Keep in the fridge till cool and chilled.
Remove from the fridge and stir to whip air into custard prior to filling doughnuts.
Use a pastry bag and cake decorator with a beveled tip to fill doughnuts.
Did You Make This Recipe?
Recipe video
---
Enjoy