Tangy and Spicy Moussaka is on the menu in Book recipe, and we are going to teach you how to make this delicious recipe from scratch!
Ever had Moussaka and thought, it could be spicier? Well, you've got to try the Egyptian kind, it has no bechamel, and instead it's topped with a spicy and tangy tomato sauce. This dish is the Egyptian answer to Greek Moussaka.
Follow along with the ???? recipes below????????????????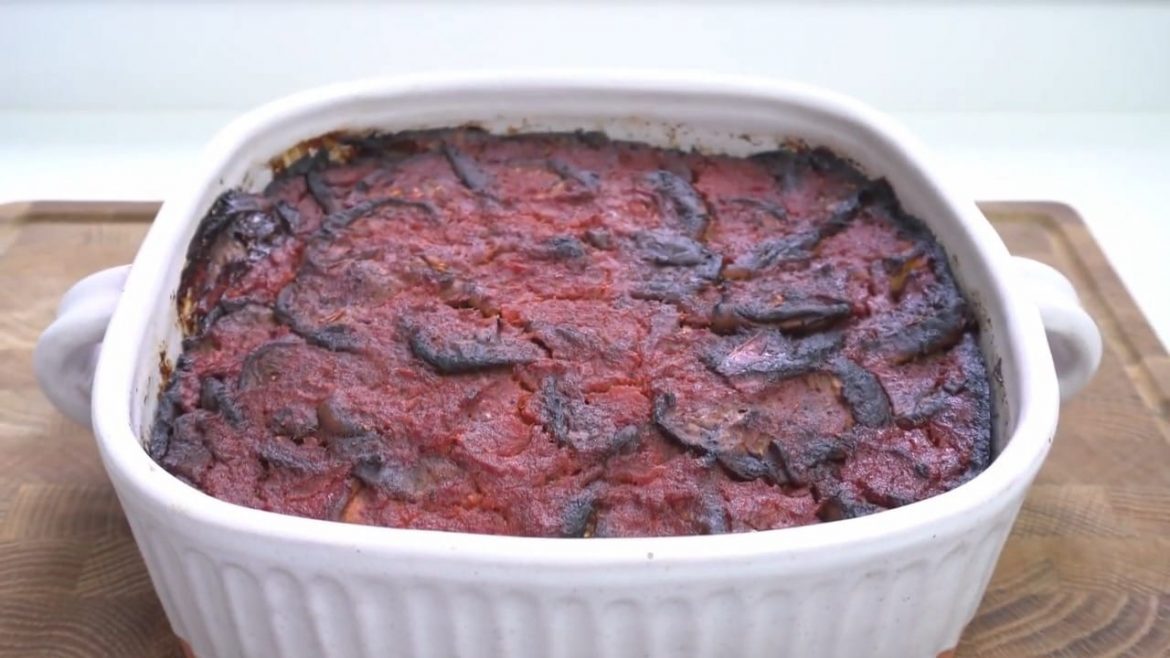 Ingredients
2.5kg (5lb) Aubergines/Eggplants
500g (1lb) minced beef
400g (14oz) Chopped Tomatoes
400g (14oz) Crushed Tomatoes
12 Cloves Garlic
1 Brown Onion
2-3 green chilies
2 cups Frying Oil
4 tbsp white vinegar
2 Tbsp Lemon juice
2 Tbsp Vegetable oil
2 3/4 tsp salt + 4-5 Tbsp
1 1/4 tsp black pepper
1 tsp cumin
Instructions
To prepare the aubergines:
Slice the tip and root of each aubergine
Peel the skin off the aubergines and discard
Slice into circles about 1.5cm or 1/2 inch thick
Place aubergine slices in a large bowl and sprinkle with 3-4 tablespoons of table salt
Mix the aubergines until they have all been salted well
Set aside for 1 hour until the aubergines have softened
Discard any liquid which has drained from the aubergines then squeeze the slices to remove any further liquid
Rinse the slices once more making sure to wash any excess salt off of both sides
Squeeze the slice again to make sure they don't absorb any of the washing water
Place your aubergine slices between paper towels and dry them offset aside before frying
To prepare the browned beef:
Dice the onion into a medium dice
Add 1 Tbsp vegetable oil to a pan on medium-high heat and add the onion
Cook for 3-5 minutes until translucent and the onion starts to soften
Mince 2 garlic cloves and add to the onion. Mix well then cook for 30 seconds
Push the onion to one side then add the minced beef to the pan on high heat
Press the meat into the pan and cook for 3-5 minutes until browned on the first side
Break the meat up into a few large pieces and flip onto the second side
Cook for 3 more minutes, then when mostly cooked use a wooden spatula to break the meat up into small pieces about the size of chickpeas
Add 3/4 tsp salt and 1/4 tsp black pepper to the meat then mix together
To make the tangy tomato sauce:
Add 1 Tbsp vegetable oil to a saucepan on medium-high heat
Mince 10 garlic cloves and add to the oil as well as green chilli, fry for 30 seconds until fragrant and softened but don't let them brown
Add 1 Tsp of ground cumin and 4 Tbsp of water-vinegar then fry for 30 seconds more
Add lemon juice, chopped tomatoes, crushed tomatoes, and 200ml or 7oz of water to the pot and bring to a boil
Once it boils turn the heat down to low and let it simmer for 20-40 minutes until thickened and chunky
Add in 2 Tsp salt and 1 Tsp black pepper then mix and set aside to cool
To fry the aubergines:
Add enough frying oil to a pan until it's about 1.5cm or 1/2 an inch deep and turn the heat up to high. When the oil has heated add enough slices of aubergine to fill the pan
Fry the slices for about 8 minutes on the first side till they have browned then flip them over and fry for another 6-8 minutes till browned all over
Line a baking dish with paper towels and as your aubergines come out of the oil, place them on the paper towels to dry off
Fry your aubergine in batches and fry 1 or 2 green chilies. Make sure to pierce the chilies with a knife before frying them so they don't explode. They should be a light golden color when cooked
To assemble your moussaka:
Combine your meat with 2/3rds to 3/4s of your tomato sauce and mix until a thick meat sauce has formed
In a deep baking dish lay your aubergines in the base of the tray until the entire base has been covered. Make sure to fill in any gaps and fill the tray from edge to edge. Overlap the aubergine slices slightly till the layer has been completed
Add 1/2 of your meat mixture to the dish and spread it out to the edges until you have formed a level layer
Repeat steps 2 and 3 using up the rest of the meat.
Layer the remaining aubergine slices on top of the meat mixture and if you have excess slices double up or overlap the aubergines
Cover the top aubergine layer with the remaining tomato sauce and spread it out, then clean up any splatter from the sides of the dish
Preheat the oven to 180c or 350f and bake the moussaka for 45 minutes to 1 hour until the tomato sauce has darkened and dried
Remove from the oven and let cool for 30 minutes before serving
Did You Make This Recipe?
---
Enjoy
Let us know what you think of today's Tangy and Spicy Moussaka tips, tricks, and hacks!