Blueberry Tart is on the menu in Book recipe, and we are going to teach you how to make this delicious recipe from scratch!
This is a super tasty blueberry tart – if you have fresh blueberries then this would be the best tart ever. It look so pretty!
It starts with a tart shell, followed by almond cream. You then lay out a layer of blueberry confit. Finally, you place fresh blueberries and brush blueberry glaze.
Follow along with the ???? recipes below????????????????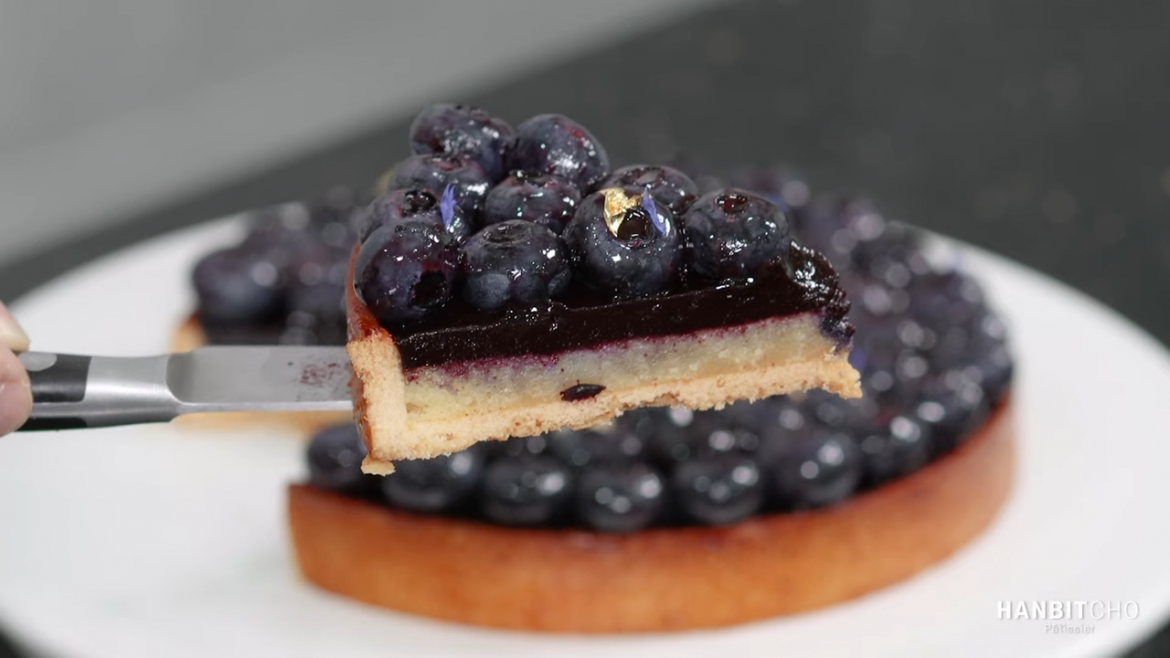 Ingredients
Tart Crust:
Butter (room temp) 100g
Salt a pinch
Powdered Sugar 72g
Almond Powder 20g
Corn Starch 30g
Eggs 36g
Cake Flour 170g
Almond Cream:
Butter 28g
Powdered Sugar 28g
Almond Powder 28g
Eggs (room temp) 25g
Rum 3g
Blueberry Confit:
Blueberry Puree (if self-made, then just blend your blueberries with 10% sugar) 110g
Sugar 15g
Pectin NH 2g
Lemon juice 2g
Blueberry Glaze:
Absolu Cristal (Valhrona) 50g
Blueberry Puree 5g
Tart Crust:
*To be honest, you will get more than 1 tart crust out of this quantity.
Please watch my detailed "how to make a tart shell" video recipe.
Instructions
Almond Cream:
Beat the butter lightly.
Sift in powdered sugar, almond powder and mix.
Add the eggs gradually and mix.
Finally, add in the rum and mix.
Rest in the fridge overnight.
Blueberry Confit:
Mix sugar & pectin.
Heat the blueberry puree and when it's 40℃ add in the sugar & pectin.
Once it starts boiling boil for another 1~2min and add the lemon juice.
Let it boil for another 10sec and take it off the heat. Store in the fridge until use.
Blueberry Glaze:
Heat the absolut cristal in the microwave and mix in the blueberry puree.
Strain it if you wish.
Assembly:
Pipe the almond cream in the tart shell and bake for 13~14mins at 160℃.
Pipe the blueberry confit and smooth it out flat.
Place fresh blueberries on top.
Pipe the glaze on the blueberry glaze.
Notes
Quantity:
1 tart of 16cm diameter (2cm height)
How to store:
This tart will be good in the fridge up to 2 days (although the tart crust will become soggy quickly)

Did You Make This Recipe?
---