SAUTEED BROCCOLI RABE With Garlic And Oil is on the menu in Book recipe, and we are going to teach you how to make this delicious recipe from scratch!
Sauteed garlic and oil broccoli rabe is probably my favorite Italian side dish. All you need is fresh broccoli rabe (rapini), garlic, chili flakes, olive oil, and about 15 minutes. Definitely try it out with chicken cutlets and cherry peppers as I did at the end. I hope you enjoy and learn how to cook broccoli rabe!
Follow along with the ???? recipes below????????????????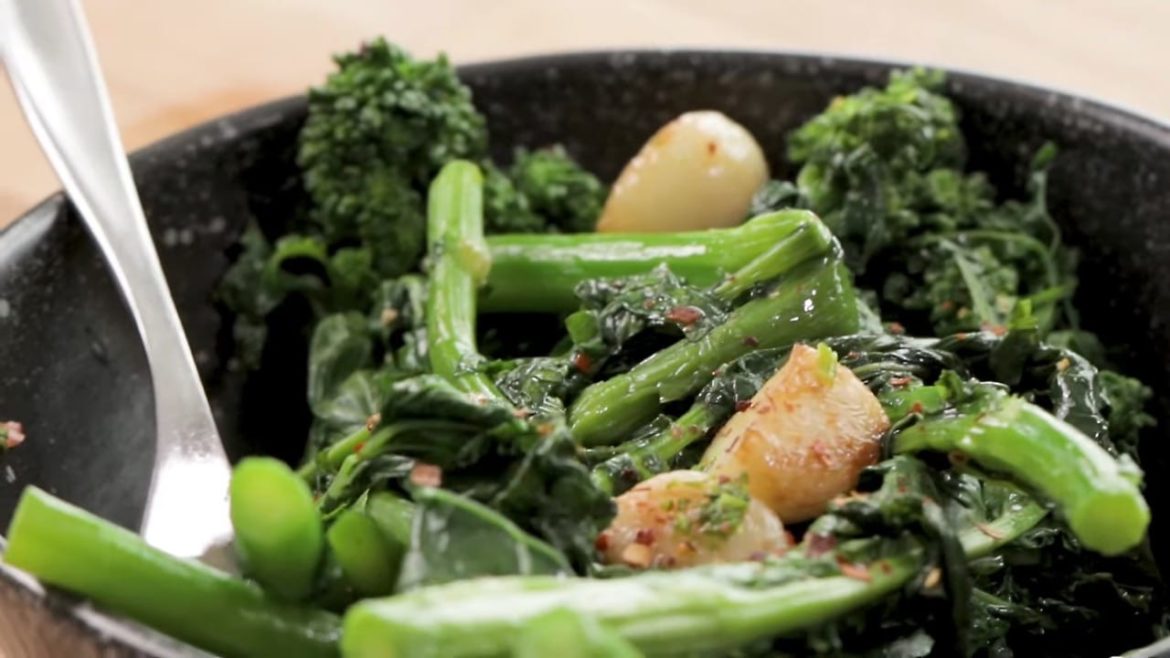 Ingredients
1 bunch broccoli rabe
5 cloves garlic
1 tsp kosher salt
1/2 tsp red pepper flakes
1/4 cup olive oil
2 Tbsp extra virgin olive oil
1/4 cup water
Instructions
Chop off the bottom ½" of the broccoli rabe stems. Rough chop 5 cloves of garlic.
In a large deep pan, saute the garlic for 2-3 minutes in a ¼ cup of olive oil set to medium-low heat.
Add the broccoli rabe to the pan and give it all a stir as best as possible to coat with the olive oil. Just pack it in the pan as it will reduce substantially during the next step.
Add a ¼ cup of water to the pan and cover. Turn heat to medium-high and let the broccoli rabe steam for 3-4 minutes until bright green.
Remove lid and season with 1 tsp of kosher salt and if desired a ½ tsp of red pepper flakes. Mix the broccoli rabe with a wooden spoon and saute for 2-3 more minutes. Turn off the heat and drizzle a couple of tablespoons of extra virgin olive oil on top
Notes
Buy dark green broccoli rabe that shows no signs of yellowing.
Always chop off the bottom ½″ of the stem (this is the area where it was cut at the farm and is often brown).
Steam just enough to maintain its firmness.
Use adequate salt as bitter veggies need more salt.
Did You Make This Recipe?
---
Enjoy
Nutrition
Calories: 236kcal
Carbohydrates: 7.6g
Protein: 7.3g
Fat: 22g
Saturated Fat: 3g
Sodium: 656mg
Potassium: 455mg
Fiber: 6.1g
Sugar: 0.9g
Calcium: 249mg
Iron: 5mg