MAGARİNA BULLİ (Cypriot Pasta) is on the menu in Book recipe, and we are going to teach you how to make this delicious recipe from scratch!
Today's recipe is "magarina bulli" from Cyprus!???? "Magarina" means pasta and "bulli" means chicken, so it is a chicken pasta with mint and our precious halloumi.
We all know Italians make great pasta but coming from the region that is the homeland of wheat, I want to share our approach and recipe to pasta with my grandmother's recipe????????????
Follow along with the ???? recipes below????????????????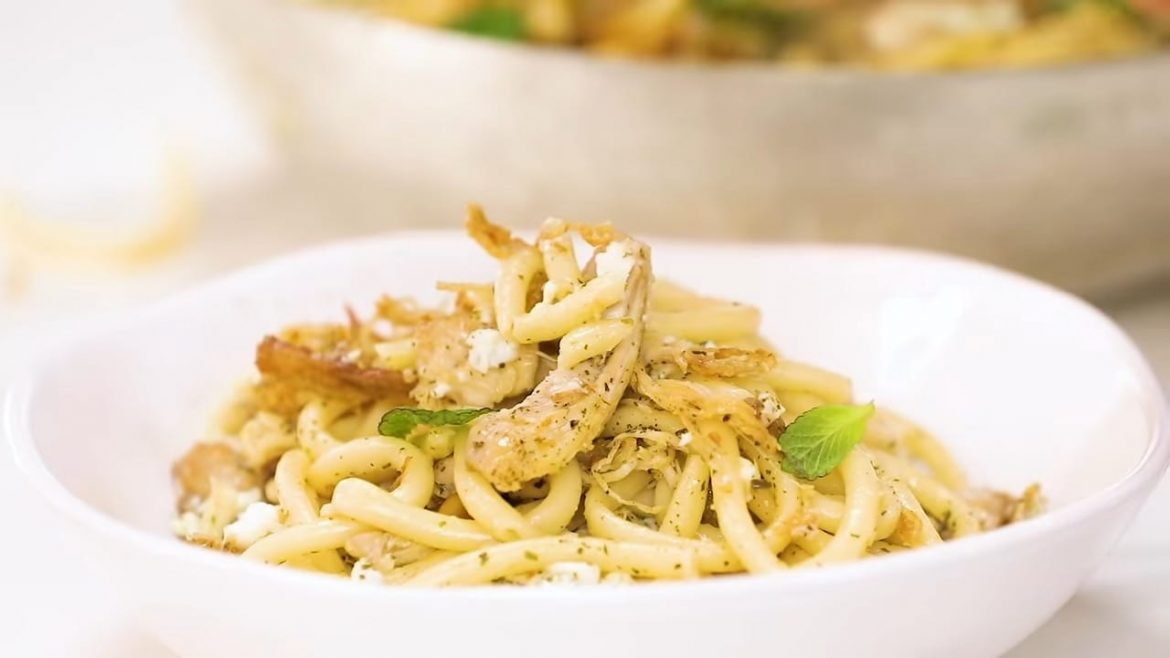 Ingredients
6 chicken thighs, skin off, bone out
1 pack (250 g) halloumi, grated
1 large onion, cut into 4 wedges
5 cloves of garlic, peeled
1 tablespoon dried oregano
1 pack of bucatini perciatelli (500g, alternatively, use spaghetti or spaghettoni)
1 heaped tablespoon of butter
3 tablespoons pine nuts (pistachios???? or peanuts would also do great)
1 heaped teaspoon of salt
1/2 teaspoon black pepper
2 tablespoons dried mint
Fresh mint leaves, to garnish
Instructions
Heat your pressure cooker on high heat. Place the chicken thighs, garlic, and onions in it.
Season with salt, black pepper, and oregano.
Pour in 3,5 L (3,7 Qtrs.) hot water and put the lid on high pressure.
When the lid is tight and the pressure is enough to cook, place the pressure cooker on a smaller burner on low heat and cook for five minutes.
Release the pressure by putting the pan under running cold water. If you don't have a pressure cooker, boiling the chicken on medium heat for 20 minutes with the lid on would do great as well.
Take out the chicken thighs and place the bucatini in the pressure cooker. Season with salt. Cook for six minutes the same way as you cooked the chicken or according to the package instructions.
Meanwhile, shred the chicken thighs into strands by using two forks. It is nice to have some chunks as well.
Melt a heaped tablespoon of butter in a copper or stainless steel wok pan and add in the pine nuts.
Add in the chicken and season with salt and black pepper to your taste. Fry for three minutes on high heat until chicken strands are slightly golden brown and crispy. Spare some chicken for garnish.
Release the pressure by removing the lid or putting the pan under running cold water.
Transfer the cooked pasta into the pan and scrape all the crispy flavor from the bottom of the pan with a wooden spoon or spatula. Add a ladle of the delicious starchy cooking water to keep the pasta juicy.
Add in the dried mint and halloumi -spare some for topping- give it a good mix and add cooking water if necessary.
Top with chicken, halloumi, and fresh mint leaves. Take a bite and be ready for the most delicious pasta you have ever eaten! ????????
Did You Make This Recipe?
---
Enjoy
Let us know what you think of today's Cypriot Pasta tips, tricks, and hacks!