Middle eastern dessert essentials are on the menu in Book recipe, and we are going to teach you how to make this delicious recipe from scratch!
I'm going to show you how to make three components that are essential for many Middle Eastern Desserts; Samna, Eshta, and Sharbat, which means Clarified Butter, Clotted Cream, and Simple Syrup.
These components have loads of uses in both sweet and savory cooking, and we'll be using them a lot in the coming weeks as we make many Middle Eastern Desserts.
Related recipes:
Follow along with the ???? recipes below????????????????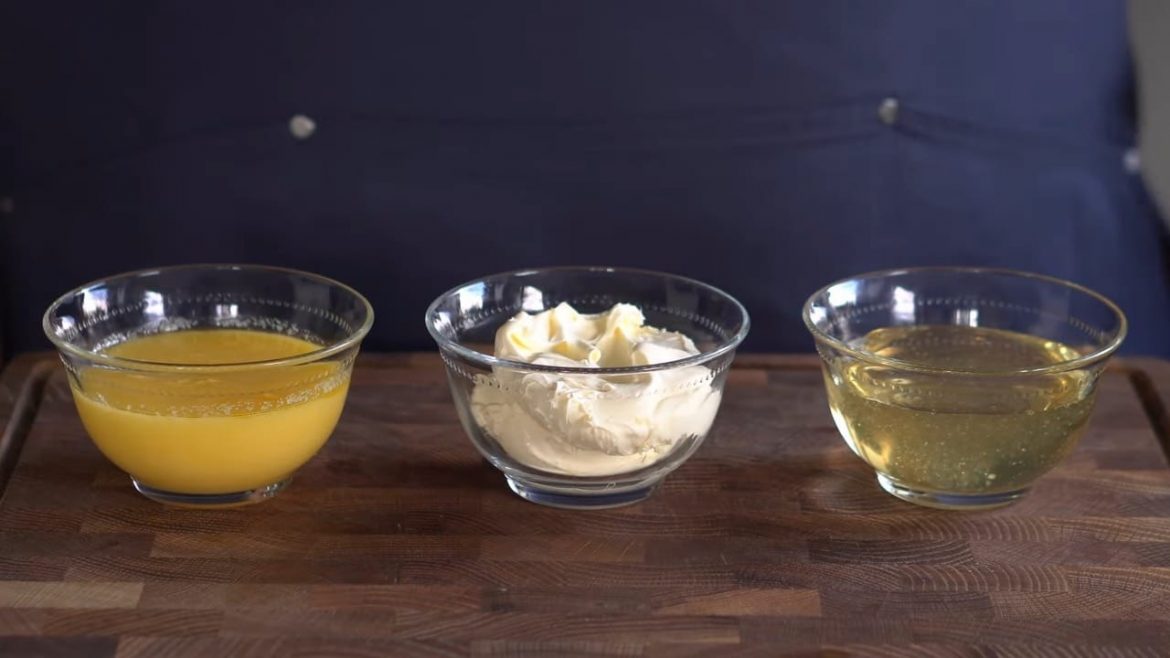 Ingredients
Clarified Butter - Samna:
Salted or unsalted butter, as much as you want to process. You'll get about 80% of its weight back so 1000g will give you 800g of samna
Syrup - Sharbat:
250g (8.75 oz) Sugar
150ml (5.1 fl oz) Water
1/2 Tbsp Lemon Juice
1 Tsp Vanillin or your choice of spices
Ashta:
400ml (13.5 fl oz) Heavy Cream
350ml (11.75 fl oz) Whole Milk
30g (4 Tbsp) All-Purpose Flour
35g (4 Tbsp) Corn Starch
8g (2 Tsp) Sugar
Pinch Salt
Instructions
To make Samna:
Place your butter in a pot and melt it completely over medium-high heat
Once melted, turn the heat down to medium-low and stir the pot occasionally
When the melted butter foams up, remove the foam and continue heating
Once the foaming slows down, turn the heat up to medium-high and bring the butter to a boil
When the milk and fat completely separate keep an eye on the size of the particles
The samna is done when the particles sink to the bottom of a spoon or ladel, and the fat floats to the top
Allow to cook for 10 minutes, then pour out into a sterile jar
Let this cool completely overnight and it will solidify. This will keep well for at least 3 months on the kitchen counter
To make the Syrup:
Add the sugar, water, and lemon juice to a pot over high heat and bring to a boil. Don't stir the pot or it can crystalize. If you are using glucose you can add it now
When the syrup boils turn the heat down to low. Swirl the pot if there is any remaining sugar and add any whole spices. Allow the pot to simmer for 15 minutes
When the time is up, you can add liquid flavorings if you are using any. If you do, cook the mixture for 1 minute further
Pour out into a jug or bowl and allow to cool completely
To make the Ashta:
Add the flour, cornflour, salt, and sugar to a bowl/jug, then gently whisk in the milk. Combine them until the mixture is completely smooth and no clumps remain
Whisk the cream into the mixture and once again ensure there are no lumps
Pour the mixture into a pot over medium-high heat and start whisking it continuously
Whisk this together continuously for about 8-10 minutes until it reaches the texture of a thick bechamel
Remove and pour into a bowl or a plastic wrap lined container, place it in the fridge to cool for a few hours
Did You Make This Recipe?
---
Enjoy
Let us know what you think of today's middle eastern dessert essentials tips, tricks, and hacks!