Turkish çökertme kebabi is on the menu in Book recipe, and we are going to teach you how to make this delicious recipe from scratch!
Follow along with the ???? recipes below????????????????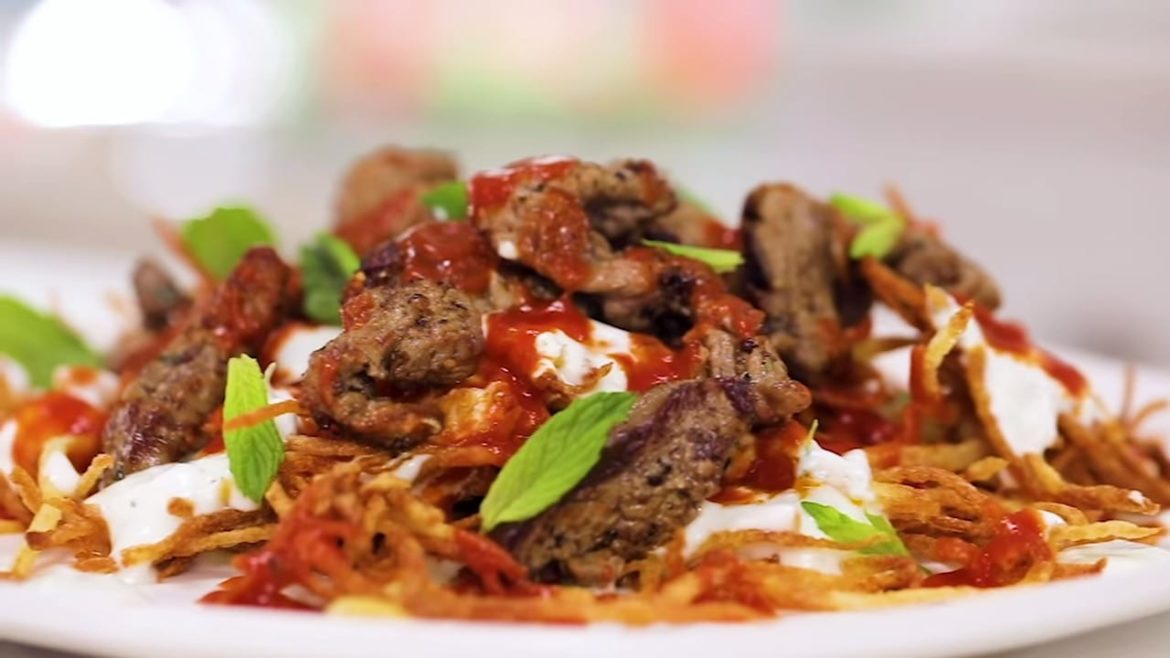 Ingredients
Tasty tender kebab
400 g tenderloin, sliced against the grain, into strips (sirloin or entrecote, rib-eye steak also works great)
1 clove of garlic, chopped
2 sprigs of fresh thyme, chopped
A pinch of salt
2 pinches of black pepper
A tablespoon olive oil
A teaspoon white wine vinegar
1 tablespoon butter
Delish tomato sauce:
2 tablespoons olive oil
200 ml tomato puree, ~7 fl oz (alternatively, you can use diced & canned tomatoes or 2 grated tomatoes)
A pinch of sugar
A teaspoon of white wine vinegar
A pinch of black pepper
2 pinches of salt
Refreshing green yoghurt:
5 tablespoons savoury yoghurt (alternatively, labneh)
5 sprigs of fresh thyme
1 clove of garlic
3 pinches of salt
A pinch of black pepper
2 large potatoes, julienne with a peeler or knife
Salt
Fresh mint leaves, to garnish
Instructions
For the marinade, mix the garlic, fresh thyme, olive oil, vinegar, salt and black pepper with the meat in a bowl and let it rest while you are making the tomato sauce, yoghurt and potatoes.
To make the tomato sauce, heat the olive oil in a small saucepan on medium heat.
Add in the tomato puree. Stir in the vinegar, sugar, salt and black pepper and bring to a boil. Simmer for a minute and the sauce is done!
For the green yoghurt, smash the thyme, yoghurt and salt with a pestle and mortar. Mix with the yoghurt and add the black pepper.
Heat 2-3 cups frying oil in a shallow pan to 180 C (355 F). Julienne the potatoes with a peeler or knife. Keep in mind that the potatoes should be dry when adding into the pan, so dry them with a kitchen cloth beforehand.
Fry the potatoes in batches until golden brown and crispy. Transfer on the sieve to let the excess oil drain and generously salt to your taste.
While the potatoes are frying, heat a large frying pan on high heat and add in the butter. Add in half of the meat without crowding the pan and don't stir until browned. Cook for two minutes.
Heat up the tomato sauce in case it went cold.
It is time to make a posh plate, place the potato chips on a dish. Spread half of the yoghurt on top of the potatoes and pour over some tomato sauce. Top with the meat and again some more tomato sauce. Garnish with the fresh mint leaves and ta-daaa! 
Did You Make This Recipe?
It is time to make one of my favourite kebabs, Çökertme! Crispy potatoes topped with refreshing thyme yoghurt, delish tomato sauce and finally, incredibly tasty and tender meat makes it the perfect summer kebab! It is super easy and you will realise that the whole is more than its parts when you taste this beauty!
---
The famous çökertme is ready. Dig in and enjoy!