Strudel is on the menu in Book recipe, and we are going to teach you how to make this delicious recipe from scratch!
Is it a hard task to make a good strudel?
Surely many asked this question and assured themselves that it is very difficult. But this is absolutely not the case!
Follow along with the ???? recipes below????????????????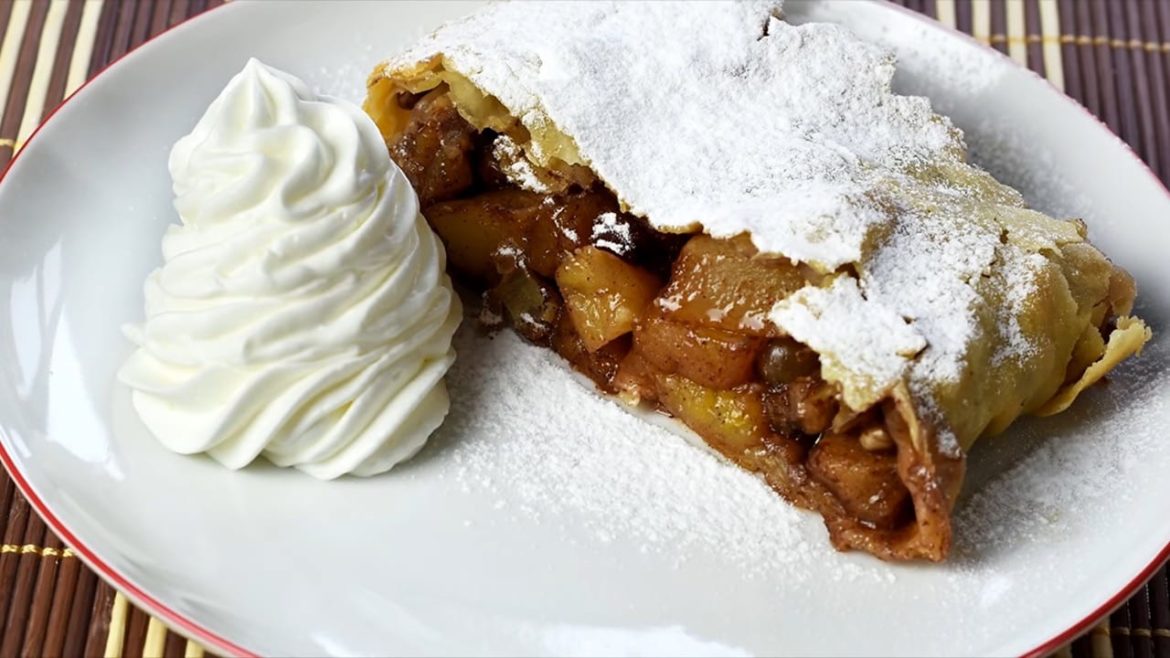 Ingredients
Ingredients for dough:
Flour - 1½ cups
Warm water (80°F / 40 °C) – 5 tbsp
Vegetable oil - 5 tbsp
Egg medium - 1
Salt - 1 tsp.
Ingredients for filling:
Apples (not very juicy, medium) - 3
Pear (not very juicy, hard, large) - 1
Raisins – 1 oz (30 gr)
Sugar – 8 Tsp
Nuts (any) – 1 oz (30 gr)
Butter (melted) - 5 tbsp
Lemon some thin slices
Cornstarch - 1 tbsp.
Cinnamon - 1 tbsp.
Instructions
Dough
Mix flour, salt, egg, add water, vegetable oil. Knead well the dough (for 4-5 minutes).
Pour some vegetable oil, cover with plastic wrap, set aside for the time of making the filling.
Filling:
Put the raisins in warm water for 5 minutes, then rinse and drain the liquid.
Peel and core the apples and pear. Cut into cubes ~ 1x1 cm.
Combine the fruits with raisins, add sugar, cinnamon, starch, and mix. Put the filling into a strainer or colander for the time of rolling out the dough.
Dust some flour on the tablecloth or clean kitchen towel with a size of at least 70 cm x 100 cm.
Slightly roll out the dough, and then start stretching it with your hands.
Brush the dough with melted butter all over the surface, spread nuts.
Put the filling on one side (do not need to layout on the entire surface, otherwise, the dough would be raw inside). Gently twist the strudel by lifting the tablecloth, brush the top with butter, after each turn.
Bake in the preheated to 340°F / 170 °C oven for 60 minutes, turning the pan and brushing the strudel with butter every 15-20 minutes.
Serve hot or warm, with ice cream or whipped cream.
Notes
Even if you can't stretch the dough to the state of transparency, even if there are small holes in the dough - it does not really matter, it will still be a nice dessert.

Did You Make This Recipe?
---
Enjoy
Let us know what you think of today's Strudel tips, tricks, and hacks!