Egyptian Falafel (Ta'ameya) is on the menu in Book recipe, and we are going to teach you how to make this delicious recipe from scratch!
Ta'ameya, is Egyptian falafel made with fava beans rather than chickpeas. It has an insanely crispy exterior and a fluffy interior that's not matched by any other falafel. This recipe shows you how to make Egyptian Ta'ameya, just like you'd get on the streets of Cairo, and I'll give you the secret technique that gets it really fluffy.
My Pita Recipe
My Tahina Recipe
Follow along with the ???? recipes below????????????????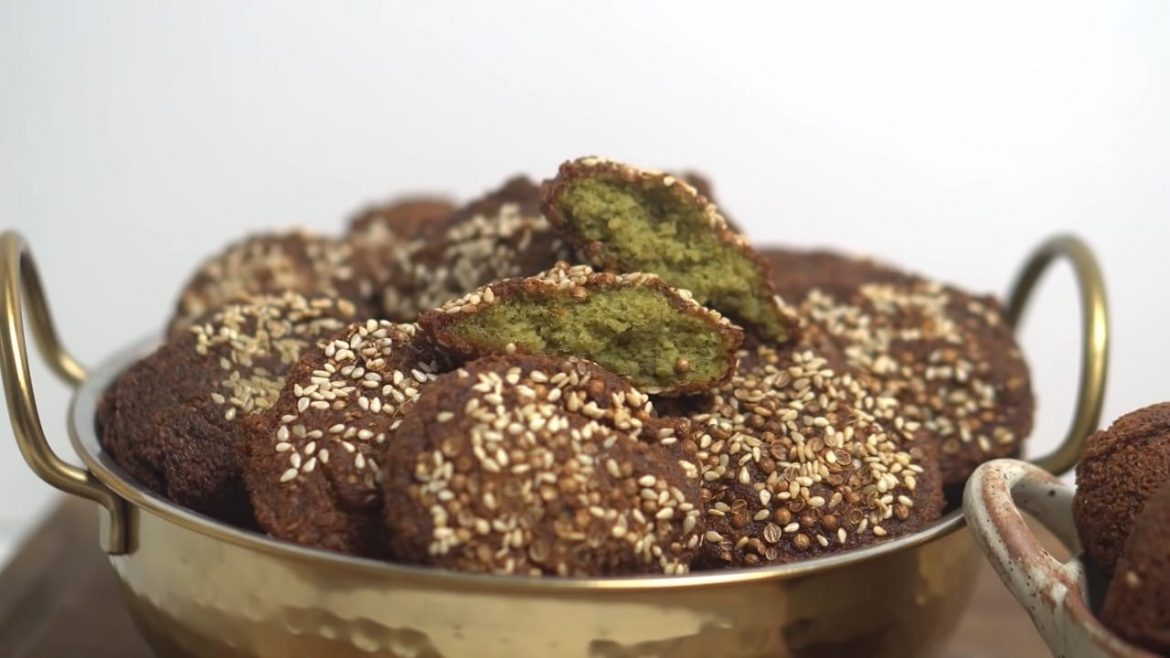 Ingredients
Taameya Batter
400g Split Fava beans
100g Spring Onions
100g Leeks
50g Coriander
50g Parsley
4 Cloves of garlic
2 Tsp Dried Coriander
1 Tsp Cumin
1 Tsp Cayenne
2.5 Tsp salt
1l (1 quart) vegetable oil for frying
Harissa Filling
1 Medium Brown Onion
1.5 Tbsp of Harissa
1.5 Tbsp of Red Pepper or tomato paste
1 Tbsp of Olive Oil
1/4 Tsp Cumin
1/4 Tsp salt
1/4 Tsp Pepper
1/4 Tsp Coriander
Topping
1/4 cup Coriander seeds
1/4 Cup Sesame
Instructions
To make the batter:
Wash your fava beans thoroughly in the sink, then place in a bowl and cover with water. Allow them to soak for a minimum of 8 hours
Once doubled in size, drain the fava beans and set them aside
Wash your leeks, spring onions, coriander, and parsley, then roughly chop them up
Add the greens to your food processor and add the beans on top (The weight of the beans will help force the herbs into the blade)
Process everything until finely minced paste forms, then add the salt and spices
Mix together thoroughly until well combined then set aside
To make the stuffing:
Dice your onion into small dice, then place in a pot over medium heat with 1 tbsp of olive oil
Saute until the onions start to soften then add the Harissa, Red Pepper Paste, and the seasonings
Add a small amount of water to form a sauce, then allow it to cook down and thicken
Repeat adding water and allowing the topping to reduce until the onions are cooked through
To make the topping:
Using a pestle and mortar, lightly crush the Coriander seeds till you can smell their aroma
Combine the coriander with the sesame and it's ready to use
To whip up the batter:
Add about a quarter of the batter to a stand mixer, and whisk it on medium speed for about 5 minutes
When it is light and fluffy it's ready to be used
Use the whipped mixture immediately as it will deflate quickly
To shape the falafel:
Wet the palm of your hand or a piece of parchment paper, very lightly
Place about 2-3 Tbsp (or 1 ice cream scoop) of Batter on the paper/your hand then lightly flatten it using very little pressure
Wet your second hand and press it into the topping, then lightly press the topping to the batter so it sticks
Flip your Ta'ameya onto your second hand or another piece of parchment paper then apply the topping on this side as well
Fry the ta'ameya within 5 minutes otherwise it will deflate
To stuff the falafel:
Repeat steps 1-2 from above, making it slightly smaller
Place a small amount of filling on top of the batter and flatten it out
Add more batter on top then join the sides together
Add the topping to both sides or leave it plain to differentiate it
To fry the falafel:
Heat your oil to 160c or 320f, then add your falafel in
Once added, baste the top with hot oil so it solidifies, then fry for 2-3 minutes on this side
Flip over once browned then fry for another 2-3 minutes
When that time is up, fry it for 2 more minutes on each side
Remove from the oil and drain, before placing it on a paper towel-lined tray to dry
Did You Make This Recipe?
---
Enjoy
Let us know what you think of today's Egyptian Falafel (Ta'ameya) tips, tricks, and hacks!