chicken and rice (Machboos) are on the menu in Book recipe, and we are going to teach you how to make this delicious recipe from scratch!
Kabsa, Makboos, or Machboos is one of the best chicken and rice dishes on earth. It's seasoned with over 10 amazing spices and is packed full of exciting and delicious flavors. This dish is the national dish of many Gulf countries and I'm certain you will really love it
Follow along with the ???? recipes below????????????????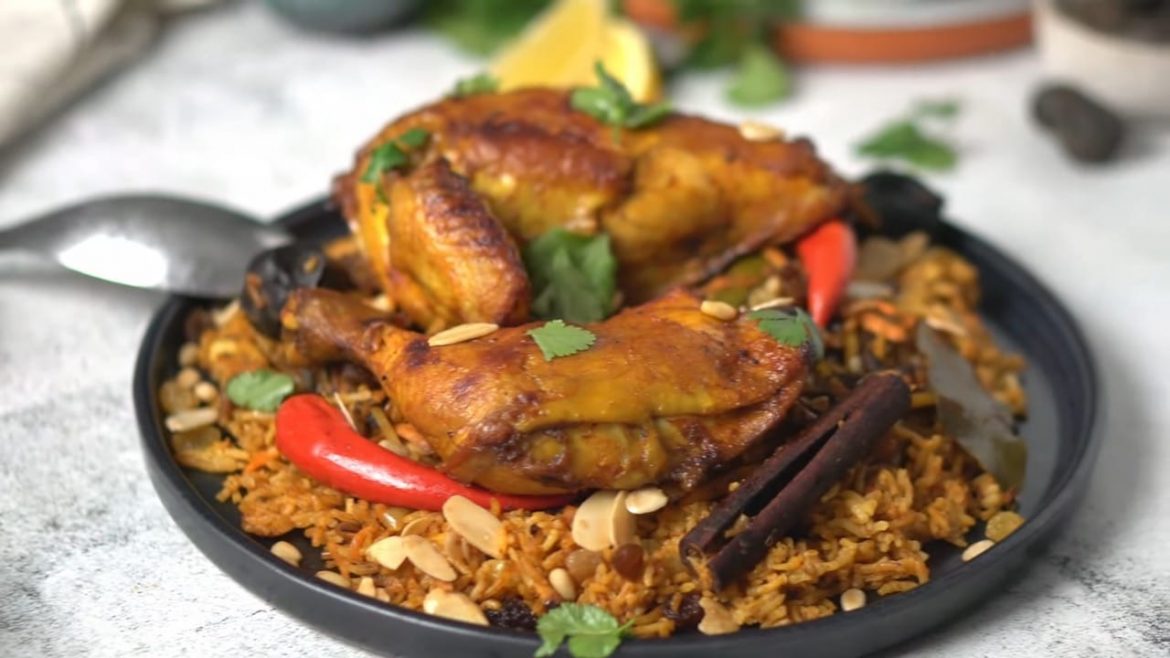 Ingredients
Chicken Stock:
1 Large Chicken (about 1.5kg or 3lbs)
400g (14 oz) chopped tomatoes
2 medium onions
2 large garlic cloves
250ml (1 cup) of water
30ml (2 tbsp) oil
30g (2 tbsp) tomato paste
2 tsp salt
1 tsp each of
Turmeric
Ground Cumin
Ground coriander
Black pepper
1/2 tsp each of
Ginger
Cardamom
Paprika
Ground Loomi (Black Lime)
1/4 tsp Cinnamon
1/4 tsp Cloves
Rice:
2 cups Basmati rice
2 Tbsp oil
2 medium onions
2 green chillies
2 Red chillies
1 Cinnamon quill (1/2 Tsp Powder
2 Bay leaves
2 Loomi (Black Lime) (1/2 Tsp Powder)
5 Cardamom Pods (1/2 Tsp Powder)
3 Cloves (1/8 Tsp Powder)
2 Tsp Salt
1 Tsp Black Peppercorns (1 Tsp Powder)
1/2 Tsp Cumin seeds (1/4 Tsp Powder)
30g (2 Tbsp) Tomato Paste
Topping:
150g (5.25 oz) shredded carrot
60g (2 oz) Slivered almonds or cashews or pinenuts
40g (1/4 cup) sultanas
40g (1/4 cup) raisins
2 medium onions
4 Tbsp oil
1 Tbsp butter
1/2 Tsp each of
Ground Loomi (Black Lime)
Black Pepper
Turmeric
Ground Ginger
Ground Cloves
Cinnamon
Ground Cumin
Cardamom
Salt
Instructions
To make the stock:
Place a pot on the stove on medium heat and add the oil
Dice your 2 onions into a medium dice and add to the pot
Saute for 5 minutes until softened, then add the spices, salt and tomato paste
Fry for 2-3 minutes more then add the chicken, stir to combine well
Add the chopped tomatoes, garlic and water. Bring to a boil then reduce to a simmer and let it sit on medium-low heat for 25 minutes
Remove the chicken when the time is up and strain the stock from any pieces
To make the rice:
Slice the onions into thin strips
Place your oil in the pot on medium heat and add your whole spices. Toast for a few minutes until fragrant
Add in the onion and mix with the spices, then deglaze the pot with some water
Saute the onions for 5-8 minutes until completely softened
Add the tomato paste and salt, then wash the rice and add it
Flatten the rice, then pierce the chillies and add them to the pot
Add stock to the pot until the rice is barely covered (Save some stock for the chicken)
Bring to a boil for a couple of minutes until the stock is absorbed, then turn the heat down to low
Cover and let steam for 20 minutes
To make the topping:
Soak the sultanas and raisins for about 1 hour
Shred your carrots
Toast the nuts for around 3-5 minutes until golden
Add the oil to a pot and fry the onions until a very dark brown colour
Mix together all the ingredients
To finish the dish:
Glaze the chicken pieces with the stock, then bake at 180c or 350f for 15-20 minutes
Add the topping onto the rice in the pot once it has cooked, and allow to steam for an additional 5 minutes
Remove the topping from the pot once wilted and fluff the rice up with a fork
To plate:
Add a layer of rice to a platter
Add plenty of the topping to the rice
Place the chicken and chillies on the rice
Garnish with parsley and more nuts
Did You Make This Recipe?
---
Enjoy
Let us know what you think of today's chicken and rice (Machboos) tips, tricks, and hacks!