Chocolate Peanut Butter Lava Cakes are on the menu in Book recipe, and we are going to teach you how to make this delicious recipe from scratch!
Follow along with the ???? recipes below????????????????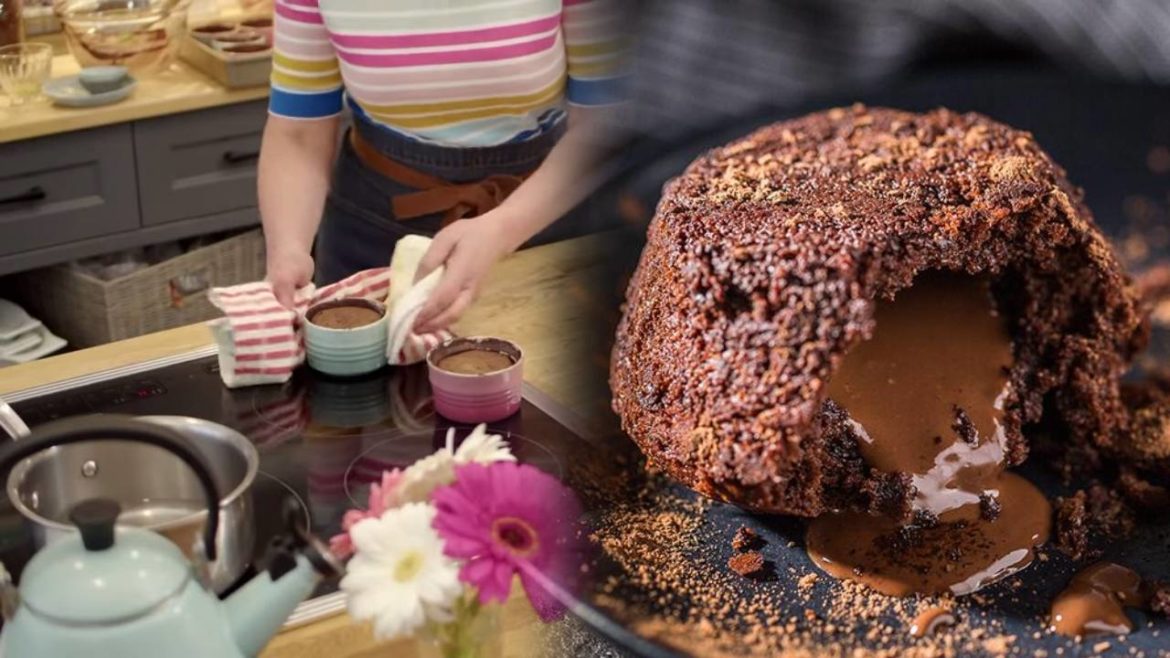 Ingredients
7 oz (210 g) dark couverture/baking chocolate, chopped
6 Tbsp (90 g) unsalted butter, diced
2 large eggs
2 large egg yolks
1 tsp vanilla extract
½ cup (100 g) granulated sugar
1 Tbsp (7.5 g) cocoa powder, plus extra for dusting
1 Tbsp (8 g) cornstarch
Pinch fine salt
2 Tbsp peanut butter
2 Tbsp Dulce de leche (store-bought or homemade)
Burnt Honey Caramel
100 g (1/3 cup) honey
60 g (1/4 cup) unsalted butter
Instructions
Grease six 5-ounce (150 mL) ramekins and dust them with cocoa powder to coat evenly and tapping out any excess.
Melt the chocolate and butter together in a metal bowl placed over a pot filled with an inch of barely simmering water, stirring gently until smooth. Remove from the heat to cool for 5 minutes.
Whisk the eggs, egg yolks, sugar, and vanilla together by hand until combined and then whisk vigorously by hand for a minute more; this builds in structure but there will be no visible difference after the minute.
Whisk in the melted chocolate and then whisk in the cocoa powder, cornstarch, and salt until combined.
Divide half of the batter between the six ramekins and freeze them for 15 minutes.
Remove the ramekins from the freezer. Spoon 1 tsp (5 mL) each of the peanut butter and dulce de leche in the center of each ramekin. Top this with the remaining cake batter, dividing equally. Chill the lava cakes uncovered until ready to bake (these can be made up to a day ahead).
Preheat the oven to 375°F (190°C). Place the ramekins onto a baking tray and bake for 20 minutes, until the cakes lose their shine on the surface. Let the cakes rest for 5 minutes.
Burnt Honey Caramel
Bring the honey up to a boil over medium-high heat while stirring and continue to cook while stirring until the honey turns a deep amber color (it will reach 240°F/115°C if using a thermometer), about 4 minutes.
Remove the pan from the heat, whisk in the butter, and cool for 15 minutes before using.
Notes
To serve, run a small palette knife around the inside edge of a ramekin. Place a small plate over top and invert both. Lift the ramekin off and serve.

Did You Make This Recipe?
Recipe video
---
Bon Appétit