Creamy Chicken Bacon Pesto Pasta is on the menu in Book recipe, and we are going to teach you how to make this delicious recipe from scratch!
Follow along with the ???? recipes below????????????????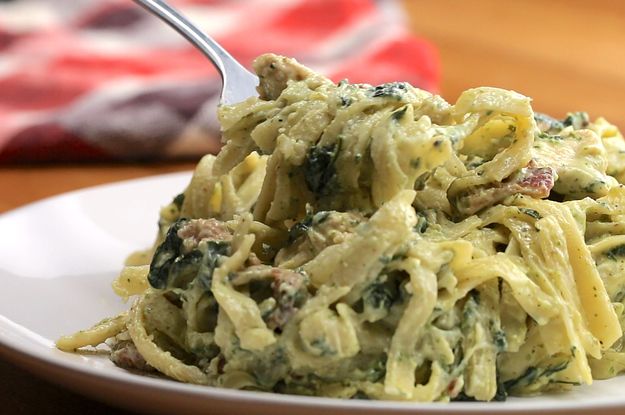 Ingredients
6 strips bacon, sliced 2 boneless
skinless chicken breasts
sliced 2 teaspoons
salt
1 teaspoon pepper
1 teaspoon garlic powder
2 onions
sliced 4 cloves garlic
minced 5 oz spinach (140 g)
5 cups milk (1.2 L)
1 lb fettuccine (455 g)
½ cup pesto (110 g)
1 cup parmesan cheese (110 g), plus more for serving fresh parsley, chopped, for serving
Instructions
In a large pot or Dutch oven over medium-high heat, cook the bacon until crispy. Add chicken and season with salt, pepper, and garlic powder. Cook until the chicken is no longer pink, then remove from the pot and set aside.
Add the onions and garlic and cook to the pot and cook until softened. When onions are caramelized, add spinach and cook until wilted. Add the milk and bring to boil. Add the fettuccine to the boiling milk and cover. Cook the fettuccine over medium heat until the milk thickens and the pasta is cooked about 7 minutes.
Return the chicken to the pot. Stir in the pesto and Parmesan. Garnish with parsley and more Parmesan.
Enjoy!
Did You Make This Recipe?
---
Bon Appétit
Nutrition Info:
Calories 1238
Fat 49g
Carbs 115g
Fiber 6g
Sugar 23g
Protein 81g