Caramel Cookie Sandwiches are on the menu in Chef Anna Olson's amazing kitchen, and she is going to teach you how to make this delicious recipe from scratch!
Follow along with the recipes below!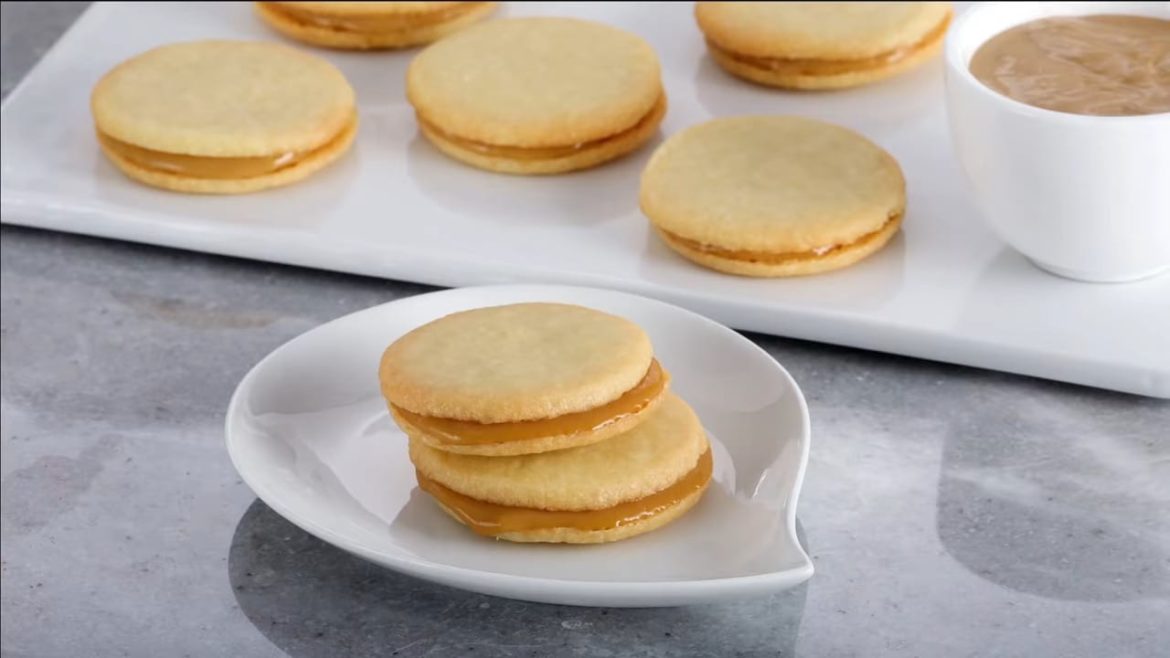 Ingredients
Cookies
2 ¼ cups (510 g) unsalted butter, at room temperature
1 1/3 cups (170 g) icing sugar, sifted
1 ½ tsp (7 mL) vanilla extract
3 cups (450 g) all-purpose flour (plain flour)
½ tsp (2 mL) salt
Kaya
1 cup (250 mL) good quality coconut milk
5 whole eggs
¾ cup (150 g) granulated sugar (caster sugar)
½ cup (80 g) coconut palm sugar* or Gula Melaka**
2-3 pandan leaves, folded into a knot
Instructions
For the cookie dough, beat the butter and icing sugar until fluffy using electric beaters or a stand mixer fitted with the paddle attachment, then beat in the vanilla. Add the flour and salt and stir it until the dough comes together. Shape this into 2 discs, wrap with plastic wrap, and chill until almost firm, about an hour or chill until ready to bake.
Pull the dough from the fridge at least 30 minutes before rolling if chilled longer than an hour. Preheat the oven to 350 F (180 C) and line 2 baking trays with parchment paper.
On a lightly floured surface roll out the dough to just under ¼-inch (6 mm) thick. Use a 2-inch round cookie cutter and cut out cookies, placing them about an inch (25 mm) apart on the prepared baking trays. Bake for 13 -15 minutes, until lightly browned on the bottom, but not on top. Cool the cookies on the baking tray before filling.
Prepare the kaya jam (it can be prepared well in advance if you wish). Before measuring the coconut, puree it with an immersion blender to smooth it out. Whisk the eggs in a metal bowl and whisk in the granulated and coconut sugar, coconut milk, and pandan leaves. Place the bowl over a pot of gently simmering water and whisk regularly for the first 20 minutes, but then constantly for the final 20 minutes, until it is thick (it won't "hold a ribbon" like lemon curd, though.) Remove the pandan leaves and take the bowl from the heat and pour the kaya into a container – use the immersion blender to smooth it out and then cover the surface of the kaya directly with plastic wrap. Cool the kaya to room temperature and then chill completely – it takes about 6 hours to fully set.
To fill the cookies spread a very generous spoonful of the kaya onto the bottom of a cookie and sandwich it with a second cookie. Chill the cookies, uncovered, until ready to serve (the kaya will set within the cookie as it chills.)
Notes
The cookies will keep up to 5 days, refrigerated.
Available at bulk or health stores. If not available, you can use the same measure of Turbinado sugar or other unrefined sugar.
Gula Melaka is raw coconut palm sugar that comes in a chunk – to use it, grate it on a box grater before measuring.

Did You Make This Recipe?
Recipe video
---
Enjoy