Raspberry macaroons made with chocolate and raspberry filling are super tasty! The sweet taste of macaroons is well balanced with the acidity of raspberries, used for macaroon shells and fodder.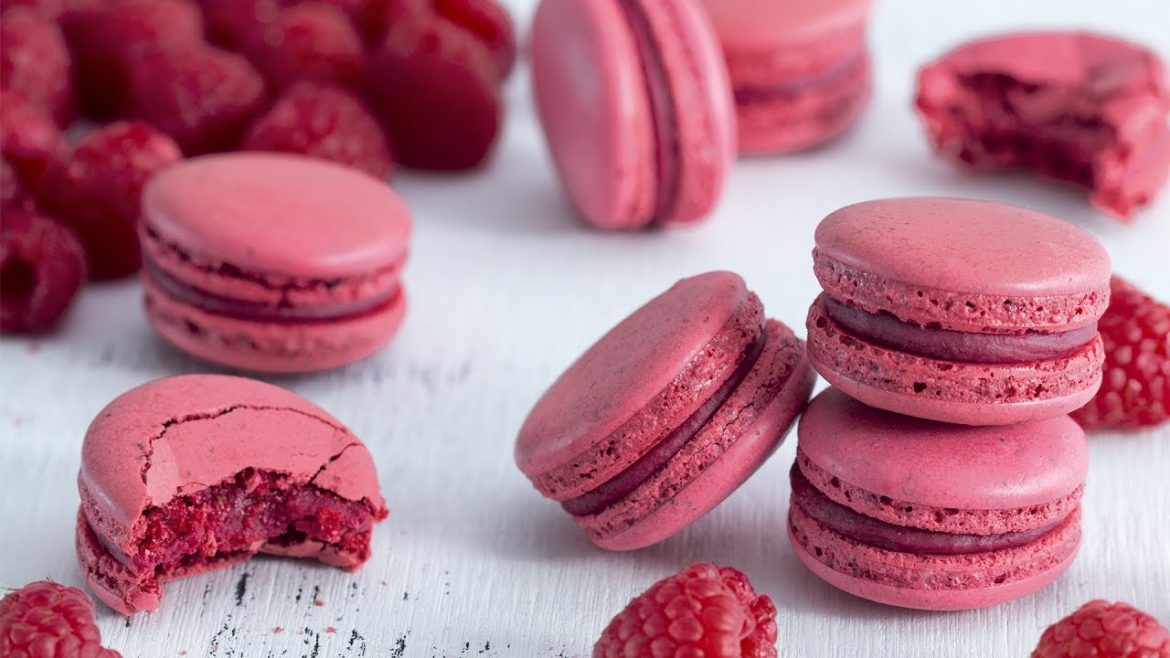 Ingredients
Macaroon shells
150G almond powder
150G icing sugar
4-5 cc. (4G) freeze-dried raspberries, powder, seedless
55G egg whites (about 2 eggs)
A pinch of powdered red dye
55G egg whites (about 2 eggs)
A pinch of salt
150g of sugar
2 1/2 tbsp. (38ml) of water
White chocolate and raspberry filling
150G fresh or frozen raspberries
2 tbsp. (30G) sugar
80G single cream
230G white chocolate, in small pieces
4-5 cc. (4G) freeze-dried raspberries, powder, seedless
Instructions
Prepare the filling of white chocolate and raspberries, and then put the raspberries and sugar in a pan. After bringing it to the boil, try to stir constantly. Simmer for about 5 minutes, and remove the pan from the heat.
Sieve to remove the seeds and set it aside.
After that, put the cream and chocolate in a pan. Add the raspberry jam, freeze-dried raspberries, and the coloring, and put them on low heat until the chocolate is melted.
Put the result in a bowl, let cool completely, and put it in the fridge before further use.
Now, in order to prepare the macaroons, you should cover two molds with baking paper, and take a pastry bag with a classic socket (about 1cm).
Preheat the oven to 150 ° C, mix the icing sugar and powdered almonds in a blender to obtain a fine powder, then sift into a bowl.
Put 55g of egg whites in a bowl with a pinch of red dye Beat.
Pour the egg whites over the sifted almonds.
Put the remaining 55g of white wine in a bowl with salt.
Set aside until you prepare the syrup.
Put the sugar and water in a pan over medium heat. (Measure the temperature of the syrup with a candy thermometer).
When it reaches 112 ° C, start whipping the egg whites. When the syrup reaches 118 ° C, pour it over the whipped whites, and mix it constantly. Keep beating until the bowl is cool, and the mixture is firm.
Add the whipped whites over the almond mixture and mix gently with a silicone spatula (Mix until it is thicker.)
Put the mixture in a pastry bag with a 1cm socket.
Divide the dough into 2.5cm circles in molds covered with baking paper, at least 2cm between each macaroon.
Tap the molds on the work surface to flatten the macaroons
Cook them for 20-24 minutes and let them cool before removing them from the mold.
Put the raspberry and chocolate filling in a pastry bag, and spread on the macaroons, before putting them together.
Put them in the fridge for at least a day before they are served to let the flavors fuse.
Notes
For about 40 macaroons

Did You Make This Recipe?
Recipe video
---
Enjoy