Chocolate cookies cake is on the menu in Book recipe, and we are going to teach you how to make this delicious recipe from scratch!
This recipe of chocolate cake always helps when it concerns a tasty dessert. You won't need an oven and escape any complicated manipulations with a batter or frosting. Such a cake even got a joke-name «out-of-the-fridge cake», all because the task is to combine all ingredients, lay into a dish and the fridge would do the rest. You'll have result beyond all expectations!
Follow along with the ???? recipes below????????????????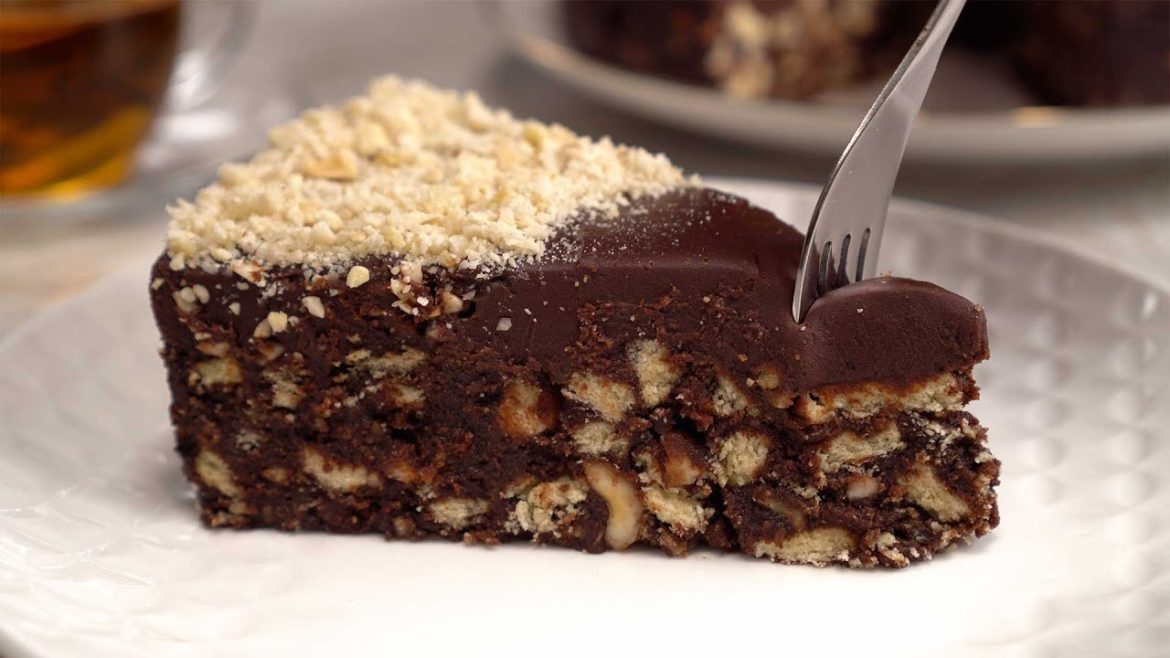 Ingredients
shortbread cookies – 18 oz /500 g
chopped hazelnut – 3 oz /100 g
sugar – 5 oz /150 g
cocoa powder – 2 oz /50 g
milk – 7 fl oz /200 ml
butter – 5 oz /150 g
Ganache:
cream – 7 fl oz /200 ml
dark chocolate – 10½ oz /300 g
You will need:
parchment paper
springform pan Ø 8½ in / 22 cm
refrigerator
deep bowl
Instructions
Crumble the shortbread cookies, add the chopped hazelnuts and toss.
Into the warm milk add the softened butter, cocoa powder and sugar, whisk or fork until smooth.
Combine well the cookie and nut stuff with the prepared binding mixture.
Line a baking pan with a parchment paper, bottom and sides, and add the prepared mixture and spread thoroughly to exclude vacuums.
Put in the fridge for 15 minutes.
Crumble the chocolate bar and add into the warmed up cream and whisk until fully incorporated.
Take the cake out of the fridge, coat with the prepared frosting and put it back for 2 hours.
In 2 hours sprinkle the cake with chopped nuts. The chocolate cake is ready.
Did You Make This Recipe?
---
Enjoy