Pancake and Dutch Baby Recipe are on the menu in Book recipe, and we are going to teach you how to make this delicious recipe from scratch!
Follow along with the ???? recipes below????????????????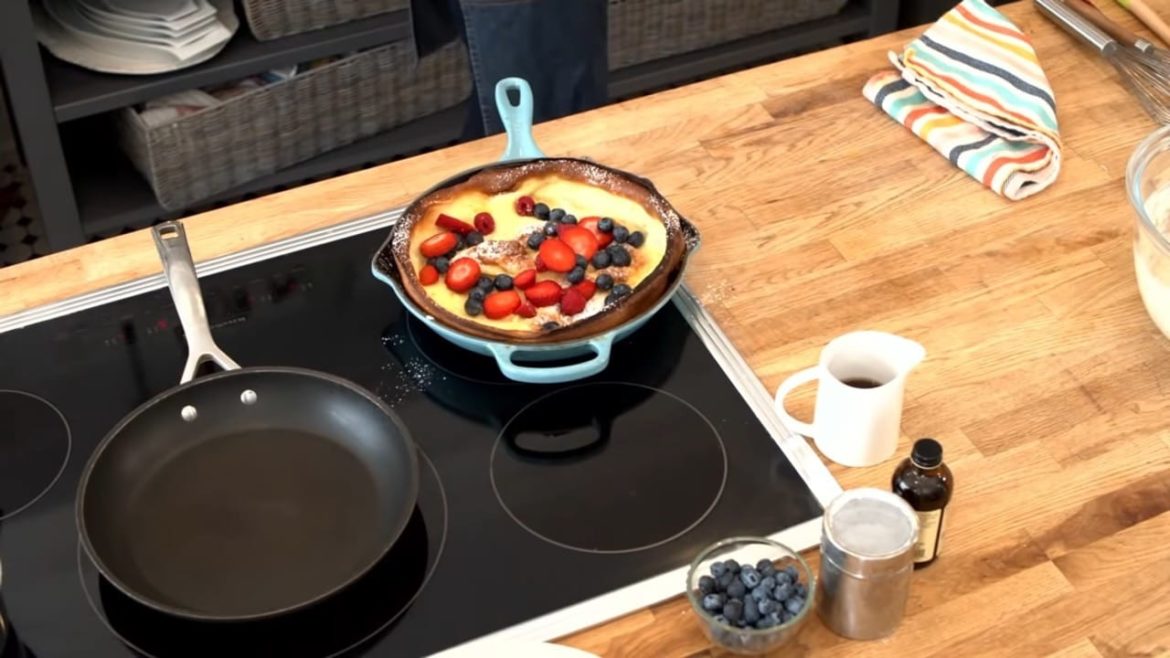 Ingredients
Pancake Recipe
¾ cup (110 g) whole wheat flour
¾ cup (75 g) regular or quick-cooking rolled oats
1½ tsp baking powder
½ tsp baking soda
½ tsp salt
Pinch of ground cinnamon
1¼ cups (310 mL) kefir
1 large egg (see note)
2 Tbsp (30 mL) pure maple syrup, plus extra for serving
2 Tbsp (30 g) butter, melted
Yogurt & fruit, for serving
Dutch Baby Recipe
Serves 4 to 6 (Makes 1 large soufflé pancake)
Prep Time: Under 10 minutes
Cook Time: 18 minutes
¼ cup (35 g) all-purpose flour
2 Tbsp (25 g) granulated sugar
1 tsp finely grated orange zest
Pinch of fine salt
⅔ cup (160 mL) half-and-half cream
3 large eggs
¼ tsp vanilla extract
2 Tbsp (30 mL) melted butter
Icing sugar, pure maple syrup, yogurt and/or fresh berries or fruit compote, for serving
Instructions
Pancake Recipe
Stir the flour, oats, baking powder, baking soda, salt, and cinnamon together in a large bowl. Add the kefir, egg, maple syrup and melted butter and whisk until combined (a few lumps are OK). Let the batter rest for 5 minutes.
Preheat the oven to 300°F/150°C. Heat a griddle or large non-stick skillet over medium heat and grease lightly with butter (or oil).
Drop spoonfuls (roughly ¼ cup/60 mL) of batter onto the griddle and cook until the surface of the pancakes dulls and the bottom is golden brown, about 3 minutes. Flip the pancakes and cook until the other side browns lightly, about 2 minutes. Transfer the pancakes to a serving platter or a plate and place them, uncovered, in the oven to keep warm. Cook the remaining batter.
Serve the pancakes with warm maple syrup and a dollop of yogurt with fresh fruit.
Dutch Baby Recipe
Preheat the oven to 450°F (230°C) and place a 9-inch (23 cm) skillet or another cast-iron pan in the oven to heat while you prepare the batter.
Whisk the flour, sugar, orange zest, and salt in a bowl. Add the cream, eggs, and vanilla and whisk well. Whisk in the melted butter right before you bake the pancake.
Remove the preheated pan from the oven and brush it with melted butter. Pour in the batter and immediately return the pan to the oven. Bake for 15 to 18 minutes, until the batter rises and inflates and the peaks begin to brown.
Remove the pancake from the oven and serve immediately, lightly dusted with icing sugar, before the soufflé begins to fall. Serve with maple syrup, berries, or compote on the side.
Notes
To make these pancakes egg-free and add extra fiber, stir 2 Tbsp (16 g) ground flaxseed into 3 Tbsp (45 mL) water and let the mixture sit for 2 minutes. Add it with the kefir, maple syrup, and butter (or oil) instead of the egg.

Did You Make This Recipe?
---
Enjoy