Kouign Amann are on the menu in Book recipe, and we are going to teach you how to make this delicious recipe from scratch!
Kouign Amann is the crispy pastry heaven you need to make with your morning coffee! Layers of Butter and Croissant Dough sprinkled with caster sugar to get what they call the Richest Pastry In Europe!)
Follow along with the ???? recipes below????????????????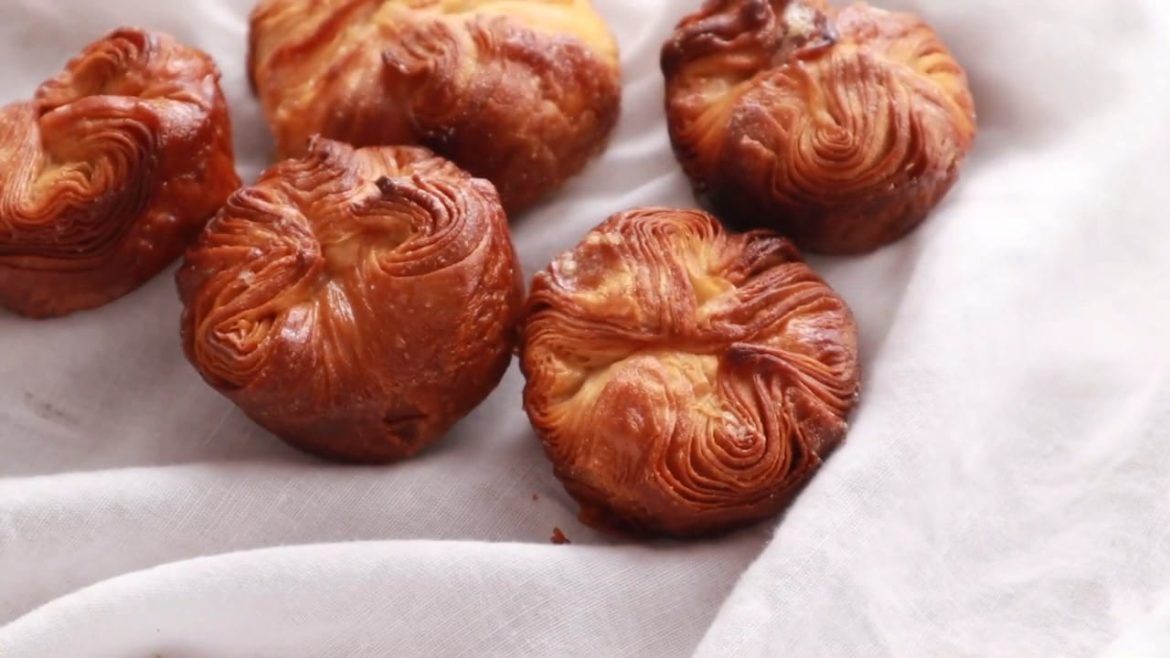 Ingredients
Croissant Dough
300 Grams Bread Flour (Minimum Protein Content 12%)
80 Grams Cold Water
80 Grams Milk (Cold)
45 Grams Sugar
6 Grams Yeast
6 Grams Salt
30 Grams Unsalted Butter
Butter for Lamination
160 Grams Butter (Unsalted European Style)
Minimum Fat 82%
For Sprinkling on the Dough
Instructions
To Make the Dough weigh the flour, sugar, yeast, salt, and butter and mix them together
Add the cold milk and cold water to the dough. We don't want the dough to ferment so we will try to use cold liquids.
Knead the dough until slightly smooth in texture by hand or stand mixer for 4-5 minutes
Wrap and freeze for 4 hours and in the Fridge Overnight
To make the butter block fold a baking paper and mark 16 Cm X 16Cm and put in the fridge.
The Next Day take the dough and roll into 32cmX17cm and put the butter in the center and enclose the slab
Roll the dough out to 50Cm X 20Cm rectangle and give the dough a double fold. Refrigerate for 45 mins
Roll the dough out to 50Cm X 20Cm rectangle and give the dough a single fold. Refrigerate for 45 mins
Roll the dough to 50X 18Cm and cut 12 squares of 8cmX8cm
Shape-based on whichever shape you prefer and put in a muffin tray or ring covered with butter and sugar
For more crispy texture proof for 1 hour
For more airy texture proof for 3 hours or until double
Bake at 190C/375F for 25-30 mins
Did You Make This Recipe?
Recipe video
In this video we cover different shaping methods and techniques of proofing the dough to obtain different textures. I hope you like the recipe and feel free to comment and ask me any questions!
---
Enjoy