Hearty Vegetable Soup is on the menu in Book recipe, and we are going to teach you how to make this delicious recipe from scratch!
It has been 0°F here in Michigan for a week straight so I just HAD to make this loaded vegetable soup to thaw my frozen body! Not only does this soup warm you straight to the core, but its soooo healthy and perfect for your 2018 clean eating journey! No joke, a giant bowl of this soup is only 1 point for weight watchers! Don't think just because it's insanely healthy that it doesn't taste good, because the flavors in this soup are absolutely incredible. Have I ever let you down?! Didn't think so.
Follow along with the ???? recipes below????????????????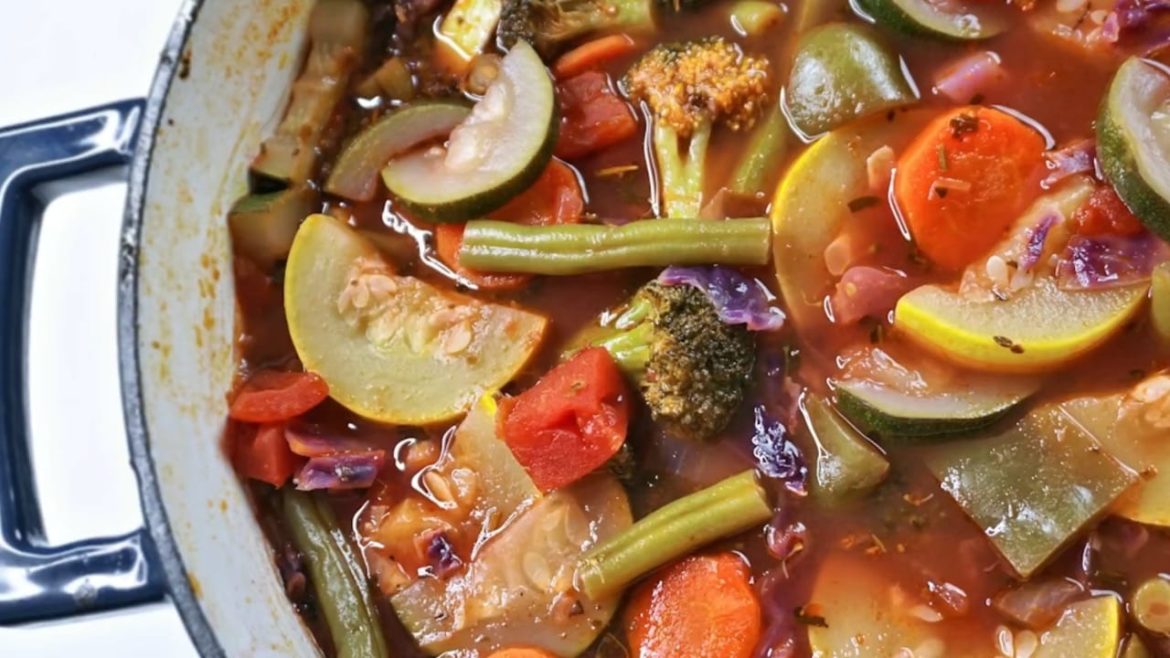 Ingredients
3 Tablespoons Olive Oil
1 Large Onion, Diced
1 Cup Carrots, Chopped
2 Bell Peppers, Chopped
1 ½ Cups Green Beans, Trimmed and cut into 1" pieces
4 Cloves Garlic, Minced
4 Cups Cabbage, Chopped
2 Teaspoons Italian Seasoning
¼ Teaspoon Cayenne
½ Teaspoon Dried Oregano
½ Teaspoon Dried Rosemary
2 Basil Leaves, Chopped
1 28 Ounce Can Crushed Tomatoes
7 Cups Chicken Broth
1 Cup Zucchini, Sliced
1 Cup Yellow Zucchini, Sliced
2 Cups Broccoli Florets
Salt and Pepper to Taste
Instructions
In a large 6 quart pot, sauté onion in olive oil over medium-high heat. Cook until softened.
Add Carrot, bell pepper, green beans, garlic, and cabbage. Season liberally with salt and pepper. Stir well and sauté for about 8-10 minutes.
Add Italian seasoning, cayenne, dried oregano, dried rosemary, and basil. Cook another 2 minutes.
Add crushed tomatoes, and chicken stock. Season again with salt and pepper. Bring to a simmer and cook for about 10 minutes.
Add zucchini, yellow squash, and broccoli florets. Stir and bring back up to a simmer to finish cooking. Cook time depends on your personal preference. For a super tender vegetable, simmer about 20 minutes. For a tender vegetable with a slight crunch, simmer about 8-10 minutes.
Notes
Refrigerate leftovers and enjoy for 4-5 days!

Did You Make This Recipe?
---
Enjoy
Thank you so much for watching! And don't forget to check out the calorie count and macros below!
HEARTY VEGETABLE SOUP DIET FACTS
SERVINGS: 11
SERVING SIZE: 2 CUPS
Per Serving: 120 Calories | 4g Fat | 18g Carbs | 5g Protein
WEIGHT WATCHERS POINTS: 1