Egyptian Stuffed Vegetables are on the menu in Book recipe, and we are going to teach you how to make this delicious recipe from scratch!
Here's my recipe for delicious Aubergine and Pepper Mahshi, rice-stuffed vegetables the Egyptian way. I'm Obi from Middle Eats and I'm on a mission to show you how to cook delicious food from across the whole of the Middle East. If you want to request a video for a Middle Eastern Recipe, please leave a comment below.
Follow along with the ???? recipes below????????????????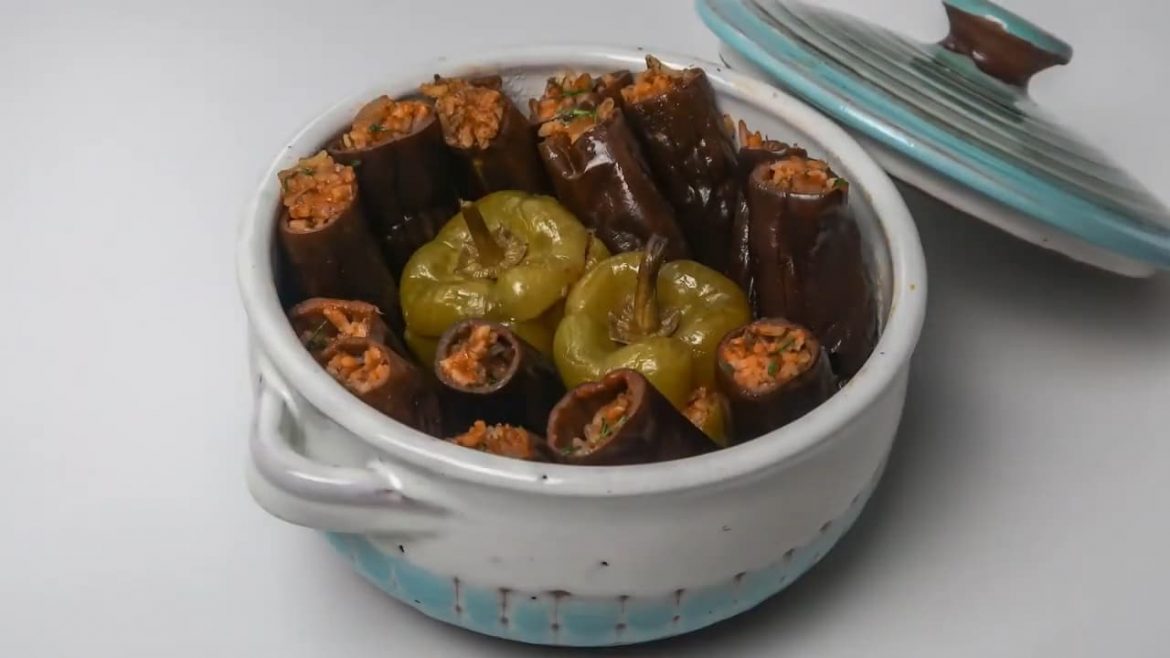 Ingredients
1kg of Baby Aubergines
4 Small Green Peppers
1 1/2 cups of short-grain rice (Egyptian rice works best)
400ml of crushed tomatoes
4 tbsp Tomato Puree
1 large onion
Dill 1/2 cup
Parsley 1 cup
2 1/2 tsp Salt
1 tsp Pepper
500ml stock (Fresh Chicken works best, but you can use a good quality stock cube, even vegetables)
Bunch of Dill
Bunch of Parsley
1 Potato (just to prepare the pot)
Instructions
Peel and finely dice your onion, you want the onion cubes to be as close to the size of the rice as possible. You need 3/4 of a cup of diced onion.
Separate your dill leaves from the stalks and finely chop. You need about half a cup of minced dill.
Remove the parsley leaves from the stalks making sure to remove any large bits of the stalk as these won't cook well. Finely chop the parsley and you should have about a cup left.
Wash your rice under cold water thoroughly in a colander, until the water runs clear and all of the starch has been removed. Leave your rice to dry for around half an hour until no moisture remains.
Add your rice and onions to a bowl and mix in 2/3rds of your salt and pepper.
Blend either a can of tomatoes or 500g of fresh tomatoes in a blender and add to the rice as well as 3 tablespoons of your tomato puree.
Mix the rice until well combined with the crushed tomatoes and then taste. Your mixture should be salty and the pepper should be noticeable, if it isn't add more of the required seasoning.
Add a couple of handfuls of your parsley and a handful of dill, you should maintain a 2:1 ratio of Parsley to Dill in this recipe. Taste your mixture again and increase the amounts until the mixture is quite herby. Parsley and dill can be weak or strong so it should be somewhere between 1-1/2 a cup of parsley and 1/2 to a 1/4 cup of dill.
Prepare your aubergines by cutting off the tops, try to get them all to a similar height so they cook evenly. When cut, use a corer to remove the center of each Aubergine. Hold the aubergine firmly and push the corer in, turning it from side to side, be careful not to puncture the walls or bottom of the aubergines.
For your peppers cut the tops and remove the heart as well as any white flesh. The tops can be cleaned and used as decoration.
Wash your aubergines thoroughly to remove any seeds or flesh that are stuck on the inside.
Stuff your aubergines by spooning or pushing the rice in by hand. Push it down to the bottom but do not push hard as you don't want to compact the rice. It will expand a lot when cooking. Stuff all the aubergines until just below the top, leaving a small gap of 1/2 cm.
Stuff your peppers by adding a few tablespoons to each one, once again leaving a small gap at the top of 1/2 cm.
Wash or peel your potato and cut it into thick slices, then lay it along the bottom of a stainless steel pot in a single layer to stop your Aubergines and Peppers from sticking.
Stand all of your aubergines upright along the outside of the pot and place your peppers in the center.
Prepare your stock in a jug and add your remaining tablespoon of Tomato Purée. Mix it well and if your stock is not well seasoned then add some salt and pepper to it.
Place your pot on high heat then pour your stock in, making sure not to pour it into the vegetables. It should come up to the height of the potatoes, if not, you can top up with some water.
Leave the pot to come to a boil then cover the pot and turn the heat to Medium-Low. After about forty minutes, check your vegetables. The rice should have doubled in size and you should taste it to make sure it is cooked through. If the rice is still hard, cover it and leave it for a few more minutes then try again.
Remove your Mahshi from the pot and plate, standing them upright or laying them on a platter.
Did You Make This Recipe?
---
Enjoy
Let us know what you think of today's Egyptian Stuffed Vegetables tips, tricks, and hacks!