Fudgy Avocado Brownies is on the menu in Book recipe, and we are going to teach you how to make this delicious recipe from scratch!
You've made it this far on your healthy eating journey and all you can think of is chocolate?! Well I have got you covered girlfriend. These Fudgy Avocado brownies are just what you need! Now don't get me wrong, it's not like these are equivalent in health to a kale salad loaded with veggies…but I can promise you they are way healthier than the brownies you really want to splurge on. Now I know the sound of avocados being in a brownie is not the most pleasurable thing to think about. But let me tell you…YOU DON'T TASTE THE AVOCADO. TRUST ME! This brownie tastes of pure decadent rich chocolate and it will not let your sweet cravings down my friend!
Follow along with the ???? recipes below????????????????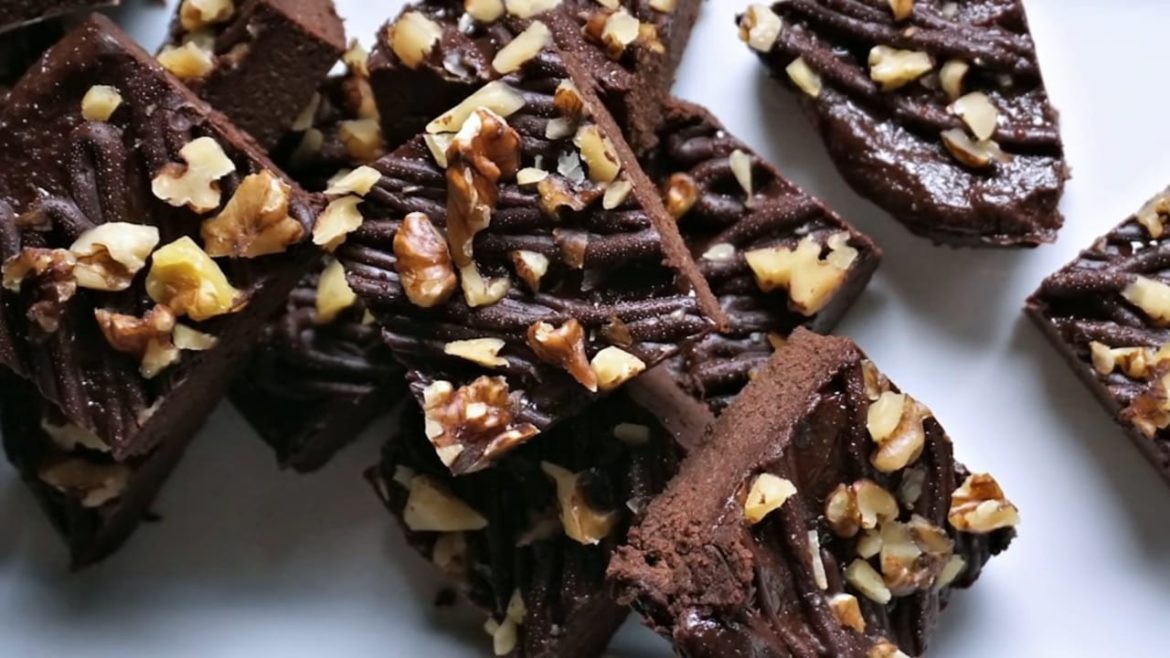 Ingredients
2 Ripe Avocados
¾ Cup Coconut Sugar
2 Teaspoons Vanilla
6 Ounces Dark Chocolate Chips
2 Eggs
½ Cup Cocoa Powder
½ Cup Almond Flour
Pinch of Salt
Frosting:
¼ Cup Coconut Oil
1/3 cup Maple Syrup
3 Ounces Dark Chocolate Chips
1/3 Cup Cocoa Powder
Pinch of Salt
Walnuts for Topping
Instructions
In a blender or food processor, blend avocados until no lumps remain. Add coconut sugar and vanilla, blend again until creamy. About 4 minutes.
In a separate bowl, melt dark chocolate in the microwave at 30-second increments, stirring after each increment. Pour melted chocolate into the processor and blend until smooth. You may need to scrape the sides of the processor with a spatula to mix thoroughly.
Add eggs and blend again just until combined.
Add cocoa powder and almond flour. Blend JUST until combined.
DO NOT overmix. Be sure to scrape down the sides of the processor.
Pour batter into a 9x9 inch baking dish lined with parchment paper. Spread the batter out evenly.
Bake in a 350°F oven for 25-30 minutes or until just set. Overbaking will result in cakey brownies.
Allow cooling completely.
Frosting:
In a small saucepan over medium-low heat, melt coconut oil, maple syrup, and dark chocolate together. Whisk until combined and smooth. Add a pinch of salt and cocoa powder. Whisk until smooth. Drizzle over cooled brownies. Work with the frosting quickly because the coconut oil will start to harden
Top with walnuts.
Did You Make This Recipe?
---
---
MACROS TOTAL LIST
16 SERVINGS
SERVING SIZE: 1 BROWNIE
MACROS – BROWNIES WITHOUT FROSTING (USING ALMOND FLOUR)
7.5g FAT
18g CARBS
2g PROTEIN
137 CALORIES
MACROS – BROWNIES WITHOUT FROSTING (REPLACING ALMOND FLOUR WITH ALL PURPOSE FLOUR)
5g FAT
18g CARBS
1g PROTEIN
119 CALORIES
MACROS – FROSTING ONLY (ADD THESE TO MACROS FOR BROWNIE RECIPE)
5g FAT
7g CARBS
0g PROTEIN
119 CALORIES