TURKISH Street Food is on the menu in Book recipe, and we are going to teach you how to make this delicious recipe from scratch!
Gözleme is an integral part of our culinary culture and is loved by everyone. It can be prepared with various fillings like minced meat, cheese, potato, spinach, eggplant, mushroom, or even with chocolate.
Covered with thin crispy dough, it is a perfect comforting breakfast for the first day of the year, and we would like to show you how to make these gorgeous flat pastries at your home.
Follow along with the ???? recipes below????????????????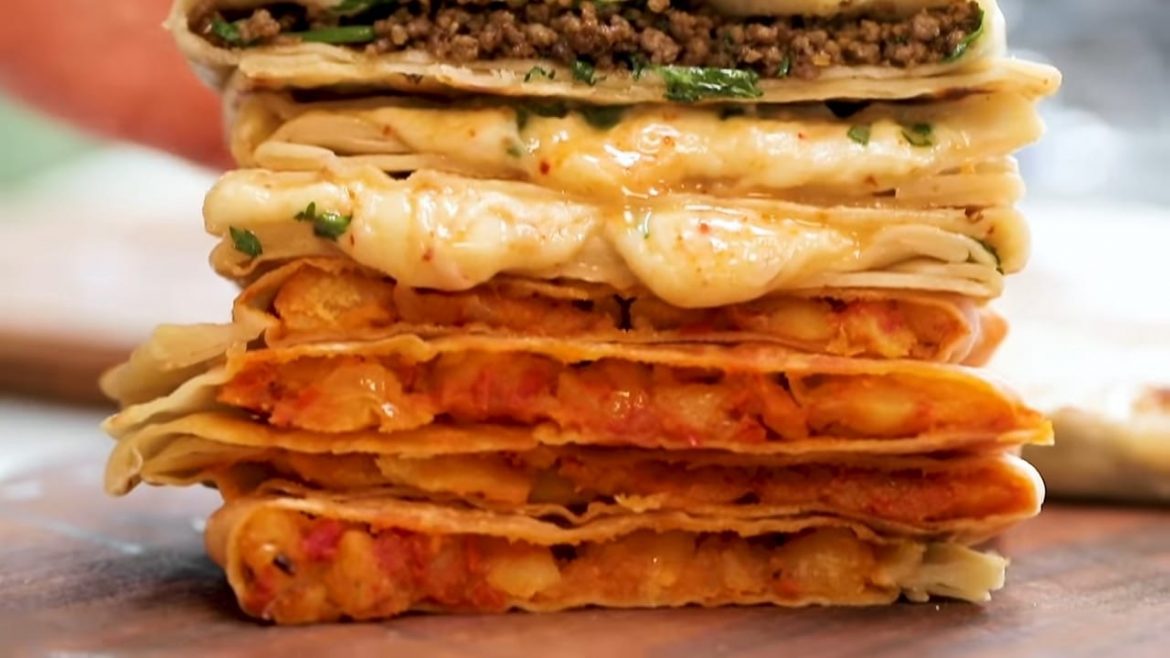 Ingredients
Dough:
300 g flour (2 cup + 1 tablespoon)
200 ml water (4/5 cup)
1/2 teaspoon salt
Potato Filling
1 tablespoon butter
1/2 onion, diced
1 potato, boiled
1 heaped teaspoon red pepper paste or use salsa sauce
1 pinch of black pepper
Cheese Filling
50-60 g İzmir tulum cheese, small diced, you can use feta or parmesan cheese as well)
3-4 sprigs parsley, chopped
1 pinch of red pepper flakes
100 g string cheese, torn into long strings, or any melting cheese like mozzarella
Tahini Cocoa Honey
2 tablespoons tahini
1 heaped teaspoon cocoa powder
2 tablespoons honey
50 g string cheese, torn into long strings, or any melting cheese like mozzarella
Minced Meat Filling
200 g minced meat
1 large onion, diced
4-5 sprigs parsley, chopped
Salt & black pepper to taste
1/6 of freshly ground nutmeg
Instructions
For the dough, combine flour, salt, and water in a bowl. Knead for 7-8 minutes until you have a smooth and elastic dough.
Divide the dough into four equal balls. Cover with a damp cloth and let it rest for at least 10-15 minutes. Meanwhile, you can make fillings.
To make the potato filling, boil the potato until fork tender. Add the butter and melt it into a large pan. Add the onion and sauté until lightly browned. Add the potato and mash a little with a fork or potato masher. Add the red pepper paste. Season with red pepper flakes, black pepper, and salt if necessary. Cook for another 1-2 minutes and transfer to a plate to cool down.
For the cheese filling, mix the İzmir Tulum cheese, parsley, and red pepper flakes in a bowl. Add the string cheese and mix it. It is ready to put into your gözleme.
For sweet gözleme, combine the tahini, cocoa powder, and honey in a bowl. Add the string cheese.
For the minced meat version, heat a large frying pan on high heat. Add the minced meat to the pan and spread with the wooden spoon until they get brown. But do not stir all the time. Let one side brown then stir again. You can also use pork, veal, or lamb. Add the onion and turn the heat to low and continue to sauté. Stir from time to time for about 15 minutes. Minced meat will get perfectly brown, and onions will almost disappear in the pan. While cooking, add salt to your taste. If minced meat sticks to the pan, add a couple of tablespoons of hot water and scrub the bottom with a spatula so you won't waste any amazing flavor. At the end of the cooking add black pepper and grate the nutmeg. Let the mixture cool down a little and add the parsley.
On a lightly floured surface, roll out each ball with a rolling pin into thin, flat rounds around 30-35 cm (12-14 in) wide.
Spread the filling into the center of this flat sheet.
Then fold the top and bottom edges over the filling, making sure all the filling is nicely covered. Press edges together well to seal. Repeat the same procedure for the rest of the dough balls. You can also make bigger D shape gözlemes as well. Spread the filling to the half of the rolled dough and cover the other half on top of the filling, seal the edges by pressing.
Place a sheet or cast-iron pan upside down on the stove and heat. You can also use the back of an oven tray.
Place gözleme on the pan and cook for 2-3 minutes on each side until golden brown. When a side is cooked, flip to the other side and butter the cooked side, this will keep them moist and increase the taste.
When you cook the rest of the gozlemes the same way it is ready to dig in. Don't forget to eat your gozleme with Turkish tea or ayran.
Did You Make This Recipe?
---
Enjoy
Let us know what you think of today's TURKISH Street Food tips, tricks, and hacks!