Pizza is on the menu in Book recipe, and we are going to teach you how to make this delicious recipe from scratch!
Tasty pizza can be cooked in home and without an oven. Sometimes Italians bake pizza in a regular pan. It is important then to stick to proportions and make proper dough for such a pizza variant. And, of course, filling – a special sauce with herbs and spices, tender mozzarella and pepperoni, you can take any sausage you have at hand. Just 35 minutes and a genuine Italian pizza on your table.
Follow along with the ???? recipes below????????????????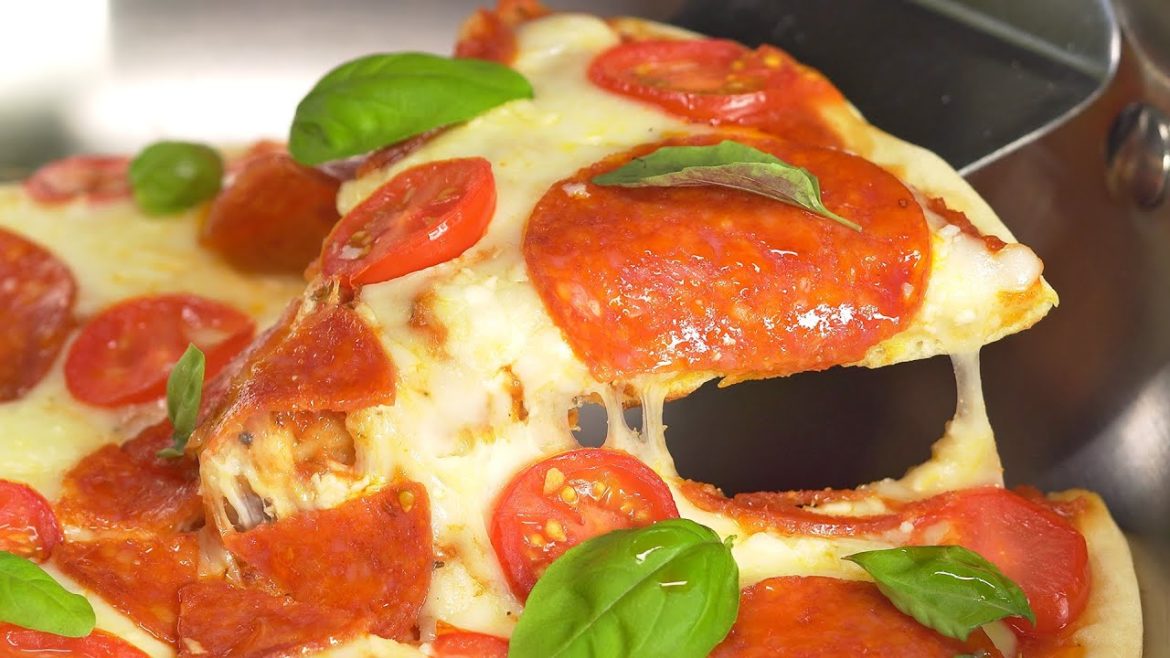 Ingredients
Dough:
wheat flour – 11 oz /320 g
water – 6 fl oz /180 ml
instant yeast – 1½ tsp
olive oil – 2 tbsp
salt – 1 tsp
sugar – 1 tsp
Filling:
crushed tomatoes – 7 oz /200 g
sugar – 1 tbsp
salt – 1 tsp
dried garlic – 1 tsp
ground black pepper – ½ tsp
oregano – 3 tsp
olive oil – 1 tbsp
mozzarella – 10 oz /300 g
pepperoni (spicy salami) – 7 oz /200 g
5-10 cherry tomatoes
basil leaves – 1 tbsp /5 g
You will need:
Instructions
Sieve the flour into a bowl, add the yeast, sugar and salt, combine.
Add the warm water and olive oil into the flour mixture and mix all ingredients in the bowl with a spoon, then knead several minutes with hands until smooth, dusting with flour until the dough stops sticking to surface and hands.
Let it rest for 15 minutes in a warm place.
Add the sugar, salt, garlic, black pepper and 1 tsp of oregano into the crushed tomatoes. Combine and warm up over low heat for 3-4 minutes.
Divide the dough into 3 parts and roll out each into a cake about 5 mm thick with a rolling pin.
Cut an even circle of a pan size out of the cake.
Heat a pan over low heat and lay out the prepared cake into it, pierce with a fork in several points, reduce the heat to the lowest possible and bake the dough cake on the dry for 3 minutes on each side.
Brush the cake lightly with the prepared sauce leaving 1 cm of edges clear.
Add 1 tsp of oregano atop and spread evenly on the surface.
Sprinkle with the grated mozzarella evenly.
Lay out the slices of sausage and tomatoes onto the cheese.
Cover with a lid and bake over the lowest heat for 5-7 minutes. Sprinkle with basil leaves your pan pizza.
Did You Make This Recipe?
---
Enjoy