Strawberry Pop-Tarts are on the menu in Book recipe, and we are going to teach you how to make this delicious recipe from scratch!
Follow along with the ???? recipes below????????????????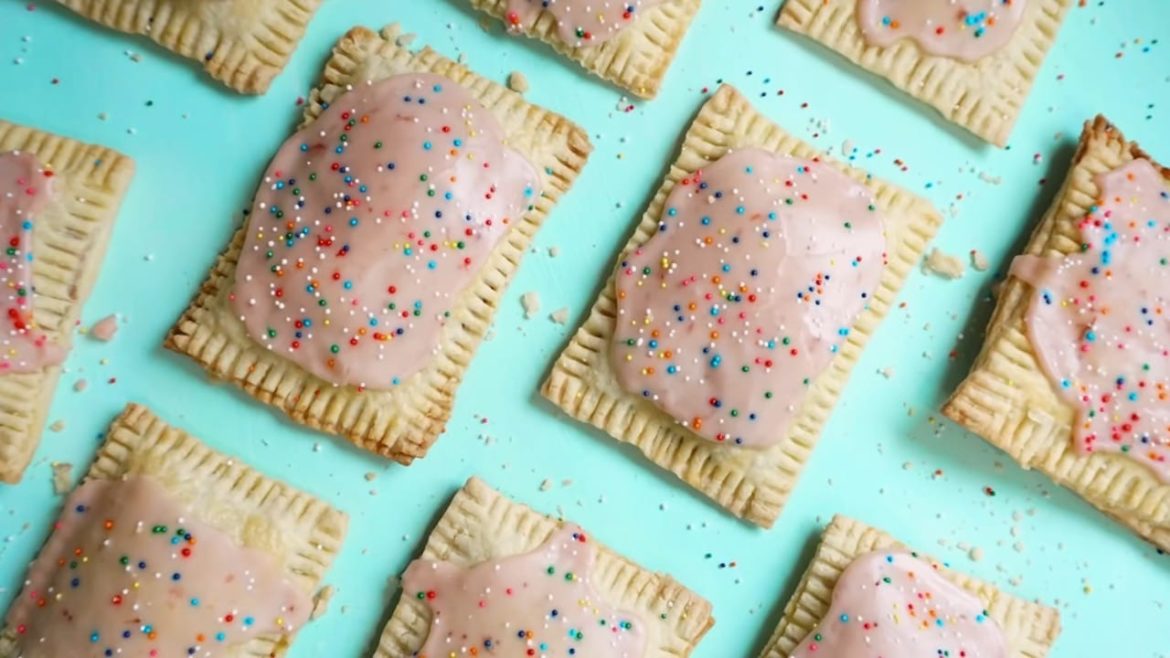 Ingredients
Pastry:
2 ½ Cups All-Purpose Flour
3 Tablespoons Sugar
1 Cup or 2 Sticks Cold Butter, Chopped into Cubes
2 Egg Yolks
¼ Cup – ½ Cup Cold Water
Filling:
¾ Cup Strawberry Jam
1 Tablespoon Cornstarch
1 Tablespoon Cold Water
Icing:
1 cup Powdered Sugar
1 ½ Teaspoon Strawberry Jam
½ Teaspoon Vanilla Extract
Water as needed
Instructions
Pastry:
Cut butter into small cubes refrigerates until ready to use.
In a medium bowl, whisk together flour and sugar. Add cold butter and work the butter into the flour using your hands, until chunks of butter resemble small peas.
Add water in small batches, mixing after each addition, until a NOT sticky dough forms. Pour out dough onto a hard surface and press together (slightly knead) until smooth.
Separate dough into two parts, wrap in plastic and refrigerate for 30 minutes.
Remove dough for the fridge and allow to sit 5 minutes before rolling.
Lightly flour a hard surface and roll dough out evenly. You want the dough to be thin, around 1/8 of an inch.
Using a pizza cutter, cut out the pop tarts.
Re-use remaining dough by pressing into a ball, rolling it out, and cutting out more pop tarts.
Place cut pop tarts onto a baking sheet lined with parchment paper.
Filling:
In a small saucepan, bring strawberry jam to a simmer.
In a separate bowl, combine cornstarch and cold water together.
Add to jam and whisk. Simmer for 3 minutes or until jam thickens.
Allow jam to cool.
Using an egg wash, lightly brush the outer edges of the pastry. (1 Egg + ½ Teaspoon Water Beaten)
Spoon a dollop of jam onto the pastry then seal with the top layer of poptart. Using a fork, crimp all four sides. Poke small holes in the top of the poptart to allow steam to release. Brush tops of poptarts with egg wash.
Bake in a preheated 375°F oven for 15-20 minutes or until slightly golden. Place on cooling rack and allow to cool completely.
Icing:
In a medium bowl, whisk together powdered sugar, vanilla, and 1 ½ Teaspoons of strawberry jam. Add cold water in small batches and whisk until smooth and thick.
Smear icing over the poptarts and add your favorite sprinkles.
Did You Make This Recipe?
---
Enjoy
When I was a kid, I could easily polish off a box of poptarts by myself in a day. They are so delicious and addicting! Now as an adult, I still love them, but I'm not fond of the chemicals used in the store bought ones. So not only do I spare my body of the chemicals, but I get a WAYYY better tasting poptart that is TO DIE FOR. You have to believe me. I made two batches of these bad boys and my sister and I polished them off in two days! It was a struggle not to eat them faster than that! I know you will loves these, and if you have kids I'm sure they will love making them with you!