Kunefe is a really famous Turkish dessert made with saltless cheese and shredded kataifi pastry soaked in sweet syrup. If you find Kadayif or Baklava too sweet, you must absolutely try this sweet cheese pastry. What makes this dessert different from others is that it must be eaten hot, right after it is cooked.
Also, it has a very well balanced combination of cheese and sugar, so it's not heavy and you can even ask for a second portion! The quality of cheese inside is pretty significant to reach this perfection. It must be an unsalted melting cheese so that it complements the sweetness of the dessert.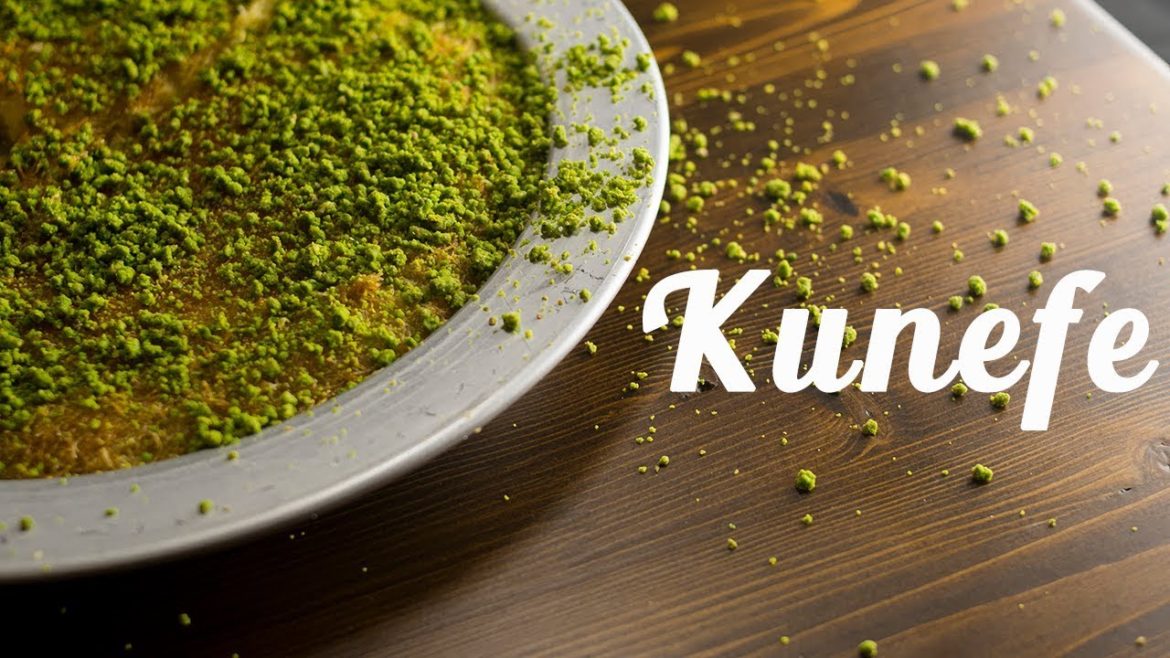 Ingredients
200 gr butter
250 gr shredded kataifi pastry
200 gr unsalted cheese
100 gr pistachio (grinded)
250 gr sugar
450 ml of water
1 tablespoon grape molasses
Instructions
First of all, you should butter the surface of Kunefe tray. Otherwise while cooking the Kunefe on the stove, pastry gonna stick on the tray and will burn easily.
Use 35 grams of butter(room temperature and soft) for each tray. Spill a couple of drops of grape molasses and rub it well.
When we finish butter up trays, move trays to the refrigerator until when we need it. After 5-10 minutes in the refrigerator, almost melted butter on the tray get solid.
Grape molasses will give to the surface of Kunefe golden brown look and tasty smell. Then use the rest of the butter (200-(35+35)=130 gr) Microwave it for 10-15 seconds and melt it. Pour melted butter on shredded kataifi pastry and rub it for 2-3 minutes. Make sure melted butter soaked by pastry well. Then start to prepare cheese. You can slice or grate. If you grate your cheese, it will easily melt while cooking.
Bring the first tray and put your half of buttered pastry evenly and carefully. Then press by your hands and get a solid layer of buttered raw pastry.
Bring cheese and pour it generously. Do not put cheese edges, otherwise, it will melt and stick to the tray. Put the rest of the pastry and press it well.
Syrup:
Spill water and sugar into the pot and stir well. After starts boil stir well and simmer for 5 minutes and fire off. We need warm(almost cold) syrup for just cooked Kunefe.
Start cooking your Kunefe on low heat and turn it continuously. Do not locate your Kunefe tray on the stove right at the center. If you locate the fire under your tray exactly in the center, the center area of your Kunefe will burn rapidly.
Put your Kunefe tray's near of center and cook carefully. Check the bottom layer of Kunefe while cooking with a knife and wait for the golden brown nice color surface. Bring the second tray from the refrigerator and place it on a hot one.
Now you are ready to upside-down trays. Be fast, motivated and self-confident. Cook the other side and pour 4 ladles of warm syrup.
I know smells soo good but you should wait 2 more minutes. The syrup will be soaked by cooked pastry and cheese. Put a lot of grinded pistachio or walnut on your Kunefe.
Did You Make This Recipe?
---
Enjoy